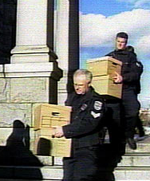 "Take nothing on its looks; take everything on evidence. There's no better rule." -- Charles Dickens, Great Expectations, 1861
We know a lot more about the Dec. 28, 2003 police raid on the B.C. legislature following last week's four-day B.C. Supreme Court hearing into a defence application for disclosure of evidence.
But we still don't know nearly enough to figure out what the hell happened or why it's taken almost exactly three years to get to the still-planned Dec. 4 trial date for former B.C. Liberal government ministerial aides David Basi and Bob Virk and former government communications staffer Aneal Basi.
The disclosure hearing provided lots of fascinating teasers as to what the trial might expose -- from police surveillance of then-finance minister Gary Collins as he dined with a U.S. bidder for the privatization of B.C. Rail in a fancy downtown Vancouver restaurant to a defence question as to why the $1 billion B.C. Rail deal itself wasn't cancelled.
There's also new evidence from both in and outside the courtroom about Erik Bornman, the controversial former lobbyist and ex-Paul Martin aide. Bornman has turned Crown witness against Basi and Virk, who police allege were bribed by Bornman, leading to breach of trust charges against them.
And defence lawyers raised for the first time the possibility of a mistrial or a miscarriage of justice as they argued for more disclosure.
Every which way, indeed
And yet like a Russian matryoshka nesting doll, there's always something more underneath that changes the picture dramatically.
The biggest challenge for both journalists and the public -- not to mention Justice Elizabeth Bennett, who will preside over the case -- is in following what is undoubtedly the most complex political scandal British Columbia has ever seen.
To get some idea of the scope of what the RCMP call "Project Every Which Way," consider that there are more than 100,000 pages of evidence, including dozens of wiretap transcriptions, interview statements, police notes, bank statements and tax records of the accused and untold government documents.
The police organizational chart alone was said in court to have filled several walls and included even embattled RCMP Commissioner Giuliano Zaccardelli, whose approval was needed for wiretaps involving questions of Parliamentary privilege.
Justice Bennett, who acquitted former B.C. premier Glen Clark in 2002 in another high profile breach of trust case, herself said at one point in the proceedings on Oct. 30 that she would: "Probably be a very good juror because I don't remember any of the media reports on this case."
Having attended a good portion of the four-day hearing, it's easy to have some sympathy for not only the judge -- who will rule on the disclosure application on Nov. 14 -- but all involved.
Yet this case is critically important. It involves allegations of influence peddling in a $1 billion privatization deal, wiretapping that accidentally included Premier Gordon Campbell, intentional police surveillance of the finance minister, allegations of police misleading a Supreme Court justice and much, much more.
So to try and find some discernable direction that helps explain "Project Every Which Way" it's best to break down the new information into component parts.
1. ERIK BORNMAN, CROWN'S STAR WITNESS
The Crown's key witness, Erik Bornman, was once again the subject of considerable speculation in the defence lawyers' application for disclosure of evidence.
That application, filed by Bob Virk's lawyer Kevin McCullough, David Basi's lawyer Michael Bolton and Aneal Basi's lawyer Joseph Doyle, provided new information about Bornman's upcoming central role in the trial.
Bornman was nicknamed "Spiderman" after entering a locked federal Liberal Party office -- which allegedly contained the B.C. membership list during the time of the leadership battle between Paul Martin and Jean Chretien -- through the ceiling.
Bornman was registered as a lobbyist for OmniTRAX, the U.S.-based rail company that bid for B.C. Rail against eventual winner CN Rail. Another bidder, CP Rail, bailed out of the bidding because it claimed there was a "clear breach" of fairness in the process, due to other bidders receiving confidential information.
Bornman is alleged in police documents to have provided bribes to David Basi and Bob Virk in exchange for confidential government information on the B.C. Rail bidding process. Those allegations were made in a police "Information To Obtain" search warrant application made public previously and have not been proven in court.
Belated disclosures alleged
The defence application filed Oct. 30, 2006, states that the special prosecutor, Bill Berardino, provided a disclosure package to the defence on Sept. 16, 2005 that "included a number of significant materials which had previously not been disclosed."
Among them was, the application states, "A previously undisclosed 25-page statement taken from Erik Bornman from Dec. 28, 2003."
McCullough pointed out in B.C. Supreme Court that Dec. 28, 2003, was "the day of the searches. It obviously should have been disclosed previously."
On that day Bornman's home office for lobbying firm Pilothouse Public Affairs in Vancouver was also searched by police, as was Pilothouse's Victoria office run by lobbyist and former Vancouver Province political columnist Brian Kieran, who will also reportedly testify as a Crown witness against the accused.
[Pilothouse closed down in the months following the raid, to be replaced by K&E Public Affairs in 2005, a joint venture of Kieran and Jamie Elmhirst, currently president of the Liberal Party of Canada in B.C.]
In April 2006 Kieran announced his "inevitable retirement" after a well-paid career lobbying the B.C. Liberals and before that, the B.C. NDP government on behalf of major multinational forest companies and others.
As The Tyee reported at that time, a large volume of information related to several search warrants was released to the media, including allegations that Bornman and Kieran paid almost $30,000 to the accused in exchange for confidential government information on part of the B.C. Rail deal. K&E also appears to have closed shop.]
Questions linger
There are many questions arising from the disclosure that Bornman made a 25-page statement to police.
Why would Bornman make such an extended statement to police the very day his home and business were searched?
Did he have legal counsel present?
Had Bornman been aware previously of the police "Project Every Which Way" investigation?
Did Bornman make an offer to turn Crown witness that very day, or even previously?
Or did "Spiderman" fold like Superman on ironing day in the face of police pressure?
None of these questions can be answered before the trial but they raise intriguing possibilities.
Faces legal hearing
Bornman was also creating news while the court proceedings were being heard.
I reported on Nov. 3 in 24 Hours that Bornman will be under the scrutiny of the Law Society of Upper Canada in Toronto starting Nov. 21, where the budding lawyer faces a special admissibility hearing on his request to be admitted to the bar.
Global TV's Keith Baldrey has since then reported that Bornman's lawyers are attempting to have the Law Society hearing held in private despite common practice that such proceedings are open to the public and media.
In 2006 Bornman was a $1,300 per week articling law student at the prestigious law firm of McCarthy Tetrault, which donated $118,000 to the 2003 Paul Martin Liberal leadership campaign that Bornman was a player in.
But in July 2006, Bornman resigned his post following an unknown person laying a complaint against him with the Law Society, as I reported exclusively in 24 Hours Aug. 1.
The Society has a "Good Character Requirement" that asks if the applicant has been involved in criminal proceedings, fraud or other misconduct.
One of Bornman's Toronto lawyers, Nikiforus Iatros, refused comment when I contacted him Nov. 2.
McCarthy Tetrault's Communications Director Doug Maybee said in an e-mail to The Tyee Nov. 8 that Bornman has not returned to his student articling position at the firm, leaving open the question as to where he might be articling.
The other lawyer working for Bornman, according to Law Society documents, is Bryan Finlay, Q.C., a senior counsel at WeirFoulds LLP.
Finlay has also represented WestJet in litigation with Air Canada, the Toronto-Dominion Bank in an $80 million case and a high profile 1995 defamation case in the Supreme Court of Canada representing an unsuccessful appellant in Hill v. Church of Scientology.
WeirFoulds corporate slogan is: "Gain and protect advantage."
2. B.C. RAIL
On Nov. 25, 2003, little more than a month before the Legislature raid, Canadian National bought B.C. Rail for $1 billion in one of the biggest privatization deals in Canadian history.
The deal was extremely important politically for B.C. Liberal Premier Gordon Campbell -- and it broke his 2001 election promise not to sell the longtime Crown corporation.
Campbell was keen on privatizations and public-private-partnerships or P3s as a means of reducing both the size of government and government debt.
The B.C. Liberals fudged the sale, calling it a renewable "lease" in which the province retained the rail line itself and rail bed. But it was soon learned that the 60-year lease -- giving British Columbians just $16.6 million a year to give up their profitable railroad -- could actually be renewed for up to 990 years -- giving the Liberal's "New Era" promises a new meaning.
But the B.C. Rail privatization first announced on May 13, 2003, was at one point on the verge of collapsing.
Dwindling bidders
There were just three bidders: Canadian National, Canadian Pacific and U.S. railway giant OmniTRAX, based in Denver, Colorado.
Then in a private letter to the B.C. government sent Nov. 21, 2003 -- just days before CN was announced as the buyer -- Canadian Pacific dropped out of the bidding, claiming that CN had been given confidential government information unrelated to the Basi-Virk case, leading CP to believe that the government's handling of the B.C. Rail sale was "extremely prejudiced".
"By allowing CN access to B.C. Rail's customers at a time when CPR was prohibited by its confidentiality agreement from contacting such customers, the province has, whether intentionally or not, provided CN with an unfair competitive advantage," says the letter -- obtained by the Vancouver Sun through a Freedom of Information request -- and sent by CP's lawyers to a CIBC consultant handling the bid for the B.C. government.
That left just two bidders -- CN and OmniTRAX. Were OmniTRAX to drop out as well, the B.C. government's vaunted privatization of B.C. Rail and the alleged "competition" to provide taxpayers with the best deal would be shot.
And CN, who gave $60,000 to the B.C. Liberal Party in the two years before the 2001 election, could look like it low-balled its offer, knowing there were no other bidders.
So, as at least one possible defence theory may go, there was huge pressure on B.C. government officials to keep OmniTRAX in the bidding.
Basi was ministerial assistant to then-finance minister Gary Collins, while Virk was ministerial assistant to then-transportation minister Judith Reid.
Could that pressure have resulted in someone authorizing government information to be passed along to OmniTRAX to encourage their continued participation?
Again, only the trial can answer that speculation.
Roberts Bank riddle
The second part of the B.C. Rail equation is that a second, smaller privatization of the Roberts Bank Port Subdivision was cancelled in March 2004 by the B.C. government after the RCMP said the process was compromised by the leak of confidential information.
OmniTRAX, in a consortium with Burlington Northern Santa Fe Railway, CP, and CN were all bidders on the Roberts Bank rail line, estimated to be worth up to $70 million.
According to a police search warrant ITO sworn by RCMP Corporal Andrew Cowan, the residence of Bruce Clark -- a federal B.C. Liberal executive and brother to then-deputy premier Christy Clark -- was searched because:
"I believe that CLARK received documents pertaining to a Request for Proposal and presentations regarding Roberts Bank. I believe that CLARK has had meeting with BASI. I believe the items sought will be found at..." Bruce Clark's Vancouver home address, the ITO concludes.
It should again be pointed out that the ITO contains unproven allegations that have never been tested in court.
At the defence disclosure application hearing that began Oct. 30, 2006, lawyers McCullough, Bolton and Doyle state that on Dec. 8, 2005, they received: "a number of significant materials which had previously not been disclosed, including:
"The notes of Superintendent McRae from the period of Dec. 18, 2003, through March 10, 2004. These notes contain a significant detailing of communications between the RCMP and the Senior Government officials with respect to the decision to cancel the bidding process for the Robert's Bank Port Subdivision, the subject of Count 10 on the Indictment herein."
It was at this point in the hearing that McCullough posed the question on the main B.C. Rail deal itself.
"The Roberts Bank count -- the bid is cancelled. That's a very, very significant issue. Why cancel Roberts Bank and not B.C. Rail?" McCullough asked.
Like many other questions raised, it has so far gone unanswered.
3. RCMP BEHAVIOUR AND MISTRIAL MUSINGS
The defence disclosure application challenged the actions of both the RCMP and the Special Prosecutor in this case, challenges that Bill Berardino vigorously rejected for the most part.
And while some agreements were reached in court between the defence and prosecution by hearing's end, Justice Bennett will still render a decision Nov. 14 on the application request that defence lawyers gain access to a top-secret "project room" where the RCMP stores its evidence.
But whatever the decision, the defence application hearing has thrown a light on a series of unusual RCMP activities, as well as other information coming to attention outside the court.
Media leaks and RCMP house buying
One intriguing hint was thrown out when the defence said it had requested "Inspector Zack's missing report into media leaks" in its application and earlier that they sought a "report prepared by Insp. Zack into the media links [sic] and media strategy."
The defence lawyers wrote that: "Inspector Zach's media report dealt with the considerable number of media leaks in this case. These leaks resulted in significant publicity, especially with respect to the raid of the Legislature. Such publicity had a profound deleterious effect on the fair trial rights of these accused persons."
Other complaints by the defence include failure to provide some of the notes of several RCMP officers involved in the investigation when requested. These notes, since received, included those of Corporal Andrew Cowan, who swore the Information To Obtain search warrants and is a key investigator, a Sergeant Buerk, who they say plays "an active part" in the case and was involved in the effort to have Erik Bornman become a Crown witness.
"Sgt. Buerk's notes were not provided. How could the Special Prosecutor be unaware that Sgt. Buerk's notes were not provided, given that Sgt. Buerk is present for the April 5, 2004, meeting between Sgt. Finner and Cpl. Cowan wherein Sgt. Finner's notes indicate that a discussion is held and an agreement is made that Bornman will be treated as a witness? Is there a more important meeting?" reads the application.
House deal
But if the Supreme Court was hearing important information on the RCMP's behaviour, other odd facts surfaced outside.
Corporal Cowan, as has been previously reported, has had the unusual experience of buying a house from David Basi's family in 1999, including dealing directly with Basi and, according to Basi, raising issue with problems found at the house.
In addition, a consultant who was considering hiring David Basi in 2004 has told The Tyee and some other media outlets that Cowan visited him at his home along with another officer, making it clear it would be a mistake to continue having a working relationship with Basi.
Cowan told The Globe and Mail he couldn't comment on these allegations because the case is before the court.
And for the first time, Basi lawyer Michael Bolton suggested Crown and RCMP handling of the prosecution could result in an application for a mistrial, raising the possibility that the case might never be heard in court.
On Oct. 31 Bolton spoke of a failure to disclose evidence and a lack of proper inventories of that evidence -- subsequently strongly disputed by Berardino -- and then told Justice Bennett that: "This is a prime example of a case that's a serious candidate for a miscarriage of justice or a mistrial down the road because of the failure of disclosure."
Privilege issues
Then there's the challenge of parliamentary privilege affecting much of the evidence gathered for the prosecution.
As has been previously reported here and elsewhere, the wiretapping of David Basi's government-issue cell phone only happened after the RCMP had been twice turned down by judges concerned about the privilege question.
On the third attempt the defence alleges that the RCMP did not tell the judge hearing the wiretap application that two earlier applications had been rejected or that the address indicated on the application was in fact the street address of the B.C. legislature.
B.C. Liberal Attorney-General Wally Oppal, himself a former B.C. Supreme Court judge, expressed his concern about the possibility that police had misled a judge and that Premier Campbell had been intercepted speaking to Gary Collins on the wiretap.
"I don't know whether they mislead the judge. It would bother me if they did," Oppal said. That led to New Democrat MLA Leonard Krog, a lawyer and opposition critic, to tell Oppal to be quiet if he doesn't want to be the cause of a mistrial.
"High profile prosecutions have failed in the past because politicians felt compelled to make comments in public that were later deemed prejudicial," said Krog.
TRIAL DATE: MORE DELAY?
So, given the massive amount of evidence, the complexity of the issues, the privilege question, the admissibility of wiretaps and a host of other vexing problems, can one realistically expect the trial to being on Dec. 4?
After all, this has probably been one of the most often delayed trials for a major case in B.C. judicial history. Even getting any of the search warrant information released took almost a year.
But Michael Bolton, David Basi's lawyer, told The Tyee outside the court on Nov. 2 that while there will be more delays, Dec. 4 still stands.
"Certainly we'll be starting something -- the Crown's privilege claims," Bolton said. "The first week of January we'll have a voir dire [a mini-hearing on contested evidence] on the admissibility of wiretaps and the authorization to intercept."
Meanwhile, at least one of the key players in the case isn't letting the pressure get to him.
Crown witness Erik Bornman has a new website featuring his amateur photography and noting his enjoyment of "food, wine and independent film."
And apparently while not yet a lawyer and while facing an admissibility hearing in front of the Law Society, Bornman claims in his bio online that he has: "has actively participated in...the provision of pro bono legal service to the public."
If and when this trial ever happens it will be standing room only at B.C. Supreme Court.
Related Tyee articles: