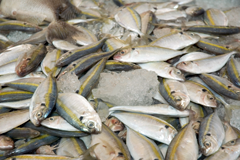 It comes as no surprise to those of us who follow these things that a new study under the leadership of Boris Worm of Dalhousie, published in the journal Science, predicts the collapse of the world's fish stocks by 2048.
As far back as 1998, UBC's Dr. Dan Pauly had made similar predictions. In last February's Science it was reported that 90 per cent of the oceans' large predators are gone. We are the problem and we must be the solution. For calamitous though these findings are, there's hope if we don't lose sight of our objective, work like hell and make sacrifices.
This is particularly true for B.C., since we are one of the few faint hopes for recovery and maintenance of fish stocks. How ironic it is that fish farms in the Broughton Archipelago make this point; for the one year a migration path was free of fish farms, there were excellent returns.
Our sins go back a long way. As kids we were told to "throw the little ones back" and indeed that philosophy is still the law. Think about that. The big fish you catch has survived all manner of problems and is now big enough to spawn. Kill that fish and you kill a solution to the diminished fish problem. Throwing the little fish back has two main problems. Unlike his bigger sibling, it probably won't survive the return, usually bleeding, to the ocean, and it must now set out on its journey full of the dangers that its big brother or sister has survived.
Apportioning blame may seem irrelevant, but it isn't, because if we don't identify the problems, each one at fault will say it's the other guy. Here are the mug shots: a citizen, a politician, a fishing company and the worker, including his union.
Destruction without consequences
We the public have yet to visit a single political consequence on the politicians who have let this coming catastrophe unfold.
The politician, under no real political pressure from the public, does worse than nothing; he actually contributes to the problem.
The companies (all from outside B.C.) whose only obligations are to their shareholders -- including their executives with huge bunches of options to sell if the profits go up.
While many unions have tried to get the others to understand what was happening, their record is mostly putting jobs first, insisting that fisheries remain open even though there's nothing to catch.
(Permit me to digress. In 1979, I attended the international fish conference where the United States and Canada divided up the allowable fishery on "ground" fish. They allowed themselves to catch more fish than existed!)
Leaving aside environmental degradation, what have we done wrong? As a primer, read Dr. Carl Safina's Song For A Blue Ocean. Almost a decade ago, Dr. Safina was saying what other scientists are now confirming.
The drift nets and long lines of Japan and South Korea have wreaked havoc not only to the targeted fish, but also to the by-kill -- that which was not sought yet was captured.
Bottom-feeding officials
The idiocy of governments, indeed the mindset of governments, has played a huge role. They have permitted fishing without having the faintest idea of the fish's lifespan or breeding habits. Thus, many species are dying out because commercial fishermen, seeking the largest fish, have all but wiped out entire species not realizing that these fish may not breed for 10 to 20 years.
One need only look to Eastern Canada to see how governments and industry conspired to turn a blind eye to the overfishing, and now impending extinction, of the cod.
Back to the big-fish, little-fish aspect of this problem. Fishermen will always take the large fish because it brings the most money in. Thus, they destroy that which is about to mate. The large fish gone, the prey get smaller and smaller. Then comes the wipeout.
There will be one group cheering the news: the fish farmers. Lost in the debates that have centred on the predation by sea lice on migrating fish is the fact that almost no one opposes aquaculture per se. What is opposed by so many of us is the siting of these farms in the migration path of wild salmon smolts. I invite you to think about that. However attractive the river mouth may be to fish farmers, if you had the power, would you let them put farms in the path of young salmon on their migration exercise? Of course not, but that is precisely what the owners, with the encouragement of the politicians, have done and want to continue to do.
(It's interesting to note in passing that while fish farmers and the governments reject the huge quantity of scientific evidence that told the consequences of badly sited fish farms, they enthusiastically, dare I say ghoulishly, greet the scientific evidence that the world's stock of fisheries is en route to extinction. The fewer wild fish the better. It's rather like the U.S. military wisdom in Vietnam that said, "We had to destroy the village to save it.")
What we must do now
Here in British Columbia, if we get our act together, we can get back on track. Governments must move in and move against anything human-controlled that will hurt our fishery.
The first thing they must do is legislate this: "Any application of any sort that may be injurious to any fishing on our coasts must demonstrate that it will do no harm, the onus being 'beyond a reasonable doubt.'" That is not the case today. The fight against fish farms has been borne by private individuals and organizations because fish farmers and their handmaidens in government have not accepted the onus to first prove no harm.
Next, Fisheries and Oceans must have its mandate to promote aquaculture removed, accompanied by a mandate to protect wild fish and force those who would use those oceans to demonstrate beyond a reasonable doubt that they can do so safely.
Finally, all British Columbians must understand that the very last thing we need as we go into a recovery mode is an increase of fish farms in the path of migrating salmon. All applications must be denied with the corollary that those farms now endangering wild salmon must be closed or removed.
Related Tyee stories: