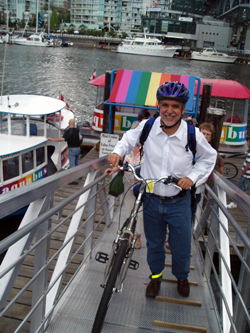 [Editor's note: Charles Montgomery has been blogging the World Urban Forum for The Tyee. To read earlier posts, go here.]
FRIDAY MORNING, June 22
If you think the problems facing the world's exploding cities are insurmountable then you need to spend a few hours on a bike alongside the former mayor of Bogota. That's how I spent Thursday afternoon, and it left me with new hope for the global south, not to mention the bloated 'burbs of Greater Vancouver.
Enrique Peñalosa presided over the transition of a city that the world--and many residents--had given up on. Bogota had lost itself in slums, chaos, violence, and traffic. During his three-year term, Penalosa brought in initiatives that would seem impossible in most cities, even here in the wealthy north. He built more than a hundred nurseries for children. He built 50 new public schools and increased enrolment by 34 percent. He built a network of libraries. He created a highly-efficient, "bus highway" transit system. He built or reconstructed hundreds of kilometers of sidewalks, more than 300 kilometres of bicycle paths, pedestrian streets, and more than 1,200 parks.
He did it all, in part, by declaring a war on private cars.
What makes us happy?
Peñalosa explained the philosophy behind this war--and Bogota's transformation--earlier Thursday during a plenary lecture at the World Urban Forum. He began with a sobering reminder to the mayors of developing world cities:
"If you base progress on per capita income, then the developing world will not catch up with rich countries for the next three or four hundred years. The difference between our incomes is growing all the time. So we can't define our progress in terms of income, because that will guarantee our failure. We need to find another measure of success."
The measure he came up with was shockingly simple. Happiness.
"And what are our needs for happiness?" he asked. "We need to walk, just as birds need to fly. We need to be around other people. We need beauty. We need contact with nature. And most of all, we need not to be excluded. We need to feel some sort of equality."
Before you dismiss Peñalosa as some hemp-hatted revolutionary, remember that this is a guy who titled his first book Capitalism: The Best Option.
The problem in Bogota was that most people didn't have access to the public space that is supposed to make such happy things happen. The wealthy had turned city sidewalks into parking lots for cars. Public parks had been fenced off, essentially privatized by neighbours. And for years, the government had been blowing its budgets on highways and road improvements, with the encouragement of Japan's international development agency, which was apparently in the business of creating new markets for Japan's carmakers. So while the wealthy in Bogota could spend their weekends in country clubs or private gardens, the poor had little but jammed streets and televisions to occupy their leisure time. Peñalosa resolved to establish a balance.
Peñalosa's official War on Cars began when he ordered the sidewalks cleared of cars. That triggered a movement to impeach him--unsuccessful, since it was in fact illegal for people to park on the sidewalks. He then launched a system which banned 40 percent of vehicles from the roads during rush hour. Peñalosa convinced his city council to raise the tax on gasoline, and used half the revenues to fund a rapid bus system that now serves more than 500,000 citizens.
After Bogota's first wildly popular "Car-Free Day" in 2000, residents voted in a referendum to make the event an annual affair. Most powerfully, the city was transformed from a place of hopelessness to one of civic pride.
Pedaling with the rock star of WUF
I've never seen a crowd of planners, politicians and sustainability wonks go wild like they did after Peñalosa's address. The guy got a standing ovation. Stuart Ramsey, a B.C. transportation engineer, explained why.
"Bogota has demonstrated that it is possible to make dramatic change to how we move around our cities in a very short timeframe," he said. "It's simply a matter of choosing to do so. We could improve our air quality and dramatically reduce our emissions anytime we want. It's easy to do. For example, we can improve the capacity of our existing bus system without adding a single bus. All it would take is a can of paint, and you'd have dedicated bus lanes. It doesn't require huge amounts of money. It simply requires a choice."
Peñalosa now advises cities around the world on how to make sense of their own transportation systems. I tagged along with the former mayor and his entourage of Colombian politicians and activists as they hit Robson on a fleet of rented bikes. I observed the first rule of Colombian cycling: never break a sweat. The second rule: establish a critical mass of riders, and you don't really need to pay attention to traffic lights.
Peñalosa explained that he is actually a fan of traffic. "First of all, it's a sign that you have enough density to support transit. Second, it is one of the best ways to get people out of their cars. Anywhere you look in the world, when people use public transport, it's not because of some high level of consciousness. It's because private driving is restricted. What is the easiest way to restrict private cars? Traffic. Just look at New York."
It occurred to me that traffic is experienced differently in Bogota and Vancouver. In Bogota, it's the rich who sit alone behind the wheel in their rush hour frustration, dreaming of more lanes. Here, I think it is generally the middle class and working poor: they own cars, but have to commute from the 'burbs because they can't afford to live in our jewel-box downtown. Some might consider it only fair for the province to build the Gateway Program's new bridge and highway lanes.
"Well, sometimes the solutions to our problems are not obvious," responded Peñalosa between licks of his ice cream cone. "We think that traffic jams are going to be solved by building more roads. But that has never worked, anywhere in the world. Building more roads will just lead to more traffic jams."
A Vancouver connection
It would be nice if cities didn't have to wait until they were staring into the abyss before changing course. But Peñalosa's Bogota proves that change is not so much a matter of spending big money as it is a matter of choice.
"Transport is the only urban problem that actually gets worse as you get richer," he said. "It's only solved by changes in our behaviour. And this is always a political issue."
What seems to have surprised Peñalosa is that his policies have been lauded by international environmental groups as green activism for their salubrious effects on local air, public health and greenhouse gas emissions. But for him the idea of giving all citizens equal rights to transportation, education and public spaces have always been matters of social equity. What pleases him most is the notion that, at least on Bogota's greenways, children are no longer terrified of being hit by cars.
One more thing. Where did Peñalosa find the inspiration to transform his city? Why, at Jericho Beach in 1976, where his father was the secretary general of Habitat '76.
To read Charles Montgomery's previous blogs from the World Urban Forum, go here. Montgomery is author of The Last Heathen, winner of the Charles Taylor prize for Canadian non-fiction, and is at work on a book about mega-cities.