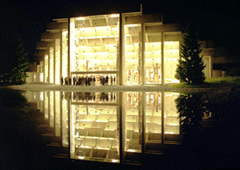 Some of the greatest minds in architecture and urban design are coming to Vancouver in June. They will consider and deliberate on the future of cities around the world, and they will do the same for Vancouver.
No, we're not talking about the World Urban Forum.
"This World Urban Forum is very top heavy with policy wonks, deputy ministers and bureaucrats," says architecture critic and urban design consultant Trevor Boddy. "The very people who make things, who shape things, have somehow not been invited to the party."
Boddy was so underwhelmed by the WUF's lineup of speakers and guests, he decided to put on his own urbanist gab-fest. He will curate the "Dialogue of Cities," a gathering of design writers and thinkers, hosted by the University of British Columbia's Museum of Anthropology from June 1-3.
'Backslapping mode'
Eight of the world's leading architecture critics and urban writers will explore current urban issues and museum-building in some of the world's most watched cities: Mexico City, Rome, Hong Kong, Havana, Dubai, Nairobi, London and Lower Manhattan. Vancouver desperately needs to hear these voices, particularly now, says Boddy.
"Vancouver is currently in a fervent backslapping mode, which is a very dangerous place," he says. "Those of us who love this city dearly and want it to evolve, we want to see a broader dialogue about where we should go from here. So we invited smart, urbanist architects who can and do venture opinions. We are going to tour them around Greater Vancouver, and ask them to tell us what they see here. We want their fresh eyes, their experience, their wisdom and their sense of humour, and we want their advice."
The event's headliner is architect Robert Ivy, replacing Michael Sorkin, the outspoken former Village Voice architecture critic, who had to cancel on short notice. As Vancouver plans its own cultural precinct, Boddy says we would do well to consider Ivy's take-down of the World Trade Centre reconstruction fiasco in Lower Manhattan. Then there's Samia Rab, head of the architecture department at Dubai's American University of Sharjah. Rab will draw parallels between Vancouver and its post-modern cousin in the Persian Gulf, where 40,000 new False Creek-style condos will hit the market next year, even as Dubai's infrastructure buckles under the pressure.
Boddy recently wrote a searing critique of the World Urban Forum's guest lineup for the New York-based Urban Design Newsletter. He charged that the forum, which will bring more than 15,000 participants to Vancouver in the third week of June, has been "given over to policy wonks, to issue- not intervention-driven NGOs, and to politicians and their closest advisors from governments," while neglecting the hands-on work of city design, finance or construction.
Forum still forming
WUF organizers have yet to release their final list of speakers and guests, but a brief scan of the forum's list of networking events suggests that the gathering will, indeed, focus heavily on the political aspects of sustainable city-making, rather than the act of actually building cities.
WUF Commissioner General Charles Kelly explains that the forum's agenda is being driven partly by the tens of thousands of people who participated in Habitat Jam, a three-day internet forum in December. Participants from Cameroon to Kosavo said they wanted the WUF to focus on women's issues, housing, good government, environment and sustainability.
"Trevor thinks that architects should be at the centre of these things," says Kelly. "Well, it's great for architects to get together and chat amongst themselves, but we are trying to open the table up to many players. It's something we don't think about in Vancouver because Vancouver and the GVRD have an imbedded public process. This isn't happening in other parts of the world, where cities are being planned by architects and designers who think they know best, without input from the people affected."
"So we are bringing together the doers -- there will be architects -- but we are also trying to change how civil society members come together. We are trying to be more inclusive."
The Dialogue of Cities event, and some parts of the World Urban Forum, are open to the public.
For more on the Museum of Anthropology's Dialogue of Cities, go here.
For more on the World Urban Forum, go here.
For more on the World Youth Forum, and related events, go here.
Vancouver writer Charles Montgomery will be writing a series of pieces keying off the World Urban Forum for The Tyee. He is author of The Last Heathen.