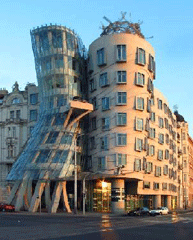 If cities are the future, then now is the moment to ask some important questions about the future of cities.
The World Urban Forum runs June 19 - 23, in the fair city of Vancouver. The thinkers and the talkers will be hard at work, posing questions about sustainability and design and envisioning new urbanities. Particularly relevant to those discussions will be contributions from architects, who have the responsibility for shaping those cities.
But, as Bob Geldof says in the new documentary, The Sketches of Frank Gehry, architects have a lot to answer for. No wonder architects all seem to be in long-term therapy. To paraphrase Geldof paraphrasing Evelyn Waugh, "If one meets an architect at a party, one's first duty should be to slap them."
And indeed, a slap in the face of straight edges everywhere is the work of Gehry, who does to steel and aluminum what someone else might do to a crumpled piece of paper. There is beauty in chaos, but there is also ugliness, and as some of the people interviewed in the film note, many of Gehry's designs are extraordinarily ugly.
Concrete risks
But artists take risks; that is their job. And Gehry is both architect and artist with both job descriptions bringing the weight of insecurity. Despite the fact that Gehry is, by most accounts, an architectural superstar, he is prone to agonizing bouts of self-doubt. Upon visiting the Guggenheim Museum in Bilbao, a structure that is perhaps one of the most celebrated contemporary buildings in the world, Gehry claims to be horrified. "How could they let me do this?" he asks. Whether he is in fact being disingenuous, is difficult to say.
The man is a bit of a paradoxical creature, both an "aw shucks" everyman and a superstar, lauded and loathed in equal measure. The film lets Gehry tell his own life story, from his childhood in Toronto, to his move to L.A., art classes, a failed first marriage, a couple of bankruptcies, a name change from Goldberg to Gehry and, finally, the glories of fame and fortune. Of course, in the film, as in life, things are not nearly so linear.
The film is made by his friend Sydney Pollack and features the usual talking heads yakking away, although the cast of characters is a curious combination of chairmen of the board (Michael Eisner, Barry Diller) and freaky artists. (Julian Schnabel, get some clothes on for God's sake!) Details of Gehry's life are casually discussed, and much of the film's charm comes out of his exchanges with Pollack. It's like listening in to a conversation between two friends looking back over the course of their lives.
Plans of infinity
Pollack is not a particularly introspective documentary maker; he is content to let his subject merely expound and ramble at length. However, in Gehry's case, this actually works. He is a good raconteur: witty and amiable. And as he drives and talks, and caresses the skins of his own buildings, he is never less than easy to listen to. The fact that larger issues related to architecture are only cursorily addressed is not the fault of the film.
Whether or not Gehry has any insights about the larger issues of designing buildings and cities themselves, his work is interesting in light of urban planning: not simply because it elevates the notion of architecture to something beyond mere service, but in that it reworks the rules themselves. If his work offers any type of lesson, it's that in rethinking the idea of cities we need to entertain infinite and hitherto never considered possibilities, all grounded by practicality -- transit, sewage, schools and a good grocery store. Urban Fare begone!
We are living the results of some of these conversations in Vancouver. If you visit it regularly, you might not recognize the Vancouver downtown core from one week to the next; the pace of change is so rapid as to outstrip human comprehension or, more importantly, understanding. And yet the nature of making art (or architecture) requires an act of trying to understand what you are doing in mid-leap. But of course, a painting won't fall down on your head and kill you if it doesn't work (with the possible exception of Schnabel's work that is). Only the long view of history will enable us to clearly ascertain what worked and what did not; we are all forced to let time be the judge.
Tenuous certainties
The larger questions of architecture, cityscapes and the politics of city-building are deserving of a film all of their own. Luckily for us in little old Vancouver, the World Urban Forum will examine in depth the issues surrounding modern cities, and they are multiple. Not the least of which is that, in the next 50 years, most of the world's population will be living in cities. How then to house this influx? If you want an example of what not to do, look only to City Limits: Slums of the World, a series of films offered next week at the Vancity Theatre. As for what happens when there are too many poor people all in one place: you end up with every possible variation of human suffering, and quite possibly some that haven't even been invented yet. These films -- Pixote, Tsotsi, The Cool World, In Vanda's Room, Ali Zaoua, Salaam Bombay -- often focus on the poorest and the most vulnerable, especially small children living lives of desperation, poverty, and often unremitting horror. But despite the dark side of urban living, people love their cities with a remarkable passion. They are home after all to billions of souls worldwide.
Vancouver has been hailed recently in such magazines as Canadian Geographic as something of an urban planning success story (the downtown core in particular with its mixture of live/work space and density). It offers a direct contrast to many U.S. cities, with their dead city centres and urban sprawl everywhere else. Despite the good press, things are far from perfect here. If Vancouver is to learn anything from such films and from the Urban Forum, it has to look to the examples (good and bad) of other major centres, which are all similarly grappling with issues of sustainability, transportation, housing and social issues so complex that they might necessitate some mass slapping of architects everywhere.
But the vexatious problems of huge numbers of people in an increasingly tenuous world won't be solved by any abstract combination of glass and steel, no matter how artful. How exactly, or if, they will be solved at all, is the much bigger question. Having recently visited two of the world's most remarkable cities (Paris and London), I discovered one can learn a lot from the simplest things, like that living and working close together is a good idea, or that underground subways work better than buses to transport the masses hither and thither. The parks of Paris continue to be a revelation, utterly beautiful, and somehow wonderfully democratic, with attractions for every age -- puppet shows, carousels, sculpture, and grass that no one is allowed to sit on. Despite the curious last fact, Parisian parks live in my brain as the truest embodiment of a truly world class city. Vancouver has a ways to go.
Dorothy Woodend reviews films for The Tyee every Friday.
Related stories: David Beers talks with Dream City author and urban planner Lance Berelowitz; James Glave interviews Dr. Sustainability, UBC's John Robinson; and Charles Montgomery writes about the 'Dialogue of Cities.'