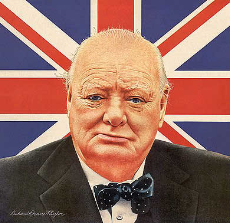 I am a lifetime admirer of Winston Churchill. I'm old enough to know what his impact was on Britain and what he did for the rest of the free world in 1940 when the UK was alone against Nazi Germany and Fascist Italy. I mention Italy because however we laugh at their military inadequacy (one of the smallest books in the world is entitled 'Italian War Heroes', har-de-har-har) Italy had a modern navy that seriously threatened Britain's lifeline to the east through the Suez Canal. I came of age during World War II and was subjected for six formative years to unbelievable propaganda in favour of Churchill and all he did and stood for. It was not, then, surprising that I was horrified, flabbergasted, when revisionists came along about 15 to 20 years after the war and criticized everything he did and stood for. How could these people not know? What was it that made them unable to understand?
The neo-Nazi David Irving had a field day. Maybe Hitler was a little rough on the Jews but if Churchill had only made peace with him in 1940, why Hitler would have beaten the be-Jesus out of the Soviet Union and we'd never had the Cold War. John Charmley, no neo Nazi, but thick headed, spouted the same rot. Some of the Cabinet urged that Churchill make peace in the summer of 1940 when the picture was at its bleakest but he knew that this would have meant Germany would have controlled most of the oil available to Britain and that Hitler would have quickly turned on Britain despite the deal, just as he was to turn on the USSR. Somehow this seemed too difficult for the revisionists to grasp. After all, I suppose, it's always been good money to write a Churchill book.
Gallipoli, India, and other flubs
During the revisionist period - which has petered out but is not yet gone - I remained loyal. I waded through the eight-volume 8000-page Official Biography on Churchill started by his son Randolph, the last six books done by Sir Martin Gilbert, which gave me the chance to deal with my hero virtually day by day. As the process of my aging, and as more Churchill evidence poured out into the market, I knew that Churchill had made mistakes - big ones. I read everything there is to read on Gallipoli which his political foe, Clement Attlee called the only innovative suggestion of World War I. And I saw his fault of impetuousness and the power of persuasion he backed it up with. Yet I saw, as Earl Attlee did, that it was not the idea that was at fault but its implementation, most of which was out of Churchill's hands, that did the project in and that had it worked, the slaughter in the trenches of France and Flanders might have been considerably shortened.
I saw that his position on India was wrong and outdated and that this cost Churchill support when he and the world most needed it - in the 1930s - and could have cost him the premiership in 1940. I also saw that though Churchill may have been wrong in principle, he was horribly right in assessing the incredible cost in human life that Indian independence and the Hindu-Muslim split would engender.
He was wrong to stick up for Edward VIII when he tried to keep his twice divorced American lady and the throne too - but he was true to his friend and what he saw as the threat to the monarchy. He was wrong, though, mostly because on account of Edward VIII and India he nearly was kept from leading Britain and the free world in May 1940 when all hell broke loose in France and the Low Countries as Germany smashed all resistance and stood on the beaches of France with a 20 mile Channel all that stood between Hitler and Buckingham Palace.
Throughout all of that I saw how right Churchill was on the main issue.
Holding fast
In May of 1995 Wendy and I went to Britain for the celebration of the 50th anniversary of the end of the war in Europe, VE day. We went to the marvelous concert at Speakers' Corner in Hyde Park for the magnificent celebration that featured the Queen lighting the torch of deliverance which signaled other torches being lit all over the kingdom. We heard the magnificent Vera Lynn, The Sweetheart of the Armed Forces, and will never forget the closing where we and 300,000 others all sang along as one more time Dame Vera sang "We'll Meet Again". But most of all I will remember sitting in the midst of a group of elderly East Londoners who were having the time of their lives as the show featuring old London Musicales and songs from her music halls, punctuated by war-time reminiscences rolled on. Suddenly there was a hush. Then the actor Robert Hardy (of All Creatures Great and Small fame) came out and gave, to a silenced throng, Churchill's speech at Whitehall on VE Day. "Never in our long history have we ever seen a day like this one . . ." Whereupon, the elderly lady next to me, glass of wine in hand, stood up and, in an atmosphere where you really could have heard a pin drop, shook her other fist and shouted, "And we stood alone!!" It was as emotional a moment as I have ever known.
But back to Churchill. Has he any relevance today?
When hoodlums defaced his statue in Parliament Square a couple of years ago the nation arose as one in indignation but did that really mean anything?
Many modern day politicians invoke the name Churchill when opposing what they see as appeasement - ignoring the fact that Churchill favoured appeasement of legitimate claims but opposed appeasement when it gave tyrants like Hitler that to which they were not entitled, in order to postpone the inevitable.
But what of Churchill, the man who marshaled the English language and sent it off to war?
What of the Churchill who, out of office but clearly not out of power, spoke in Zurich, in 1946, of the then unthinkable notion of bringing Germany and France together to eventually bring about a United States of Europe?
What of the Churchill of the same year, in Fulton Missouri (to the horror of his host, President Truman) talking of the "Iron Curtain" that had descended from "Stettin in the Baltic to Trieste in the Adriatic"?
Inside the new shrine
Does Sir Winston Leonard Spencer-Churchill (his proper moniker) have any relevance in the first decade of the 21st Century?
I invite you to visit the new (opened February 2005) Churchill Museum at the Cabinet War Rooms next to Horse Guards Palace just around the corner from the Houses of Parliament. It is a brilliant museum complete with old footage, speeches remembered and forgotten (some best forgotten) and user friendly, "touch to operate" exhibits that are terrific. Wendy and I spent nearly four hours there a fortnight ago and both agreed that we had barely begun. It's all there, warts and all. It is simply the best, far and away, museum of its type I've ever seen.
And it answers the question, does Churchill have relevance, with a resounding YES! If you go to learn, not just to confirm prejudices one way or another, you will see a man who served his country and the world such that without him, the Nazis would have won the war with God only knows what consequences.
You will see real leadership by a man who was scarcely beloved of the country when he took office.
You'll see man who not only had the words but backed them up with deeds, a man who not only spoke of courage but was a man of superb personal and political courage, a leader who welcomed and won two votes of confidence when the war was at its worst.
You'll see the man who, when with the fall of France, with the evacuation of Dunkirk, which left the army without equipment, with an air force dramatically outnumbered by the Luftwaffe, with an invasion all but sure could say this:
"Let us therefore brace ourselves to our duty … and so bear ourselves that if the British Empire and its Commonwealth lasts for a thousand years, men will still say … This was their finest hour".
If the life of Churchill doesn't inspire us, if we've become so jaded that the things, the principles he stood for no longer matter, if we have reached this stage of the world's progress (if indeed progress it can be called) and we are no longer thrilled, touched, moved and inspired by this sort of example, we're likely on a down slope that leads to a bottomless pit.
For there indeed was a man. We certainly haven't seen his like since.
Rafe Mair's column for The Tyee runs every Monday. He can be heard every weekday morning from 8:30-10:30 on 600AM. His website is www.rafeonline.com.