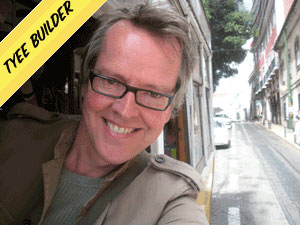 "I support The Tyee because attrition and consolidation have greatly reduced the number of credible alternative voices in Canadian news. The Tyee is swimming upstream against media standardization." -- Steve Burgess
Seriously. We had no idea that Steve could be so serious. Oh -- hang on. There's more to what "hooks" him.
"As a writer, I also appreciate that The Tyee is one of the few outlets where a professional writer can write freely and without editorial interference. And I like the Ezra puppet."
There it is. The puppet. But back to what Burgess said first about how important Tyee journalism is: our online news magazine is proudly independent, and will remain that way. But because we aren't part of any mainstream conglomerate, we don't have a lot of wiggle room in our budget. We're asking you, the readers we publish feisty, investigative news for every day (even Saturdays!), to help us boost our editorial capacity. Support The Tyee with just a few dollars a month, and we'll be better able to bring you the news you need. What's more, we have treats for you, as tokens of our appreciation.

If you'd like to join Steve Burgess and the rest of the famous Builders that are helping The Tyee grow, click on the yellow button above.
Being a Tyee Builder means a lot to us. We're aiming to double our editorial content this year, which means we need to rally a few hundred more supporters. You can see the readers who have already signed up here. We'd love to add you to the list. Sign up quick for your best chance at getting the thank-you gift of your choice, and thanks for supporting our journalism!
About this Tyee Builder: Steve Burgess is a freelance writer and the author of Who Killed Mom?, published in 2011 by Greystone Books. He was born in Norwalk, Ohio, (home of the famous virus), and was raised in Regina, SK, and Brandon, MB. Burgess writes a regular column for The Tyee, often reviewing films but also, sometimes, detailing his hilarious world travels for Tyee readers. Steve is a former CBC Radio host and has won two National Magazine Awards. He has also won three Western Magazine Awards. You can learn more about Steve on his website.
About the Tyee Builder Program: Want to give independent Canadian journalism a boost? You've come to the right place. The Tyee is trying to become fully sustainable. In order to do so, we've launched the Tyee Builders program to allows readers who love The Tyee's work to help fund more of it. Every penny you support us with will go directly to pay Tyee writers and editors. And besides the warm, fuzzy feelings you'll get knowing you're helping dial up the volume on an independent voice in Canadian media, we've come up with a few other ways to thank you. Click on "Hammertime" above to learn more and start Building!