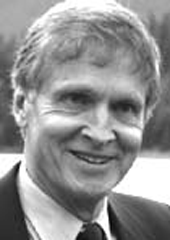 [Editor's note: This is the latest in Leiren-Young's series of podcast conversations with people who have a relationship -- political, economic, spiritual -- with trees. To find the rest, go here.]
One of Harry Potter's biggest magic tricks was letting the world know about the Forest Stewardship Council. When J.K. Rowling announced that the final installment of her beyond bestselling saga was going to be released on FSC certified paper, it was hard to miss the existence of an international organization that was founded in Toronto back in 1993 to look for better ways to manage the world's forests.
And when Ontario Premier Dalton McGuinty made switching government papers to FSC certified paper part of his recent reelection campaign, it was a major triumph for Antony Marcil, president and CEO of FSC Canada since 2005.
Close enviro ministry?
Before taking over FSC Canada, Marcil spent 10 years as president and CEO of the World Environment Center. In 1997, he was included in the first worldwide listing of "The Top 100 Figures in Environment, Sustainable Development and Social Issues" by The Earth Times. He did a two year stint as "planner-in-residence" at the School of Planning, Faculty of Environmental Sciences, University of Waterloo after devoting five years of his life to an unexpected way to save the planet: tax reform.
I met Marcil at the FSC office in downtown Toronto to talk about the history and future of the FSC, how tax reform could save the world and why he'd trash Canada's Ministry of the Environment.
And when I checked in just before posting this he was thrilled to tell me that there's so much demand for FSC-certified paper that FSC certified mills can't produce it fast enough. Fortunately, we don't need to worry about that since you're reading this online. . .
Related Tyee stories: