There are six vacant sites on the north shore of Vancouver's False Creek that have long been set aside for non-market housing. Some three decades ago, as part of the planning and rezoning of the Expo lands, the city secured very low-cost options to purchase these sites from Concord Pacific at $30 per square foot buildable, rising with the consumer price index.
Now, at a time when lack of affordable housing is at crisis level, the city is going to give up three of these sites, essentially selling them back to Concord Pacific for market condo development at a price of $121 million.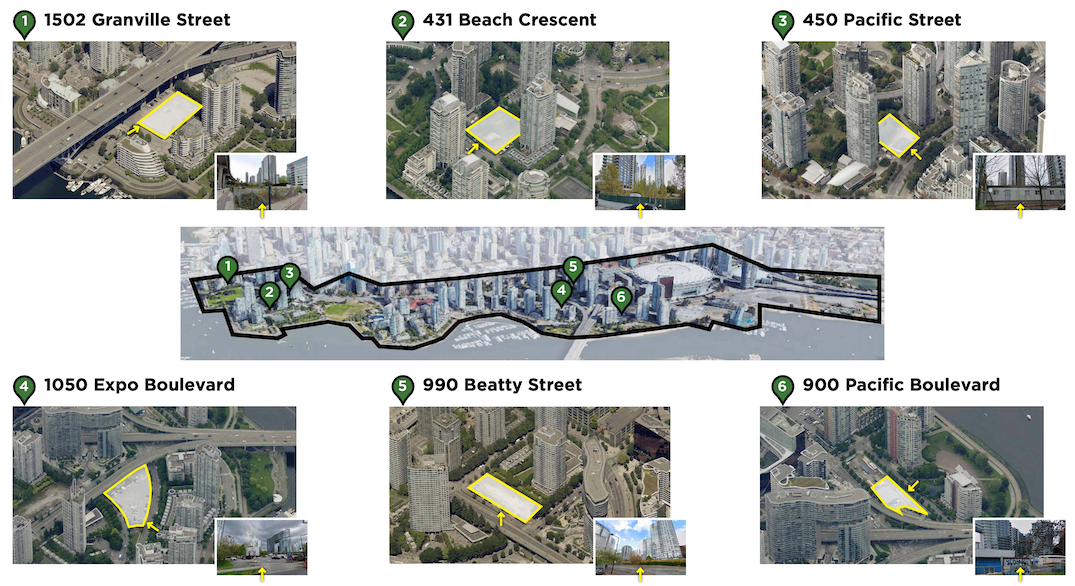 The city will spend the bulk of this money — $110 million — not on non-market housing as one might expect, but on road improvements for the area. The roads will benefit Concord Pacific's land holdings as well as the city's three non-market sites.
This land deal was negotiated during the Vision Vancouver era. Then-mayor Gregor Robertson announced it on Nov. 2, 2018 at his second-to-last press conference as mayor. This raises the question of why, almost five years later, construction of the announced 650 affordable housing units hasn't started yet.
The city, under the second council elected since the deal was originally made, now intends to move forward to implement it. City hall's rationale for giving up three non-market housing sites for market condo development is that the density on the remaining three non-market sites will be increased (which could however happen in any case).
Specifically, the city proposes to increase the non-market housing floor area that will be developed on the three non-market sites being retained to 537,838 square feet from the currently approved 321,213 square feet. That's an additional 216,625 square feet of housing on these three non-market sites. That is significantly less than the 316,291 square feet currently approved (which could hypothetically also be increased) for the three non-market housing sites that the city is selling to Concord Pacific for market condo development.
The city will never be able to replace those lands for non-market housing, so giving them up represents a significant lost opportunity.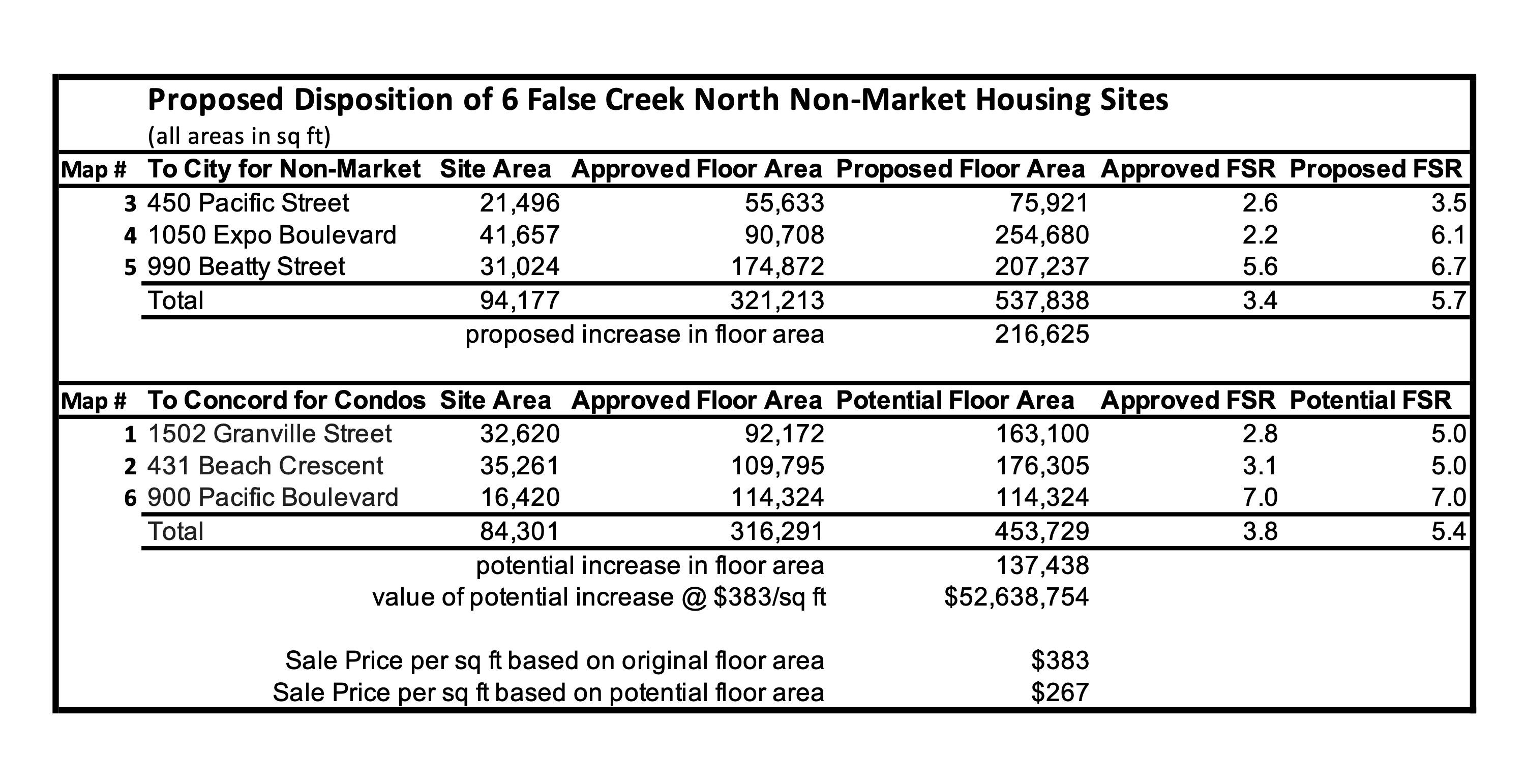 Moreover, it doesn't look like the disposal of these lands by the city is a good deal even from a strictly financial point of view. Based on the total of 316,291 square feet currently approved for the three sites, the city is selling them at a rather low price of $383 per square foot buildable. But these sites probably have potential for higher density than that approved decades ago. Surprisingly, the city does not appear to have negotiated additional payment to be made if additional density is approved.
The smallest site at 900 Pacific Blvd. is approved at a 7.0 floor space ratio, or FSR, a relatively high measure of density, which may not increase (although there may be a possibility for Concord Pacific to gain additional floor area by reconfiguring it together with Concord's adjacent site which is currently approved at only 0.6 FSR for townhouses).
The two larger sites, 1502 Granville St. and 431 Beach Crescent, are approved at 2.8 and 3.1 FSR respectively. It is easy to imagine an increase in density to at least 5.0 FSR for those sites. This would increase the total floor area for the three sites to 453,729 square feet. The potential 137,438 square-foot increase in floor area would be worth about $52.7 million at $383 per square foot. The financial benefit of that or any other approved density increase would significantly flow to Concord Pacific. While no additional payment will be made for the acquisition of the sites by Concord if their density is increased in future, the city has advised that the following would be required on the additional density: 1) The provision of the social housing component, and 2) The payment of community amenity contributions, or CACs, to the city.*
An additional benefit for Concord Pacific is that the city has said that there will be no requirement for Concord to provide any non-market housing component on these three condo sites, as the non-market housing attributable to them will be provided on the city's three non-market sites.
Looking at the price Concord Pacific is paying for the three condo sites, and the use that payment is dedicated to, it's clear that Concord Pacific has negotiated a very good deal for itself. The city, not so much — and three non-market housing sites are being lost forever.
* Story updated on April 28 at 11:12 a.m. to add information about how the financial benefit of increased density would impact Concord Pacific.