PRINCE RUPERT -- B.C.'s hardhat Premier Christy Clark has never met a tool she didn't like -- at least until Saturday, when a major wrench was thrown in her plans to sell northern B.C.'s wild salmon down the river to a Malaysian oil and gas conglomerate.
In a noisy, emotional and utterly determined show of strength, hereditary and elected chiefs from the headwaters to the tidewaters of the Skeena River declared Lelu Island and the Flora and Agnew banks off limits to an industrial gas hub proposed by Petronas, a state-owned Malaysian petroleum giant that Clark's government is desperate to land as an investor in her vision for a fossil-fuelled economy running on liquefied natural gas (LNG).
"The Lelu Declaration sends a powerful message to Premier Clark and Prime Minister Trudeau," said Hereditary Chief Yahaan (Don Wesley) of the Gitwilgyoots Tribe of the Lax Kw'alaams. "The support to stop this LNG project is overwhelming. Nations are united from the headwaters of the Skeena River to the ocean. Together, we will fight this to the end."
The formal declaration to oppose a key component of Petronas's $36-billion LNG project capped a two-day Salmon Nation Summit in Prince Rupert, where around 300 hereditary and elected First Nations leaders, scientists, politicians, commercial and sport fishermen, and other northern residents came together to defend wild salmon from the company's Pacific NorthWest LNG project.
In addition to a pipeline that would cross the territories of several up-river tribes, Petronas has staked its LNG bet on getting provincial and federal approvals for a gas plant on Lelu Island, with a major causeway and shipping terminal planned to be built adjacent to some of the most sensitive salmon habitat on the B.C. coast. Eelgrasses on Flora and Agnew banks are critical to the life cycles of salmon in the second-most productive salmon river in the province.
Despite federal scientists recently siding with Pacific NorthWest LNG that the project poses a "low risk" to the environment, many here don't buy it. Since August, Wesley, who is the Simoyget, or hereditary chief for the territory affected by the gas hub proposal, has maintained a camp on Lelu Island to draw attention to the threat to wild salmon.
His stand received a major boost from hereditary leaders from the Nine Allied Tribes of the Lax Kw'alaams First Nation, and of upriver nations including the Gitxsan, Wet'suwet'en, Lake Babine and Haisla First Nations. Grand Chief Stewart Phillip of the Union of B.C. Indian Chiefs was also on hand to sign the declaration.
And in a significant political coup for the opponents of the project, Petronas's plans were emphatically rejected by all four of the region's senior elected representatives. NDP MP Nathan Cullen (Bulkley Valley), and three northern NDP MLAs -- Jennifer Rice (North Coast), Doug Donaldson (Stikine) and Robin Austin (Skeena) -- signed the declaration at the summit, to loud applause. "This project isn't going to happen. This project can't happen," Cullen said. The three MLAs released a letter that said, in part, "the proposed PNW LNG facility poses an unacceptable risk to the Flora Bank habitat that is an irreplaceable link in the Skeena River salmon ecosystem."
Gerald Amos, chair of Friends of Wild Salmon stated, "We honour the support of our elected representatives. Unlike the Clark government, they are prepared to stand up for an economy that recognizes our Aboriginal title, plays a part in the fight against climate change, and favours long-term prosperity for all the people of the Skeena, over short-term gain for foreign investors."
'Willful blindness is not a defence'
By throwing down the gauntlet not just to Clark, but to a fledgling federal government that is grappling with how to reconcile a clear commitment to honouring Aboriginal rights and a loud boast to be a global climate change leader, both alongside an economic agenda that is bedeviled by low oil prices -- the Skeena chiefs have created a litmus test for whether B.C. and Canada are serious about building a modern economy based on renewable energy, or if all those promises are just another form of natural gas.
For her part, Clark told a BC Natural Resources Forum in Prince George last week: "To all those critics out there who say we should just forget about natural gas, we should just let the northeast dry up and let those jobs go somewhere else, I say forget it. Here in British Columbia we don't stop because something is hard. You elected your government to lead; you didn't elect your government to quit." (The northeast is where gas is fracked; the northwest is where Clark hopes to ship it offshore.)
While the premier doesn't mince words about her sepia-toned view that "the resource sector (is) the basis of everything we do" in B.C., her smarm offensive with First Nations straddles a fault line between some band leaders who are jockeying for a slice of the diminishing spoils of the fossil fuel economy, and those who see nothing but despoliation from a rash of industrial projects proposed for the province generally, and the Skeena watershed in particular.
Those proposals are abetted by federal and provincial processes that many see as outright abrogations of their governments' duty to honour Aboriginal rights and title, something that was very much at the heart of discussions in Prince Rupert before the Lelu Island Declaration was signed on Saturday.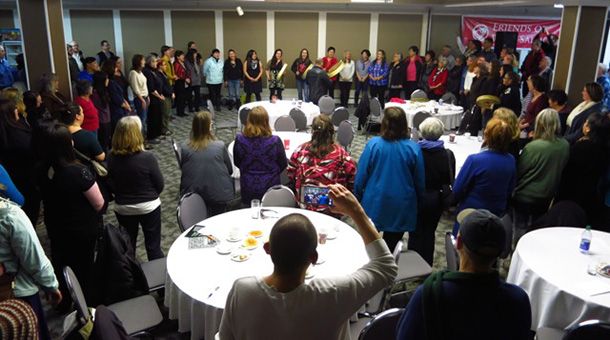 "This (the Petronas) project really is a poster child for what's wrong with environmental assessment in this country," said Chris Tollefson, executive director of the University of Victoria's Environmental Law Centre. A federal Canadian Environmental Assessment Agency finding on the Petronas proposal is expected in March, the province having already rendered its decision in favour of the project. In Tollefson's view, the CEAA process, which allows no opportunity to cross-examine company or government scientists, amounts to "looking for ways to make a pretty bad project look a little less bad." As for the timeline, "unless the answer is 'no,' there really shouldn't be a decision by March."
But of course that arbitrary deadline is part of the promotional and political calendar of a Clark government that will do pretty much anything to have Petronas make a positive final investment decision that would put a ceremonial shovel in Clark's hands well before election day in May 2017.
Peter Grant, long-time legal advisor to the Gitxsan and Wet'suwet'en nations, meanwhile said that the only way the province "can accommodate the upriver rights of First Nations is if there is no project on Lelu Island." As for whether the province or the feds can justify approval of the Petronas project as having a public interest that somehow trumps Aboriginal rights and title, Grant said the law is clear that "the public interest is not a justification for infringing a right.... Here's the thing: willful blindness is not a defence for Canada, and its not a defence for industry."
Battle lines drawn
So the battle lines are drawn. The Lelu Island Declaration calls not just for the Petronas project to be put to the stake, but for full, permanent protection of the Skeena estuary to ensure that any further attacks on wild salmon there are stillborn.
Christy Clark's voodoo economics have spawned zombie projects like Enbridge's Northern Gateway pipeline, the Kinder Morgan expansion and now Petronas -- all bastard cousins to Stephen Harper's Keystone fiasco. The Site C dam should be added to that list. So should the fracking of which Clark is so enamoured in B.C.'s northeast.
Nathan Cullen told the Salmon Nation Summit he was delighted to show Petronas the door on Lelu Island, but he urged even greater ambition. "I think killing this project is setting the bar too low, folks. We've gotta kill this way of doing business."
Or as Chief Na'Moks of the Wet'suwet'en First Nation concluded, "Once again First Nations are being forced to take action because the government refuses to obey the laws of the land. We are salmon people and if we don't defend Flora Bank, there will be no protection for our salmon. The salmon is who we are, and without them we lose our identity and our future."
Sadly, our premier seems impervious to such messages, and immune to serious self-reflection on this file. She may well live to regret that come the election that's barely 15 months away. Our prime minister? Well, he might have noticed that the sun sets in the west. So, too, his sunny ways -- if he doesn't hurry up and get this one right.