PRINCE RUPERT -- While a growing rift between pro- and anti-development First Nations on the north coast of British Columbia served as a muted drumbeat of concern at the Salmon Nation Summit that kicked off yesterday in Prince Rupert, almost 300 people packed into a hotel ballroom here to put down a challenge to the federal and provincial governments with one voice: Cancel the Petronas LNG proposal or the Skeena people will kill it for you.
''This is not a Tsimshian fight, this is a fight for all humanity,'' said Murray Smith, a Tsimshian elder who opened the summit. ''This is very much at the top of the agenda for our people,'' said Gerald Amos, from Kitamaat.
With a decision on the federal environmental assessment just a few weeks away, First Nations vowed that the current occupation of Lelu Island in the mouth of the Skeena River is just the beginning of what could be a protracted and potentially ugly confrontation between First Nations and governments and industry.
''I'd love to shut down the highway,'' said Don Wesley, the Lax Kw'alaams leader who is leading the occupation of Lelu Island where Petronas wants to build an $11-billion gas hub. ''We can shut down the CN line. We can shut down the airport.''
While Wesley is one of the more militant leaders in the region, it was clear from the crowd that his stance has widespread support, and not just among First Nations. There is a palpable air of anger in the region at a major project review process that people believe is putting their region under undue industrial pressure from the Christy Clark government, which has staked its economic reputation on getting a liquefied natural gas plant approved before next year's provincial election.
The fight against Petronas got a celebrity boost Thursday when Duane Howard, who played alongside Leonardo DiCaprio in the film The Revanant, visited Lelu Island. Howard, who was born in Gold River, B.C., took to the waters off Flora Bank, a major eelgrass habitat for spawning Skeena salmon, and said,' ''How we get our strength, how we stay who we are, as people, is living off the land. Our prayers, our meditations, our songs. Our songs! All of our songs are out there. Our songs float over that water there. A lot of our songs are up in that mountain. Spiritual grounds. They wanna break that from us, and we aren't gonna let 'em.''
Howard also threw down a challenge to Prime Minister Justin Trudeau, who has said: ''No relationship is more important to me and to Canada than the one with Indigenous Peoples.''
Howard dared him to prove it. ''I wanna take the time to say to the Prime Minister," he said, pointing to the camera. ''I'm going to challenge you. I challenge you to come out here to these territories and these people to take the time to come out and see what's really happening out here. Don't just spend a day here, spend a week here. You know, forget everything you've got at home. Come here. Try. You'll see. You'll understand when you see what's going on here. I challenge you on that, Prime Minister. I challenge you.''
Howard's comments come on the heels of DiCaprio's acceptance speech for best actor at the Golden Globes when he delivered a powerful message in support of indigenous peoples worldwide.
"It is time that we recognize your history and that we protect your indigenous lands from corporate interests and people that are out there to exploit them," DiCaprio said. "It is time that we heard your voice and protected this planet for future generations."
'Ignoring the risk'
The Salmon Nation Summit was itself controversial, with some band councils electing to stay away because they are in negotiations with governments and industrial proponents to get benefit agreements for their communities. Government and industry also shied away from the summit after previously committing to share scientific assessments of the project.
It fell instead to Dr. Jonathan Moore, of Simon Fraser University, to summarize the science that his team has been doing on and around Lelu Island. ''If the project is built, it will be ignoring science, ignoring the risk to fish, and ignoring the risk to people,'' he said.
At the summit, Des Nobels, a long-time fisherman and regional political leader, released a map that shows the hazards not just to fish and First Nations, but to all residents in the area.
Nobels has had the good fortune to live for decades in the small, unincorporated village of Dodge Cove, from where he has a short commute across Prince Rupert Harbour to the city. He now has the considerable misfortune to have another huge plant, Nexen's Aurora LNG Project, planned for right at his doorstep.
Nobels rails against trade agreements that allow Chinese investors to control British Columbia's resource development (China's state-owned CNOOC Ltd. bought Nexen in 2013 for $15 billion). He deplores the fracturing of local communities that the resource rush has created in the Skeena and what he sees as misinformation from project proponents. ''It's all bullshit,'' Nobels says. ''All there will be is a few jobs,'' and those will come at enormous risk to the ''one of the few rivers left in North America that will produce fish.''
And, he points out, at enormous risk to as many as 18,000 citizens of Prince Rupert and adjacent settlements, including his own village and nearby Port Edward. At the summit, Nobels shared copies of a new map, which was created by the Wilderness Committee and depicts LNG tanker hazard zones that basically blanket the waters around Prince Rupert. Nobels doesn't mince words when it comes to the risks posed by LNG tankers. ''They're giant bombs,'' he told me.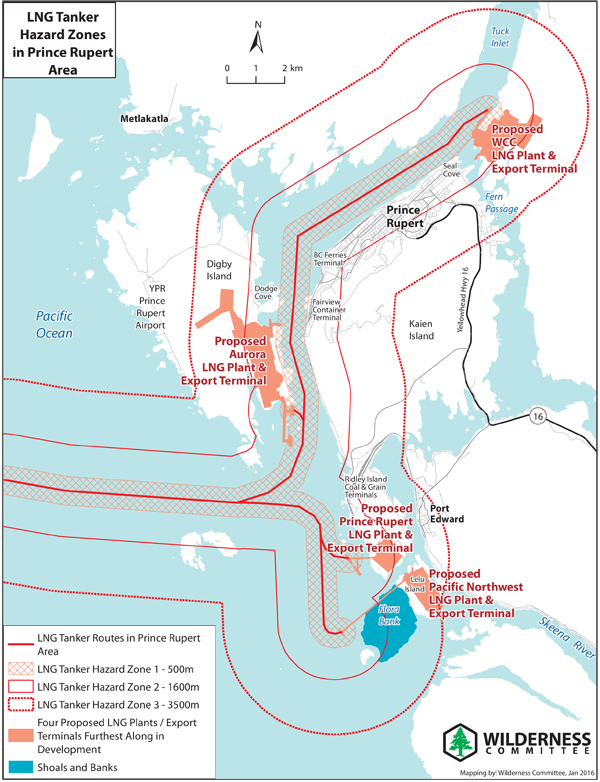 Indeed, a recent analysis by Graeme Pole, who lives in the Kispiox Valley near the route of another proposed LNG development, the Prince Rupert Gas Transmission Project, paints a dire picture of the hazards posed by LNG developments.
Pole cites U.S. Department of Energy studies by Sandia National Laboratories that sought to understand what would happen if LNG were to escape from a marine vessel's storage tank.
''Sandia's reports described three zones of hazard around an LNG vessel should a breach occur with ignition,'' Pole writes. ''Within 500 metres of the vessel, death to all living things on the water, surfacing from the water, in the air, or on adjacent land would be likely. This could result from shrapnel, incineration, cryogenic freezing or from suffocation. Between 500 metres and 1.6 kilometres from the vessel, these threats lessen but are still critical. Second-degree burns to exposed human flesh would typically result from 30 seconds of exposure. Structural fires, grass fires, and forest fires would be ignited. Effects would lessen moving from 1.6 km out to 3.5 km, beyond which the hazard is considered negligible.''
Pole also points out that if Boston is any guide (Boston is the only U.S. city with an LNG facility), a potential tripling of marine traffic at Prince Rupert would turn the port into a semi-militarized zone where, in the name of safety, huge restrictions would be placed on boat traffic in the harbour and adjacent waters. Armed guards. Surveillance. Traffic constantly halted or re-routed. All at a huge cost to the taxpayer and, more to the point, to the free movement of ferries, water taxis, aboriginal and commercial fishers (if there are any left), tour operators, cruise ships, recreational boaters, and commuters.
Amos had a final word for Petronas, which just a few days ago told the Wall Street Journal that it needs to cut $11.4 billion in capital and operating expenditures over the next four years.
''We suggest they simply write off the Lelu Island project. That would solve their problem -- and ours -- right there.''