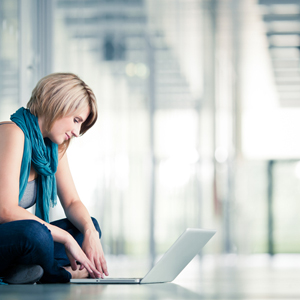 A Saanich-based business has combined school fundraising with awareness of B.C.'s post-secondary options and a chance to win prizes like iPads and travel vouchers, in a one-stop shop website for students. Chatter High is an online quiz site that links students to non-profit schools' and businesses' career-training related websites, all while enticing schools with cash prizes.
"What I'm super pleased about is that I've built a way for them to fundraise by learning," says Chatter High creator Lee Taal.
"It was there to be done: all of those organizations have a budget to engage this community, and the community has a curriculum for them to be engaged."
Those organizations include public and private post-secondary institutions in the province, and government career planning sites like Discover Trades BC.
Started in 2008, Chatter High has expanded from quizzing a few school districts on the south end of Vancouver Island to 18 school districts in B.C. Students can enter draws for individual prizes, like iPads and tuition and travel vouchers, while the number of quizzes they do counts towards contests for their entire school to win cash.
But Tara Ehrcke says there is a lot to dislike about Chatter High. President of the Greater Victoria Teachers' Association, Ehrcke believes because organizations have to pay Chatter High in order to gain access to students, this counts as advertising and schools should have no part in it.
"The whole incentive thing, the prizes, to me that's straight out of advertising. You see it when you go spend the points you get on the draws, you also get weekly emails in your inbox from Chatter High with a couple of sentences about the sponsor businesses that have made donations," said Erhcke.
"The business is getting access to kids."
A complement to Planning 10
Directed at middle school and high school students, Chatter High asks students to take 10-question multiple choice quizzes with questions like "In order to graduate with a Dogwood Diploma, necessary for high school graduation, students must receive at least how many graduation transition credits?"
Each question is sponsored by an organization working with Chatter High. Students can click on a "Research" button that will take them to that organization's website to find the answer. Students get 50 bonus points for using this hint, while Chatter High gets money from the organization for every time their website is accessed via Chatter High.
Taal says he intentionally made the "click fee" very low and even waives it for some smaller non-profits. The result is small returns for Chatter High, which Taal says stands to make $20,000 this year -- small change compared to the $65,000 they spent on their website in 2012.
"The 8,000 visits that Discover Trades BC's had in the last month, including 4,000 views of their two-minute video, has cost them like $1,000," he said.
Taal got the idea for online quizzes from a Greater Victoria School District Planning 10 teacher. A mandatory course in B.C. schools, Planning 10 is supposed to prepare students for the transition to adulthood and out of high school by exposing them to a variety of post-secondary and career choices, teaching them how to make responsible financial decisions, and focusing on health and overall well-being.
Chatter High is meant to complement Planning 10: "There's 380 (post-secondary institutions) in British Columbia. How does a teacher know that the University of the Fraser Valley just opened a new program in fashion?" asked Taal.
"The University of the Fraser Valley, who are question providers, can write a new question that says, 'The University of the Fraser Valley has started a new program in fashion. How many years is the program?' and the hint takes you to the website of that organization."
Chatter High also runs competitions between schools to see who can do the most quizzes. There have been 12 so far, each lasting about six weeks. The more students participate in quizzes, the more points their school has, and the school with the most points wins. Also sponsored by non-profit organizations, the contests give out varying amounts of money, ranging from $1,000 to $2,500 for first place.
Schools that don't place in the top three in competitions can still win money. Taal donates 10 per cent of Chatter High's click revenue to schools who don't place based on their per capita quiz participation rate.
"You could be school number seven, and because of the fact that you have 2,000 students in your school, it was really hard for you to rank in the top because you only have 40 kids doing your quizzes," said Taal.
"But those 40 kids really worked hard and they actually raised $100 for the school."
Obligation to keep ads out of schools: Bacchus
Chatter High has been operating in the Greater Vancouver School District for at least three years, but Ehrcke hadn't heard of it until she saw an ad in the Victoria Airport last month.
Running on digital screens owned by Taal's other company, Immediate Images, one of the ads asks, "Are you an organization that needs to reach the BC middle or high school community? This site is for you!"
Ehrcke logged on to Chatter High and wasn't impressed with what she found.
"The billboard does not say 'Create education opportunities for kids.' It says 'Do you want to reach middle and high school students?' So it's being sold to the business as here's a way to get your name, your information, in front of your target market," she said.
"I don't think that we should be allowing that kind of access to kids as an advertising market in schools."
Ehrcke says Planning 10 and school counsellors fulfill the same role as Chatter High in introducing kids to post-secondary options. But unlike Chatter High, the post-secondary institutions they tell kids about aren't limited to those who pay the school a fee.
As for the fundraising aspect, Ehrcke says it's a direct comment on what she sees as the underfunding of education that businesses are getting involved.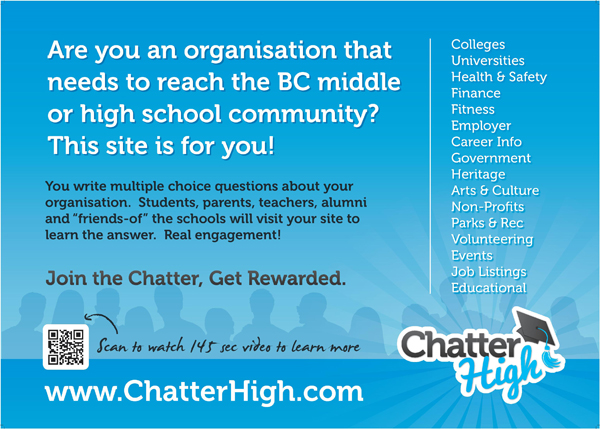 "Most schools in most circumstances fundraise in other ways, and when a business is involved they're taking a cut or a piece of it. I think it's a sad state of affairs that schools have to do as much fundraising as they do," she said.
"There wouldn't be a market for Chatter High if there weren't schools who were desperate to get funding."
Vancouver School Board Chair Patti Bacchus agrees. Chatter High may not have reached Vancouver yet--Taal is hoping to be active in the district by next spring--but she thinks it would be in violation of the district's advertising policy.
"We have policy in place that we shouldn't be marketing directly to students. I think we have a real responsibility to keep the integrity of the environment so that it's education focused, not marketing," Bacchus told The Tyee.
"I think we have an obligation to parents that when they send the students to school that their children are not being used as a captive audience to be marketed to."
'What's not to like?': House
But not all educators disapprove of Chatter High.
Back on the island, schools in the Greater Victoria and Saanich School Districts actively participate in contests where students and even teachers, administrators, and parents take quizzes to help their school win contests.
"There's a part of me that says 'What's not to like?' because of the information that the kids are being encouraged to access," said Rob House, principal of Spectrum Community School in Victoria.
"It's all good stuff, it's all about kids' education, their careers, their futures, their health."
Spectrum won two Chatter High contests earlier this year and used the $2,500 in prize money for their dry grad. Taal was even invited to speak on graduation day.
Ads for Chatter High run on the school's two digital screens, along with ads for non-profit institutions like Camosun College and Vancouver Island Health Authority, as well as student and school announcements. The screens are also owned by Immediate Images, who took them over from a teacher who had them installed in the district four years ago for school announcements and post-secondary advertisements.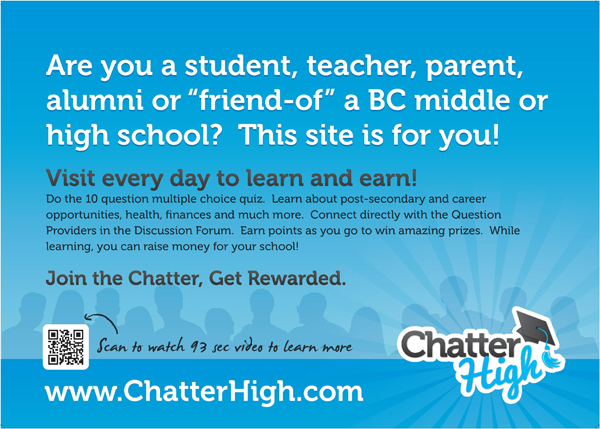 House says the school still has career fairs and counsellors still advise students on post-secondary options. Chatter High is just another outlet for students to learn about the choices they have after high school.
"Unfortunately anything to do with Internet, there's a lot of stuff out there that's not very good information," says House.
"But the stuff that Chatter High puts on, it's really good, relevant stuff."