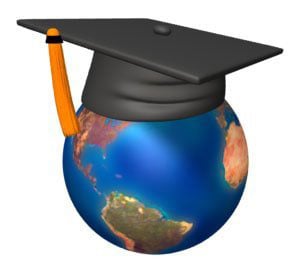 Countless B.C. school districts and post-secondaries are sending their people to education fairs in Asia, trying to recruit as many students as possible. Their purpose is simple: International students pay huge fees for the privilege of a Canadian education.
Those students also subsidize their Canadian classmates, bringing in money the government won't provide for them. A lot of B.C. community colleges have been promoted to university status recently, partly to attract foreigners uninterested in a mere college degree.
But it's a chancy business. An economic downturn in Asia can dry up the supply. Private English-training schools tend to collapse, creating headlines in Japan and Korea about Canadian education fly-by-nights.
Worse yet, other countries are beating us at the game. Canada currently recruits about 130,000 foreign students every year. Australia had over 380,000 foreign students in 2008, and 475,000 in 2009. Students pour into Australia despite well-publicized racist attacks on South Asian students.
Meanwhile, the Canadian workforce gets older, and more of us are retiring. We mulishly continue to deny foreign-trained immigrants the kinds of jobs they're qualified for. This does not speak well for our intelligence, let alone our entrepreneurial ability. For a comparatively small investment, we could headhunt the best young brains on the planet.
Rich and desperate
Right now, an international student in a school like Capilano University expects to spend a minimum of $22,000 a year in tuition and other expenses. Scholarships are few, and so are jobs. So, the pool of recruitable students is limited to those with rich and desperate families. Such students must usually leave the country when they graduate.
Meanwhile Asia and parts of Europe are now "education tigers" -- according to the 2009 exam results from the Programme for International Student Assessment. Canadian students ranked sixth overall, by far the best in the western hemisphere.
But Shanghai students, on their first encounter with the PISA exams, floored even Singapore and South Korea. Universities all over the world would love to enroll such students, because they'd attract still more bright students and top faculty.
Well, Canada doesn't have to be the wallflower at the prom. We need to stop thinking of international students as cash cows and start thinking of them as future Canadians.
In the U.S., a foreigner can become a citizen very quickly: Enlist in the military while on U.S. soil in wartime. Otherwise it's a long, slow process. Here in Canada, you can't become a citizen until you've gained permanent resident status and lived here for three of the last four years. It's the same in Australia.
An offer they can't refuse
Suppose, then, we offered the top foreign post-secondary students a deal. Just as Cecil Rhodes endowed a scholarship fund that still attracts the best and brightest, let's create "Canada Scholars."
Canada Scholars would receive scholarships and fellowships covering the full cost of tuition and reasonable living expenses, plus permanent-resident status after two years of successful study. At that point they could apply for citizenship as well. At the end of a third successful year, they would receive it.
By the time these top students left grad school, they'd have their pick of careers, and we'd make sure that Canadian opportunities were especially attractive: challenging jobs in business, the professions, the sciences, the civil service.
But if they chose to go the U.S., or back home, their Canadian education and dual citizenship would still make them assets. They would be part of a growing network of Canadian-educated "old boys" and "old girls," influential friends in high places whether in New York or Berlin, São Paulo or Beijing.
One way or another, Canada Scholars would keep us innovative, competitive, and prosperous. Other foreign students would keep coming, attracted by the prestige of attending the same school as a Canada Scholar.
Sure, we'd be creating a brain drain from other countries. The same thing happens when corporations, governments and hockey teams go looking for top talent. By comparison, our spending on Canada Scholars would be small change. But the Canada Scholars, while working here, would also be sending home more money than they could ever hope to earn back there.
We ourselves would benefit most, as a generation of smart new Canadians kept our economy strong enough to sustain our health care and social programs.