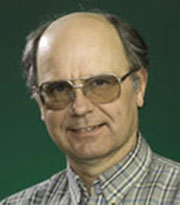 [Editor's note: After a bit of a hiatus, Mark Leiren-Young's Trees and Us podcast series http://thetyee.ca/Series/2007/09/06/TreesandUs/ resumes today with an interview with the Royal British Columbia Museum's Richard Hebda. Leiren-Young first started writing about forestry issues while he was working as a reporter at the Williams Lake Tribune in 1985. The inspiration for this podcast series was Leiren-Young's award-winning feature film, The Green Chain, which he wrote, directed and produced and which opened in Vancouver last spring. New Trees and Us podcasts will run every week in the Tyee for the next seven weeks, and a book collecting all 22 interviews is in the works.]
Richard Hebda doesn't just want to understand climate change, he wants to explain it to you.
A trained botanist and geologist and the curator of Botany and Earth History at Victoria's Royal British Columbia Museum, Hebda's special area of interest is, "the origins and dynamic of ecosystems and the distribution of species over long periods of time."
Hebda had the chance to explore his passion -- and tap into the zeitgeist -- when he helped create an exhibit that shows a series of possible futures for the province of B.C. and the planet earth. And a lot of the futures he projected are the stuff of scary science fiction movies that'll make it seem a lot more appealing to move to planets full of big blue people who dance with the trees and ride flying dragons to work. But for Hebda these sci-fi scenarios also present the opportunity -- and the reason -- to reassess our values as individuals and as a society.
Hebda spoke about the speed of change, why the fire risk is heating up, and how modern management practices transformed B.C.'s forests into beetle buffets. He also talks about how the climate crisis may have created "the greatest teaching moment of all time."