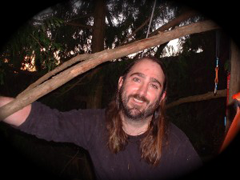 Mark Leiren-Young has been talking about trees for The Tyee's Trees and Us Series since September, 2007 -- interviewing a mix of people about the fate of our forests.
The inspiration for this podcast series was Leiren-Young's award-winning feature film, The Green Chain, which he wrote, directed and produced and which opens March 6th at the Fifth Avenue Cinemas in Vancouver.
The Green Chain explores seven different perspectives on a dying logging community and features some of Canada's most acclaimed actors including Gemini Award winner Babz Chula, Leo Award winner (for her role in The Green Chain) Jillian Fargey (Mount Pleasant), Tricia Helfer and Tahmoh Penikett from TV's Battlestar Galactica, Genie and Gemini award winner August Schellenberg (Bury My Heart at Wounded Knee; The New World), Genie and Gemini award winner Brendan Fletcher (RV, 88 Minutes) and Scott McNeil (Sleeping With Strangers).
Leiren-Young's goal for the movie was to spark a dialogue about the issues facing today's forests and he saw the podcast as a way to expand that dialogue.
For this Trees and Us podcast, Ian Ferguson, co-author of the bestseller, How to Be a Canadian, and author of the Leacock Award winning, Village of the Small Houses, sparks a dialogue with Mark about creating controversies, winning awards in foreign languages and actors who don't seem to be acting.
For more on the movie, visit www.thegreenchain.com.
Related Tyee stories: