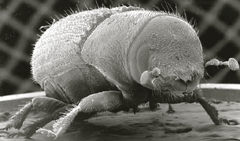 [Editor's note: The Tyee is issuing reports and viewpoints from the Union of B.C. Municipalities convention in Vancouver all this week.]
For a workshop on an epidemic that threatens to wipe out the majority of B.C.'s mature pines, many of the speakers at Monday's Union of BC Municipalities Pine Beetle Conference were putting on their most optimistic faces. There were two glasses half full, one silver lining and an adage about wind and sailboats to go along with the talk of adjustment and opportunities.
But following on the heels of last week's provincial report that suggested the infestation that currently affects 13 million hectares of forests could kill close to 80 per cent of the Interior's pines in the next few years, another picture sometimes emerged. By day's end, the pine beetle had been blamed for bringing on everything from natural disasters to cultural genocide.
Floods and fires
"Our forests are in transition," said Jim Whyte, director of operations at the Provincial Emergency Program. "We're moving from healthy green forests to dead forests."
Dead forests, according to Whyte, behave like a clear-cut when it comes to water. More snow on the ground and more direct sunlight lead to earlier and greater spring run-off. As we saw earlier this year, that can spell flooding, landslides and decreased water quality. These altered patterns can also lead to water shortages later in the year if the snow melts too early (See The Tyee's Rough Weather Ahead series).
And then there is fire which can make life extra difficult for firefighters in pine beetle infested zones. Generally speaking, three things will affect a blaze: fuel, weather and topography. But the pine beetle can change the equation.
"These fires can be very fuel-finding and can act contrary to what you might expect," according to the Ministry of Forests' Chris Duffy.
For example, such fires can spread downhill or against the wind. They may also skip a step and begin spreading quickly along the tops of trees -- something that is very bad news for containment efforts -- without ever becoming a proper ground fire.
While both Duffy and Whyte stressed advanced planning, they also admitted that big gaps in scientific knowledge compounded the preparedness difficulties. For example, there are still no completed studies on the impacts of pine beetle infestation on large watersheds, such as the Fraser or Skeena.
'Cultural genocide'
Chief David Walkem of the First Nations Forestry Council spoke of how the infestation has impacted more than half of the province's bands and how the loss of pine forests can have cultural and social impacts over and above the economic concerns he expressed.
"We see it as cultural genocide by the beetle and by the governments if they don't act on it," Walkem said.
Some of those in attendance also seemed worried. Representatives of Nelson and Kamloops wondered about the impacts that the inevitable forest fire will have on their communities.
Quesnel Mayor Nate Bello said his town is booming for the time being because of increased harvesting rates as timber companies scramble to maximize the value of dead trees before the end of their shelf life. But 80 per cent of the area's trees are pine and 80 per cent of those are dead or dying, meaning tough times are coming for the mills that provide roughly a third of the municipality's budget.
"We could lose half of that," Bello said. "So how are we going to keep our roads maintained, our sewers working, our water flowing? It goes on and on."
Making lemonade
But most of those present were trying to put a positive spin on the situation. 100 Mile House Mayor Donna Barnett pooh-poohed a recent report by the Calgary-based Real Estate Investment Network that suggested property values in pine beetle affected areas are set to plummet.
"It requires adaptation but it doesn't change how a person lives," Barnett, who is also the director of the Cariboo-Chilcotin Beetle Action Coalition, told the Tyee. "The air is clear, the water's clean and it's still beautiful."
Speaker after speaker -- representing government and industry -- hammered away at the theme of economic diversification as the key to overcoming the epidemic's fallout.
Forests Minister Rich Coleman pointed to Finland as a leader in bioenergy, whose example B.C. should emulate. That way, he asserted, everyone wins as the waste product from increased cutting becomes a source of energy that is cleaner and more sustainable than fossil fuels.
"The bush will still be active," said Coleman. "It's just going to be cut for a different reason."
The talk of diversification went beyond forestry to the economy of the Interior in general.
Lunn: Money for mining to replace logging
Federal Natural Resources Minister Gary Lunn even parachuted in to announce his government had just signed two geoscience contracts designed to look for underground riches. While the connection between mineral prospecting and pine beetles may not be immediately obvious, the minister explained that the new contracts were all part of the $1 billion the federal government has pledged to help the affected areas.
"Mitigation is obviously important but economic diversification is one of the economic drivers," he told reporters outside the conference room. To that end, the provincial government established the Northern Development Initiative Trust whose chief executive officer, Janine North, made a presentation peppered with terms like "bold future" and "incredible opportunity." Though still in the study phase, the most ambitious of the projects would be a northwest trade corridor -- making use of the CN Rail line, the north's relatively uncongested roads and expansions at Prince Rupert's port and Prince George's airport -- to link Asia to eastern Canada and the American Midwest.
"This is the real opportunity," North said, "the lower cost of transport to Asia."
Environmentalists have been critical of the government's handling of the pine beetle infestation, suggesting it is serving as an excuse to give industry unfettered access to the province's resources. There was no such talk at Monday's conference where environmental groups were conspicuously absent from the agenda.
Related Tyee stories: