The walking tour's first stop is underwhelming. A handful of skinny trees line the curb outside a nondescript professional building on Delta's 84th Avenue, tufts of long grass spaced at their bases. A series of gaps in the curb at regular intervals allow road runoff to seep into the modest garden.
But appearances can be deceiving: the curbside rain garden plays an important role among the city's mostly paved infrastructure. In this environment, these pieces of green infrastructure act like forests, retaining water and filtering out harmful chemicals before they can reach fish-bearing streams.
Led by Cougar Creek Streamkeepers rain garden co-ordinator Deborah Jones, this walking tour showcases a handful of the group's 29 rain gardens, all located in the North Delta area and that drain into McAdams Creek.
The next stop is more complex than the first: a multi-chamber garden where runoff from a nearby parking lot travels through a maze of ditches. While it appears more complicated, it uses the same principle as other rain gardens — gravity.
The effects of deforestation have long been known. As early as 400 BCE, Plato described springs drying up and soil eroding as a result of deforestation. As development continues, we further limit the places where water can be absorbed into the ground, which can be catastrophic in extreme weather events like atmospheric rivers.
The situation doesn't get any better for fish. When water travels over pavement, it picks up many of the toxins left behind by vehicles — oil, antifreeze, tire dust — which then get flushed into fish-bearing streams and the ocean. During a storm event, a normally calm stream can churn within minutes. As water volume increases, there's a fire-hose effect on downstream areas, like fish habitat.
Scientists at the University of Washington have identified a chemical lethal to coho salmon called 6PPD-quinone, which is used on tires to prolong their life.
While research is still taking place about the effects of these chemicals on wildlife, there is a bit of good news. Bioinfiltration — rain gardens — have been shown to help. A 2015 study observed 100 per cent mortality in the fish they exposed to highway runoff, but when that water was filtered through columns consisting of layers of gravel aggregate, a soil mix leaning more sand than compost, and a top layer of mulched bark, all the fish survived.
Jones' introduction to runoff came partly by way of chronicling newspaper articles as a librarian. "Beware the killer pavement," she remembers one headline blaring. Just a few years later, Sarah Howie also got her introduction to rain gardens as a landscape architecture student learning from urban planner Patrick Condon at the University of British Columbia, one of many people advocating for the creation of diverse mini ecosystems in the form of rain gardens alongside our roadways, sidewalks and parking lots.
Jones and Howie met planning their first rain garden together, which was finished in 2006. Hugh Fraser, then the City of Delta manager of utilities, suggested a location at Cougar Canyon Elementary School. The garden is long and narrow, and Howie's design is straightforward to match — featuring three Serbian spruce, two dogwoods and two young native vine maples; salal, sword fern, dwarf pines and lavenders; David viburnum and lupin; heather and Carex "Ice Dance" (but she wouldn't use that one again — it proved too aggressive). Other plants have been added and subtracted over the years, says Jones. "We're always learning which plants are best or worse behaved in which settings," she says. "Gardens are living, evolving beings, not furniture to be purchased and arranged."
In order to be successful, Fraser says, rain gardens must capture at least 90 per cent of the annual rainfall at a site, have plants that are resilient to drought and, maybe most importantly, be easy to maintain — it's in plants' nature to grow.
"Even in 10 years, it's amazing how quickly the plants grow and then become maybe sightline issues," Fraser said. Grass is easy to mow. A rain garden is more labour-intensive.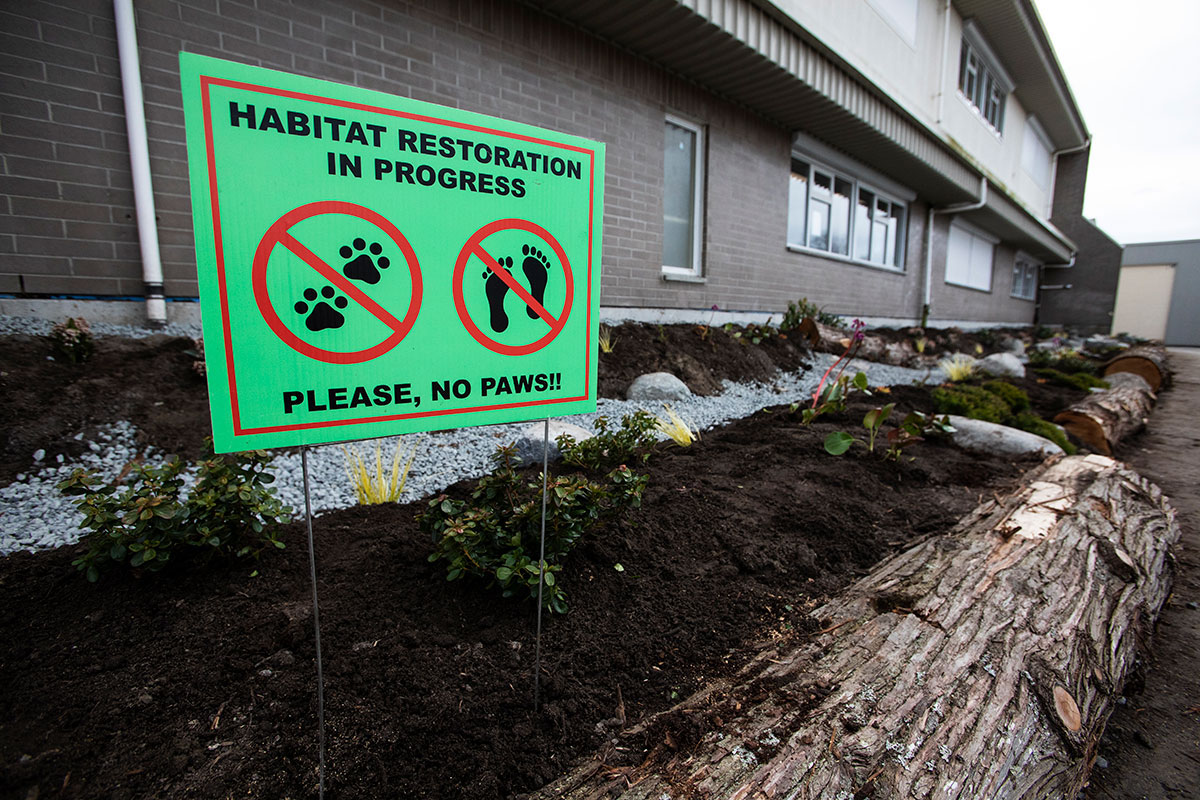 For their first project in 2006, Howie was cautious, in particular wanting to avoid any risk of flooding. There is also swale down the centre, complete with rocks, that facilitates easy access for maintenance.
The success of this first project prompted Delta's city council to request a rain garden for every elementary school in the municipality.
Maximizing the time water spends in a rain garden is also part of its success. In the multi-chamber featured second on the walking tour, for example, Howie wanted to give the water plenty of ground to travel so it had ample opportunity to be sucked into the garden's system.
Jones, who Howie describes as having a way with plants, chose the greenery, careful to select those that didn't grow too tall or wide, survived both heat and moisture, and developed good root systems. For this garden, that meant taking advantage of the trees already on the site ("Forests are the best rain garden there is," says Jones): Serbian spruce, oak and invasive holly and concentrating their efforts on the understory. Here, they planted plenty of dwarf shrubs: potentilla, spiraea, lavender, concorde barberry, dwarf mountain pine, low Oregon grape, as well as golden variegated sweet grass and native iris.
A simple solution for complex problems
The rain garden tour continues with a stop at a curb cut in front of a row of townhouses. It's a small area between the sidewalk and the road, and Jones worries it might not get enough water from the curb cut to make the garden worth the trouble — it's not one installed by the streamkeepers. There aren't very many plants, and they may not be the right plants for the location.
Jones points out an immature grass that when fully grown is likely to flop over the sidewalk or road, and another plant that tends to grow sideways, rather than vertically, not ideal in this location. In her own rain gardens, she uses grasses sparingly.
"They look fabulous when at their best, but don't necessarily provide the best winter rainy season look or performance, which is when our Pacific Northwest rain gardens need to be looking good and managing large amounts of stormwater," she says. In other parts of Canada, when the rains come in the summer, grasses and perennials are great choices.
Before returning to the coffee shop where the tour began, Jones leads participants to a garden at North Delta Secondary School. Planted in 2013, it used three existing trees and a storm drain as part of the design. Located where there was once grass at the edge of a parking lot, the garden receives its water from surface runoff. It's a dry spring and today the garden is not at its lushest.
"It's more attractive than a patch of grass," says one participant.
Joanna Ashworth, director of the North Shore Rain Garden Project points out that a passerby may not even recognize rain gardens. But, that's part of their superpower — a seemingly simple solution to an increasingly complex problem. One rain garden might not accomplish much, but a few hundred might.
Building the gardens also offers proponents lessons in what works in any given environment. When Howie and Jones were asked to extend the first rain garden they built together, the engineers took a more standard approach to the design, using gravel and geotextile fabric. But after the first rain, a lake appeared, covering the sidewalk. The problem, they soon discovered, was just under the surface. The geotextile wrap wasn't allowing the water to be absorbed by the ground. So they ripped it out, and in the next storm, there was no water flowing over the sidewalk.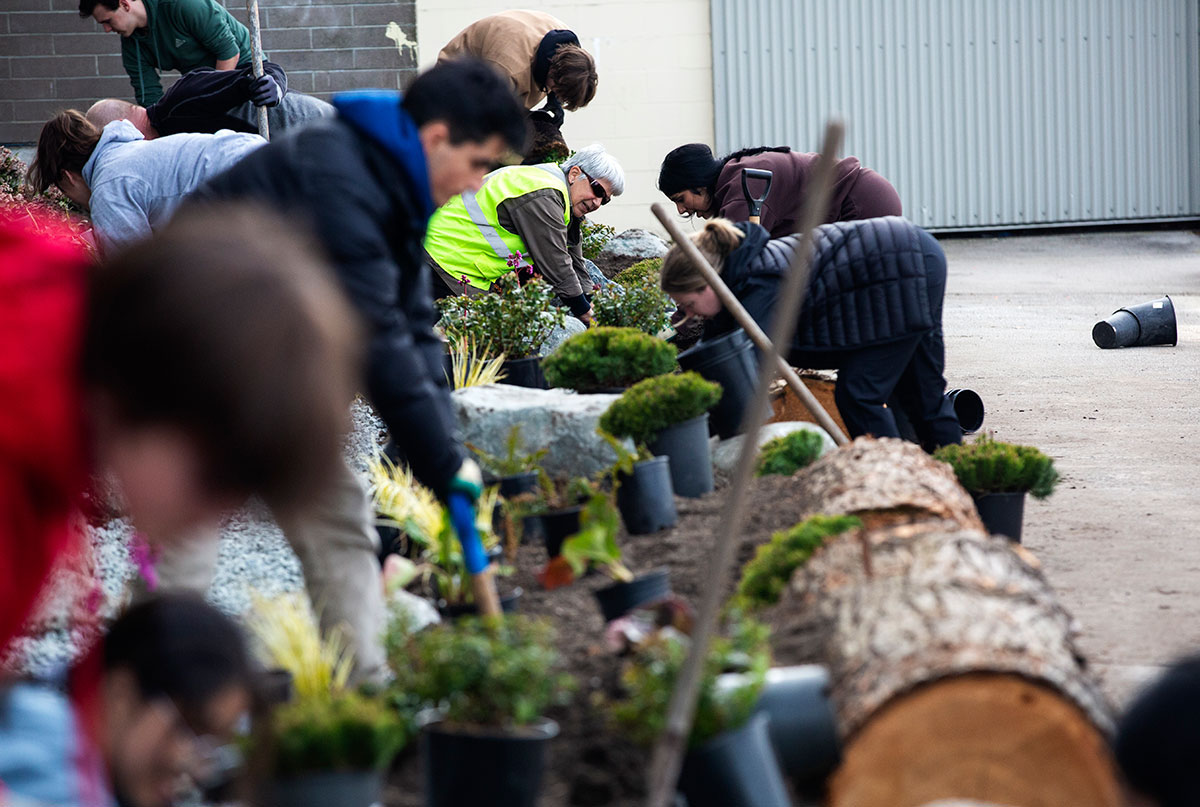 In Vancouver, rain gardens are the most common tool used during green infrastructure projects, often popping up alongside things like bike lanes. The city boasts about 200 of them scattered around places like False Creek and Marpole.
In North Vancouver, Ashworth has worked on four rain gardens, including a recent project at Wagg Creek, which was just planted, as well as a more mature rain garden at Capilano Mall. The mall's rain garden filters runoff before it can reach nearby creeks.
Ready for planting
After the final bell, members of Delta Secondary School's environment club meet near the tennis courts. It's planting day for the school's rain garden, the 33rd project Jones has helped create in the Lower Mainland (Howie's work with the city now revolves around Burns Bog).
Previously, there was a patch of sun-poor, half-dead grass in this long sliver of sloped ground located off the school's north side. Today, the grass has been removed, during what Jones called an "archaeological dig for toys." With all the dirt work complete, the garden is now ready for planting.
Jones has already laid out the plants along the garden. There's red flowering currant and David viburnum; Dwarf mugo pine, dwarf cultivar and western sword fern; two more types of cultivar: Azalea and Bergenia and sweet flag grass; plus Sedum 'Angelina' and common bugle for ground cover.
The students chat about upcoming grad events as Jones makes the rounds. For many of them, it's their first time planting outside of their grandma's yard. While they're well-versed in the big paralyzing climate issues, this exercise allows them to develop practical skills that can — literally — help in their own backyard.
In under an hour, the club has everything planted. What was sickly grass before is now a fledgling rain garden. As staff exit the school, they pause to admire the students' handiwork.
Soon the roof's downspout pipes will be disconnected, that water destined for a rain garden detour, rather than a one-way ticket to the stormwater system. Then the garden will truly come to life.