The BC Coroners Service reported today that 184 people died of toxic drugs in July, making that month the deadliest this year.
It's another troubling sign that British Columbia — which already has the deadliest drug toxicity problem in Canada — is on track to record even more deaths in 2021 than in 2020, when deaths began rising steeply as the COVID-19 pandemic took hold.
In 2021, an average of 172 people have died every month, up from 144 in 2020. So far, 1,204 people have died in 2021, compared to 1,734 in 2020. The per-capita rate has also ticked up, to 40 deaths per 100,000. That's a higher rate of drug overdose death than in opioid-ravaged states like Ohio (38.3), Maryland (38.2) or Pennsylvania (35.6) — but not quite as dire as Delaware (48) or West Virginia (52.8).
In Vancouver Coastal Health, the rate is 47 deaths per 100,000, and it's 46 per 100,000 in Northern Health.
If British Columbia's death rate doesn't slow down, over 2,000 people could die this year of a drug overdose.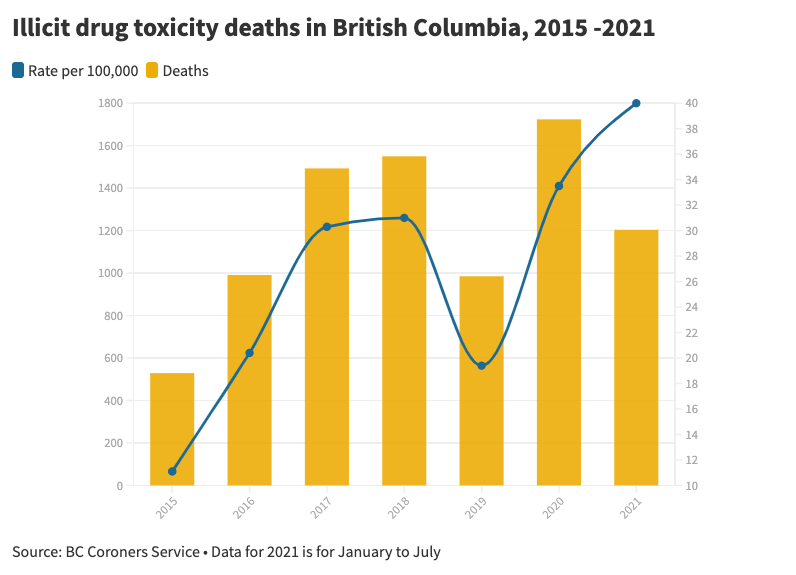 There has been a delay in reporting the deaths because the Coroners Service had to investigate 719 sudden deaths that happened in June and July during an unprecedented heat dome. Overdose death numbers for August are still not out.
As federal leaders jockeyed for votes in the weeks leading up to the Sept. 20 election, drug policy advocates said they were looking for concrete action — but the parties were coming up short.
"We want them to talk about decriminalization in an educated way. We want them to talk about legal regulation similar to alcohol, tobacco and cannabis," said Leslie McBain, one of the founders of Moms Stop the Harm, an advocacy group of parents who have lost family members to drug-related harms or substance abuse.
"We want them to talk about a declaration of a public health emergency. We want to know how much money they're willing to spend on these things, and we don't hear that."
Here is some recent reporting from The Tyee on the drug poisoning crisis:
Campus Life Is Returning. Will Toxic Drug Deaths Increase Too?
This Overdose Awareness Day, Activists Will Again Hand Out Safe Drugs
One Family, Two Deaths, 18 Years of Drug Policy Failure
BC's Overdose Failure: 'Each One of these Deaths Was Preventable'
Five Ways to End the Toxic Drug Crisis. From the Frontlines