[Editor's note: This is one of a series of pieces drawn from 'All Together Healthy: A Canadian Wellness Revolution,' written by Tyee legislative bureau chief Andrew MacLeod and just published by Douglas & McIntyre, that challenges assumptions about how best to improve health for Canadians.]
On the map open on my computer screen, the Toronto neighbourhood where I grew up was pale yellow. The colour indicated that as in much of the north central part of the city, in Leaside the likelihood of dying early was relatively low.
Meanwhile, a band of dark red ran across the city south of Bloor Street, stretching from downtown deep into the city's east end. In those and other red areas the chances of a premature death were two or three times as likely as in the yellow neighbourhoods.
The website for the Toronto Community Health Profiles partnership had similar maps showing the uneven distribution of everything from chlamydia and diabetes to asthma and teen pregnancies.
Other North American cities show similar patterns and in the United States, where economic inequality is greater and access to health care is worse, the divide is even more striking. In Chicago, the infant mortality rate near the Garfield stop in Washington Park on the city's south side is eight times what it is near the Armitage stop in wealthier Lincoln Park. Similarly, using 2009 figures, babies born near the Garfield stop were twice as likely to have a low weight at birth, which is associated with worse health. Children near the Garfield stop were six times as likely to have elevated levels of lead in their blood as were children near Armitage. Coronary heart disease was more common in the poorer areas of Chicago as well.
The Robert Wood Johnson Foundation has published similar maps that the Virginia Commonwealth University Center on Society and Health created for more than 20 cities in the United States, all of which show how long people live is closely related to the economics of the neighbourhood where they live. The foundation's website attributed the health gap in American cities to differences between neighbourhoods, including the education level of residents, income, having the tax base to support good schools, unsafe or unhealthy housing, access to nutritious food, and opportunities to exercise.
"Proximity to highways, factories, or other sources of toxic agents may expose residents to pollutants," the authors said. Poor public transit could prevent residents from reaching good jobs, child care and social services.
In Canada, where many are prone to smugness when it comes to comparisons with the United States, we have our own disparities. Among provinces, British Columbians live the longest (84 years for women; 81 for men) and people in Newfoundland and Labrador the shortest. Living on the West Coast corresponds to three more years of life than people on the East Coast get.
But people in the territory of Nunavut, where a significant proportion of the population is Indigenous, had the shortest life expectancy at birth in the country at 68.4 years for men and 72.9 years for women. According to Statistics Canada that's below the national average by 11.2 years for men and 10.9 years for women.
There are similar divides within the country when we consider conditions that affect people's quality of life. In terms of mental health, for example, Statistics Canada has reported that "In 2015, the likelihood of Canadians having contemplated suicide in the past 12 months varied by level of household income." For people over the age of 15 who were living in households where the income was greater than $70,000, the number who had contemplated suicide in the past 12 months was 1.7 per cent. In households where the income was under $20,000, the figure was more than three times higher at 5.8 percent.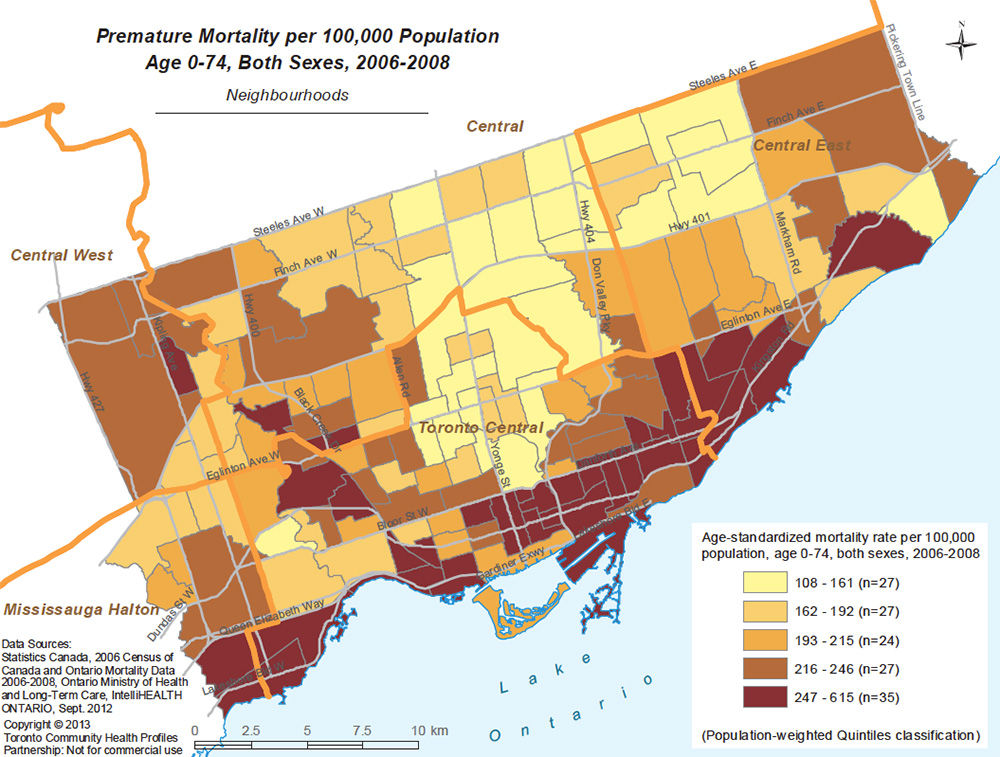 Even within relatively healthy British Columbia there are wide health inequities. Released in the fall of 2016, the My Health My Community survey of people in Vancouver found that the likelihood of someone saying their health was "good" or "excellent" was directly linked to which neighbourhood they call home.
In West Vancouver, where most households have incomes over $100,000 a year, 73 per cent said they were in "good" health or better. That rate was far higher than in poorer neighbourhoods, such as Strathcona, the area that includes Vancouver's Downtown Eastside and where the average household makes under $40,000 a year. There, only 34 per cent of people, about half as many as in West Vancouver, said their health was "good" or "excellent."
Across the province, people in richer areas outlive people in the poorest areas. People in the Lower Mainland and on southern Vancouver Island tend to be healthier than people in the northern and central parts of the province, according to a 2016 report from the Provincial Health Services Authority. "The results indicate more than a 10-year gap between the local health areas with the shortest and longest life expectancies," it said.
The richest British Columbians did better than the poorest on many of the measures the report looked at. In its words:
"People in the highest income group reported significantly more favourable rates than those in the lowest income group for a number of indicators: positive perceived health (71.9 per cent vs. 47.8 per cent), positive perceived mental health (78.8 per cent vs. 59.2 per cent), adequate fruit and vegetable consumption (47.9 per cent vs. 35.8 per cent), leisure time physical activity (69.3 per cent vs. 48.2 per cent), mood/anxiety disorder (7.9 per cent vs. 17.4 per cent) and current smoking (12.0 per cent vs. 26.5 per cent).
There were also gender differences, with adolescent girls reporting significantly higher rates of abuse and discrimination than boys, and "far fewer B.C. women than men reported that their health was 'excellent' or 'very good,'" it said. "On the other hand, B.C. men reported much lower rates of adequate fruit and vegetable consumption than women, indicating an inequitable distribution of healthy eating habits."
The conditions people live in have a big influence on how healthy they are and the demands they're likely to make on the health-care system, the report said. "We know that about 75 per cent of our overall health is determined by social factors such as working or living conditions, income and educational opportunities," wrote Lydia Drasic, then the executive director of the B.C. Centre for Disease Control Operations and Chronic Disease Prevention in the report's forward.
Those inequities came with a cost to the public and society at large, Drasic wrote. "The direct health system costs associated with providing care to a sicker and more disadvantaged population are substantial. These costs are dwarfed by the indirect costs of health inequities, such as lost productivity, lost tax revenue, absenteeism, family leave, and disability or premature death." The report concluded that continued monitoring was needed to make it clear where inequities persist.
Even once people are sick, wealth makes a difference. Ability to afford medicine, healthy food, rent, electricity and other necessities affects how well someone will be able to look after themselves. Studies have shown that among people with diabetes, the poorest have a harder time managing with the disease than richer people do. Money even affects the likelihood that cancer treatment will succeed. For the wealthiest people living in Canada's cities, there's a 73 per cent chance they will survive five years after they are diagnosed. For the poorest, the five-year survival rate is 61 per cent.
Put another way, if 100 rich people and 100 poor people are diagnosed with cancer, 12 more of the poor people than the rich will be dead within five years.
Health risks posed by spiraling housing costs
One explanation for the differences in health outcomes involves material hardship. Unaffordable rents suck up needed dollars. Of the 517,000 households that rent in B.C., 70,000 of them spend 50 per cent or more of their income on housing, Lorraine Copas, the executive director of the Social Planning and Research Council of B.C. said. That level of spending makes a household vulnerable, she said. The number of people in that situation has been rising in recent years and includes 13,000 seniors, she said. "I would say we haven't necessarily gained ground at all."
Lack of money can affect whether someone takes medicine they've been prescribed. Research by Steve Morgan at the School of Population and Public Health at UBC found that among residents of 11 wealthy countries, Canadians were the second most likely to skip filling a prescription. The survey found as many as one out of 12 Canadians failed to fill a prescription due to the cost. Using 2014 data from the Commonwealth Fund International Health Policy Survey of Older Adults, Morgan found that was worse than in Australia, France, Germany, the Netherlands, New Zealand, Norway, Sweden, Switzerland or the United Kingdom.
The only country where the figure was worse? The United States, which lacks a publicly funded health-care system and where one out of six said they skipped medicine due to cost.
Part three: B.C.'s health spending keeps rising — except on prevention. Is that smart?