For the first Labour Day in 16 years, an NDP government is running British Columbia. And with a new minister of labour, the potential is high for a variety of changes over the coming months that would affect workers around the province.
The provincial election campaign was filled with promises about jobs and working conditions. The list of items on the agenda is dauntingly long. Where should the government start? The Tyee checked in with a few union leaders and workers' advocacy organizations to discover their priorities for B.C.'s new government.
1. Bring in a $15 minimum wage sooner rather than later
An increase in wages for the lowest-paid workers in the province is at the top of the list for the president of the BC Federation of Labour.
"I think that's really important," Irene Lanzinger said.
She hopes the fair wage commission that the government has promised to convene later this month will consider bringing in a $15 minimum wage as soon as possible.
"We are going to suggest to the fair wage commission, when we get a chance, that the timeline for the $15 minimum wage here in B.C. should be in line with the timelines in Alberta and Ontario," she said.
Lanzinger hopes the commission will address exemptions that allow groups such as farm workers and liquor servers to earn less than the standard minimum wage. She said the discrepancy between the minimum wage and the living wage is another important issue for the commission to consider.
"That is also a very important discussion because even at $15 in many parts of B.C. — all of B.C. really — you're not earning a living wage," she said.
2. Make organizing unions easier
Lanzinger wants changes to the labour code to make it easier for workers to unionize. That priority was echoed by Stephanie Smith, president of the BC Government and Service Employees' Union.
"Over the last 16 years, it's simply been made more and more difficult for workers to organize and to become unionized," said Smith. "I'd like to see a rebalancing of that."
Some unions want to move to a card check method of certification, a system Premier John Horgan has publicly supported and Green Party Leader Andrew Weaver opposes.
The card check system means that a union can be certified as soon as a majority of workers sign union cards instead of needing an additional vote by secret ballot. The BCGEU is not opposed to holding votes, said Smith, but the problem is that although the vote is supposed to be held within 10 days, it's often delayed at the employer's request.
"There is way too big a window between when the vote is ordered and when the vote takes place," she said, arguing the delayed votes allow employers time to intimidate their employees.
"We want to see that rebalanced, where workers can make the decision free of interference, as it is supposed to happen under the labour code."
3. Create more protection for non-union workers
Stronger protection for non-union workers is the main priority of the Employment Standards Coalition, an organization that has advocated for improvements to B.C.'s Employment Standards Act since 2011.
Coalition co-chair David Fairey said the act needs to be updated to reflect both new types of work and the growth in precarious employment. The growing number of precarious workers need greater protections, he said, and many groups — such as farm workers and liquor servers — are exempt from some of the act's regulations.
"Most importantly, there should be a significant increase in the resources given to the Employment Standards Branch," Fairey said.
Fairey wants the branch to become a proactive organization that enforces the act and promotes and educates both employers and employees about workers' rights. Although the government is likely to experience pushback from some employers on these changes, he believes the reforms would benefit employers as well as workers.
"There are some employers that are cheating, there are some employers that are undercutting the act, where there are other employers who abide by the provisions of the act. So therefore it's a situation of unfair competition," he said. "So I think employers should be interested in an aggressive and proactive approach to enforcement."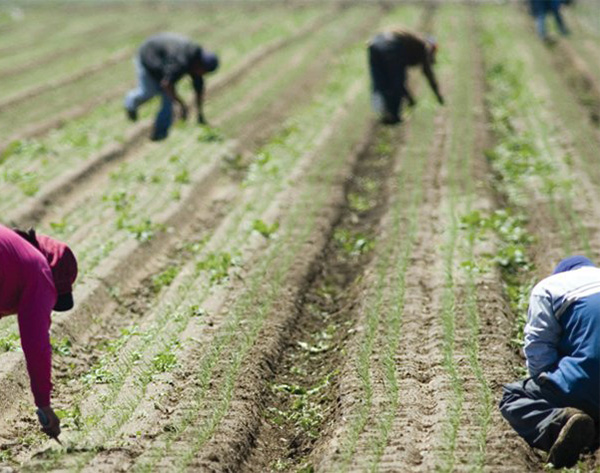 4. Build better jobs for construction projects
Labour leaders in the construction sector are calling for a return of project labour agreements, which establish the terms of employment before hiring begins for construction projects.
Lee Loftus, president of the BC and Yukon Territory Building and Construction Trades Council, said such agreements provide stable, family-supporting jobs in local communities.
"I think that the plan over the last 15, 16 years has been to depend on workers that were cheap and available from outside of British Columbia," he said. "Project labour agreements provide for local community hires and procurement of local contractors and support of First Nations and women and people with disabilities."
5. Build more jobs through major infrastructure projects
The government must move swiftly on decisions over major infrastructure projects, says Brian Cochrane, business manager for the International Union of Operating Engineers Local 115.
He pointed to LNG, Site C and the Kinder Morgan pipeline projects, all of which have an uncertain future.
"If those projects don't go ahead, we're going to need to find alternate ways to provide the right investment climate to make sure that we build the right infrastructure and energy sources to be able to develop British Columbia," he said.
Projects such as the Pattullo and Massey crossings, he said, not only offer good jobs, they improve the working lives of people outside the construction industry because they provide the transportation network necessary to get people to their jobs.
"We need infrastructure. Infrastructure creates affordability for the average working family."
6. Return fairness for workers in health care
The government needs to address a "crisis in inequality in the province," says Jennifer Whiteside, secretary-business manager for the Hospital Employees' Union.
The increasing use of private, for-profit employers in the health-care sector for jobs such as cleaning, food services and the care of seniors has led to a rise in precarious work and a downward pressure on wages, Whiteside said. Heavy workloads mean that, particularly in senior care, workers find themselves unable to provide the kind of care that is needed. Workloads have also contributed to a high injury rate among workers.
"We're looking for this government to repeal Bill 29, which was fundamentally a piece of anti-worker legislation passed by the Liberal government," she said. "There are remnants of that legislation that still exist, that survived our successful Supreme Court challenge. And so that legislation needs to be undone because we need to get back to a place in British Columbia where health-care workers have the right to successorship."
Whiteside said "contract-flipping" puts workers in a vulnerable position where they don't have the right to follow their work when contracts end. Private operators often enter into short-term contracts with private companies that provide care, she said. When costs become too high, or when unions try to negotiate a first collective agreement, the contracts are terminated.
"There has to be a return to a fair standard for the workers in that sector and an end to the private sector driving down wages and working conditions," she said.
7. Create affordable housing and childcare
Affordable housing and childcare make a huge difference for workers in non-standard employment who lack the benefits and pensions that some other workers enjoy.
That's why Andrew Cash, co-founder of the Urban Worker Project, an advocacy organization that raises issues affecting people in non-standard work, wants the government to focus on affordable housing and childcare to help this group of workers.
"As we see the economy change more and more from full-time stable long-term jobs to more contract-based employment, the challenge for any government is to find a way to broaden and strengthen the floor upon which all workers stand on," Cash said.
Precarious work is increasing across many sectors of the economy.
"Various reports that show that in a very short period of time, in the next three to five years, upwards of 40 or 50 per cent of work in Canada is going to be freelance, contract or self-employment," Cash said.
"For this group, certainly for the last 16 years in B.C. and really across the country, it's been a growing sector of workers that have not had the attention of government, both provincial and federal."
8. Provide protection for people in non-standard employment
Employment laws and standards must be updated to reflect the shift towards non-standard employment, says Cash.
"I think we've got to be looking at the issues that they're facing. For example, contract non-payment or contract creep. And the fact that contract workers have very little recourse under current laws if they don't get paid," he said.
The issue of employee misclassification is also a problem for contract workers, he said.
"This is where you're working as a contractor but really in fact you're actually, in the eyes of the law, probably an employee," he said.
Laws and enforcement affecting this group of workers need to be strengthened not only in B.C. but right across the country, Cash said.
9. Build on momentum from free tuition for adult basic education
George Davison, president of the Federation of Post-Secondary Educators of BC, was pleased that the new government of B.C. quickly implemented the top priority on his wish list.
"They've already told us that adult basic education and English language programs are going to be tuition-free starting Sept. 1," he said. "It's really good news for British Columbia's students."
Davison and the FPSE have pushed to remove the tuition fees since they were brought in by the former Liberal government three years ago.
"It's been quite a hardship for students," Davison said. "This will save the students $1,600 a term."
He noted the new government also lowered the interest on student loans, fulfilling another priority of the FPSE.
"We're looking forward to further announcements for the government to relieve students of the high cost of education," he said.
Davison said they hope for consultation from government in the months ahead.
"We've been shut out for the last few years in terms of input into government policy and it seems the doors are open now to talk about our priorities."
B.C.'s new government has a packed agenda. Many union leaders and advocates note that patience will be required as the government wades through many competing issues that need attention.
But most are optimistic about the upcoming legislative session and the future to come.
"I think there's an enormous amount of work to do," said the HEU's Jennifer Whiteside. "But I feel like for the first time in a very, very long time, working people in British Columbia, indeed all people in British Columbia, actually have a government who it seems is genuinely committed to talking with people."