From afar, the two-dozen houses behind the bus lot fence resemble white shoeboxes. They are all that's left of what was once a thriving community of red cinder-block homes amid palm trees and a lagoon. They wouldn't be there if residents and activists didn't resist the bulldozers for the Rio de Janeiro Olympics, which close Sunday.
Some 4,000 people used to call the Vila Autodromo favela home, mainly construction workers and fishermen. It sprouted up in the 1960s beside the city's car racing track, on the shores of Jacarepaguá Lagoon. Residents have withstood pressure to leave since the mid-1990s, as city hall sought to develop the suburban Barra da Tijuca district with clusters of apartment towers, big box shopping malls and freeways.
Vila Autodromo was able to coexist with the Pan American Games in 2007, but then came the October 2009 decision by the International Olympic Committee to award Rio the 2016 Olympics. City hall quickly decided to relocate six communities, including Vila Autodromo. It was key, because it occupied part of the land earmarked for the Olympic Park. Specifically, the main press centre, international broadcast centre and a hotel.
"Pretty sad," says Christopher Gaffney, a geography professor at the University of Zurich, as he gazes around the site. "This was a really long struggle and the Vila Autodromo was the canary in the coal mine for resisting Olympic removals. There were 650 families here, it was a vibrant community, there were lots of trees and an old fishers' village. The water was progressively polluted with pharmaceutical companies and shopping malls and high-rise buildings."
When city hall saw the opportunity for real estate speculation, Gaffney said, they "decided to wipe it off the map."
More than one-fifth of Rio's population resides in more than 500 favelas around the city. Because of the Olympics, Vila Autodromo became the highest profile.
Less than three-dozen residents received compensation of more than one million reais (about $300,000), mainly because they had land near the water. Many complained the compensation was not enough, because of increasing real estate prices in Barra da Tijuca. Those that resisted were subject to blackouts and missed garbage collection.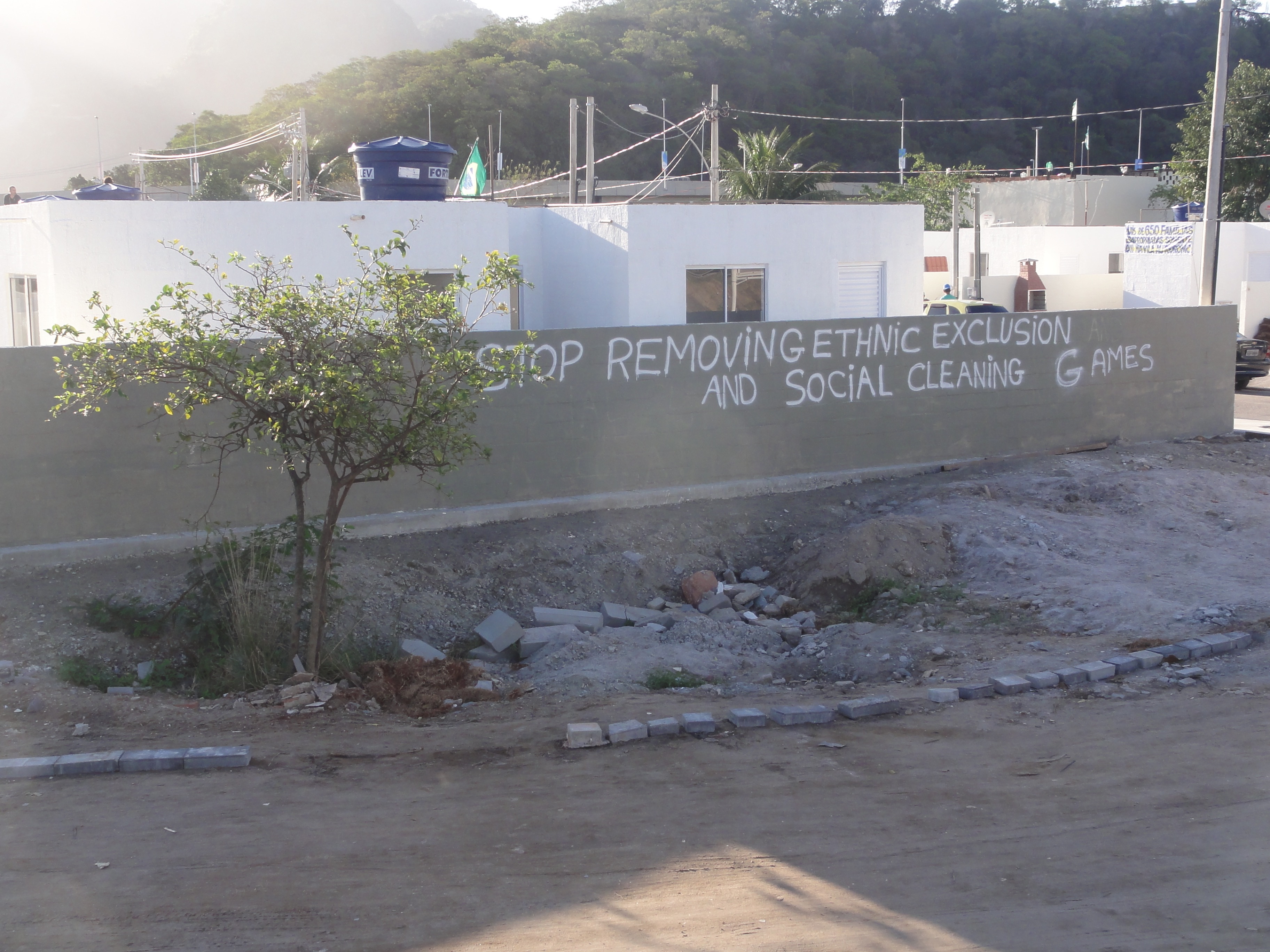 More than 300 families moved to a public housing complex but a couple dozen stood their ground. In April, the city agreed to build them new houses, a road, sports field and residents association facility. What's left of Vila Autodromo stands as a silent protest, as an open air Eviction Museum with sculptures in some front yards describing the impact of mega-events on communities.
One of the original buildings remains, plastered with graffiti slogans. Another building, also festooned with slogans, was demolished on the eve of the Games. It began to attract too much attention from reporters waiting for buses to Olympic venues.
According to Rio on Watch, between 2009 and 2013 67,000 families were evicted to make way for venues and infrastructure for the 2014 World Cup and 2016 Olympics.
"State-sponsored terrorism in a way, to terrorize people into leaving and accepting the lower offer," Gaffney said. "That story hasn't been heard enough."
Giselle Tanaka, a Vila Autodromo supporter and activist with the Popular Committee for Olympics and World Cup, said Brazil's recession and the city, state and federal governments' priority on staging mega-events has only made matters worse. She worries about what will happen to her city when the media goes home after the Games, and turns its attention to the next ones in Tokyo in 2020.
"The state is broke, there is no money for basic public services, there isn't money for social services, we are very afraid of what's going to happen," Tanaka said. "We are more afraid really because some things the government couldn't do, because there was much international media and everybody looking to the city seeing what happened, they will have liberty to do worse things."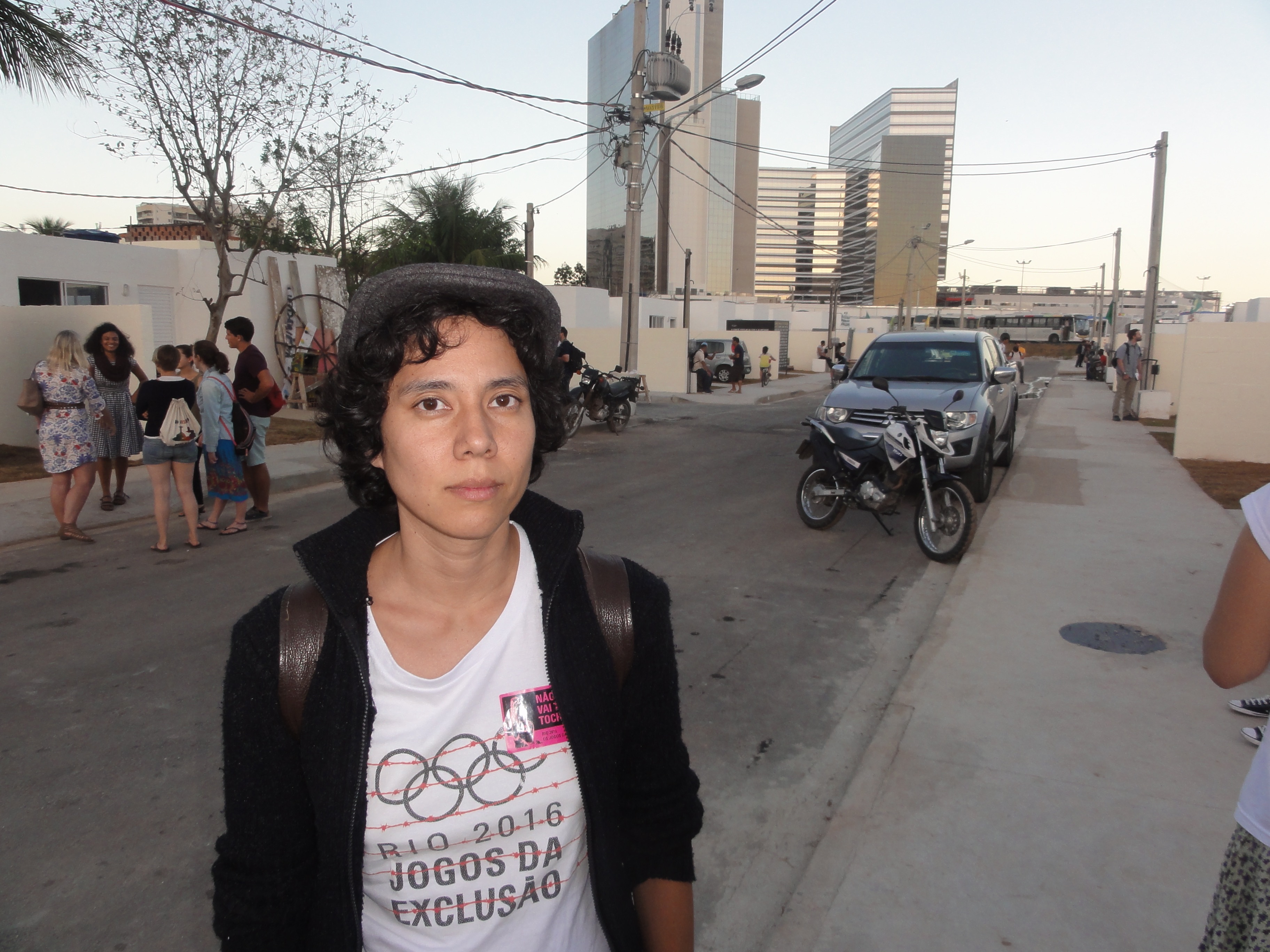 Gaffney said residents of vulnerable communities in already-awarded Olympic host cities, such as PyeongChang for winter 2018, Tokyo for summer 2020 and Beijing for winter 2022, have little chance to resist. But those in Budapest, Los Angeles, Paris and Rome, cities in the running for summer 2024, can exert pressure on their politicians to avoid displacements.
Olympics, as Vancouverites know, drive the narrative of a city for a decade and the ripple effects can be felt long afterward. Just six years later, the city is grappling with record high real estate prices and record low rental vacancy rates. The highest profile pre-Olympic eviction in Vancouver, the 200-unit social housing complex at Little Mountain, awaits redevelopment by Holborn, the company behind Vancouver's Trump Tower. Holborn did finish a 53-unit building for seniors at Little Mountain two years ago, but there are another 1,400 on the drawing board. Only 234 units would be social housing.
While sometimes the work of activists can force pockets of improvement in a host city, the mega-event inevitably diverts resources from health care and education.
"There won't be more transparency mechanisms, there will be fewer; you'll have a more militarized city, a gentrified city, more exclusive city and an indebted city afterwards," Gaffney warns.
"If that's what you want with your city, that's fine, but that's not a democratic choice, not an open choice, and not an informed choice. My suggestion to any city, under this stage, under this business model: don't do it, you're going to ruin your city."