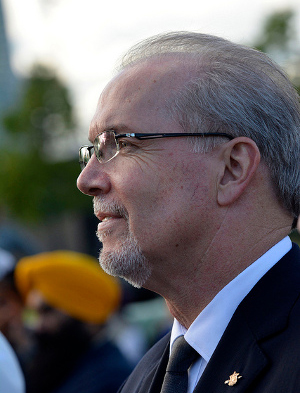 Premier Christy Clark told reporters last week that the British Columbia government has already apologized for the firing of seven health ministry employees and for misleading the public about a non-existent RCMP investigation. But critics say she is incorrect.
"What I've said in the past is we, government, very much regrets that mistake that was made," Clark reportedly said in a June 5 news conference. "It shouldn't have been made and [the government] has apologized for it. It was wrong."
When a reporter asked whether Clark meant an apology for the firings or for misleading the public, she replied, "Both."
In September 2012, the health ministry announced allegations related to data management, contracts and conflicts of interest that would lead to the seven firings and the freezing of several drug research contracts. The contracts, aimed at protecting patients, included an assessment of Alzheimer's drugs and Clark's funding of anti-smoking products that might have harmed pharmaceutical industry profits.
The government has since reinstated two of the people who were fired, settled out of court in three wrongful dismissal and defamation lawsuits, and conducted a review of what went wrong with the firings.
NDP leader John Horgan said that Clark appeared to admit that the government fabricated the RCMP investigation to cover up the botched firings. But where and when she apologized for that is unclear, he said. "The government wants to pretend everything's fine, and it's not."
Adrian Dix, the MLA for Vancouver-Kingsway, said the government hadn't previously acknowledged misleading the public, let alone apologized for doing so. Nor have most of the people whose lives were affected by the firings received an apology, he said.
"When the premier doesn't seem to know what she's apologizing for, I think that reflects the sincerity of the apology," Dix said.
'Heavy-handed actions'
The most thorough apology from the government went to Linda Kayfish, the sister of Roderick MacIsaac, a co-op student who killed himself a few months after the government fired him.
"Minister of Health Terry Lake has asked his Deputy Minister Stephen Brown to send a letter conveying the government's apology to the family of Roderick MacIsaac for terminating his employment, given his status as a co-op student under the supervision of ministry staff," the government said in an Oct. 3, 2014 press release.
"In the letter, the government also expresses sympathy and condolences for the stress and sadness that they have endured as a result of Mr. MacIsaac's death in December 2012," it said.
The release noted there had been out of court settlements with three former ministry employees who had filed lawsuits, and that upon review Brown had found some of the terminations "were unwarranted or were considered excessive."
A few days later, Clark said in the legislature: "Let me again reiterate on behalf of the government and myself our deepest, heartfelt sympathy and apology to Linda Kayfish and her family." She said it was appropriate for the government to apologize for the "very heavy-handed actions" in that case.
'Regrettable mistake'
Other former employees received less clear apologies.
In announcing a settlement with Ron Mattson, the government's press release said: "The government advises that its decision to terminate Mr. Mattson was a regrettable mistake." It added, "The government regrets any hardship and possible loss of reputation which Mr. Mattson endured."
When the government settled with Malcolm Maclure, an expert on evidence-based drug decisions and patient safety, all it publicly announced was that he had been hired as a consultant.
The release talked about Maclure's 20 years working in the field, but failed to mention that the government had fired him nearly two years earlier and that he had sued them. Nor did it include an apology.
When the government settled with Bob Hart and gave him his job back, it was up to his lawyer, Robert Gill, to issue a statement. "Mr. Hart relies on the fact of full reinstatement as a demonstration of the government's continuing confidence in him, as a loyal and dedicated public servant with over 29 years service," it said.
The government didn't say anything public about Hart returning to his job, nor issue an apology. Lake said at the time: "The person was rehired after an extensive investigation and work on the part of the ministry and the information and privacy commissioner, so it's a personnel matter, so I'm not going to say much more than that."
Ramsay Hamdi and Dave Scott, two BCGEU members who were fired, have not received an apology. Their grievances against the government closed without them receiving their jobs back.
Finally, former ministry employee Rebecca Warburton and her husband Bill Warburton, who held research contracts with the ministry, each have lawsuits outstanding against the government.
Gov't hid behind RCMP: researcher
Asked for more detail on where and when Clark and the government have apologized to the former workers and for misleading the public, a spokesperson in her office wrote: "She's apologized as has Minister Lake about an investigation which over-reached. That includes the news release."
Documents released last week showed the RCMP was "blindsided" by the province's 2012 announcement that the police were investigating allegations against the health ministry employees, and that the government never forwarded any evidence of wrongdoing.
Clark's spokesperson said that it had been the intention to forward information to the RCMP, but that it is up to the police, not the government, to decide whether or not there are grounds to investigate.
"As has been said, government very much regrets the mistakes that were made. Government has apologized," a health ministry spokesperson said in a statement.
It's been clear for two years that the government hid behind a police investigation that was going nowhere, said health policy researcher and author Alan Cassels.
"I think it ramps it up into a more serious category, when you start involving law enforcement in a misleading, underhanded, deceptive way," Cassels said. "I'm not a political scientist, but it smells."
Cassels said that Clark owes more apologies. "We stopped some serious, important drug research in this province. Did she apologize to victims of drug-related dangers? Apologize to taxpayers for spending millions of dollars on a witch hunt that didn't go anywhere and resulted in most of the people being rehired again?"
NDP leader Horgan said a public inquiry is needed where Clark and senior officials are required to testify under oath about what happened with the firings. "It's just wrong," he said. "We're not letting this go, and I don't think the public wants us to."