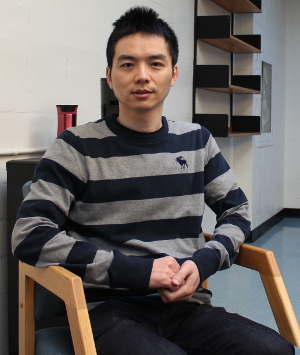 Before he moved to Canada four years ago, Gary Weng spent five years as a marketer in his native Taiwan.
Weng wants to get back into marketing in his new country. For the last two years, he's enrolled in college preparation and career English courses at Vancouver Community College (VCC) to get his language skills to a professional standard.
By the time the semester ends on Dec. 17, Weng will be just one course shy of completing his English program.
But come January, four of the college's five English training programs -- including the Professional and Career English program Weng's enrolled in -- will no longer exist.
"I don't know why the government would like to sacrifice our hope or our survival skills in Canada," Weng said when he sat down for an interview yesterday in a basement classroom at VCC's downtown campus.
"Canada is founded by immigrants. I don't know why they want to stop our ability to connect to this country, to this community."
Because of funding cuts, Weng said he won't have the chance to finish his program at VCC. He said he'll search online for an alternative, but he likely won't find the one he needs in B.C.
Federal funding for English training at the academic and career level as well as outreach programs teaching basic English and literacy in home visits and community centres, was cut off Canada-wide last spring. Provinces like Alberta and Ontario have kept their programs going with provincial funding.
B.C. has provided $17.2 million in transition funding to help 17 public institutions get by until April 2015. Vancouver Community College received $7.92 million of the transition money, which will pay the bills until later this month.
The B.C. government, however, is expected to make an announcement today on the programs, but would not elaborate on whether the funding will be restored.
In an emailed statement to The Tyee, Minister of Advanced Education Amrik Virk would only say that that the government is focused on getting students access to the training they need to further their careers and help the province meet its workforce demands.
"[The ministry] continues to work with institutions on how they can keep English language training at higher levels sustainable beyond 2014/15, and will communicate any decisions, once they are made," the statement said.
However, without further funding, the English programs won't continue. That could leave about 9,000 without crucial language classes.
Cuts affect 'whole college'
Vancouver Community College has been western Canada's largest English training program for the past 40 years. At one point, in August 2013, it had 190 English instructors on staff. Since then, 27 teachers have taken early retirement. More than 130 regular and sessional instructors are to be laid off this month.
About 40 teachers will remain to teach a basic level English instruction program for recent immigrants only. The program, called Language Instruction for New Canadians, is funded by the federal government.
And while there are private, basic English courses available elsewhere, there are no private school options for college preparation or career English in B.C.
Karen Shortt, president of the Vancouver Community College Faculty Association, believes it's the biggest post-secondary layoff in Canadian history.
"It's basically wiping out close to 30 per cent of our college," Shortt said. But because students move on from English courses to other VCC academic programs, the impact will be felt in other departments, too.
Helga Mankhof, department head of Professional and Career English at VCC, says the Broadway campus where most English courses are offered will "look like a morgue" come January.
Already, the fifth floor office of the downtown campus where Mankhof's department is located, looks empty. Faculty have reported feeling sick from the stress of shutting down the program, supporting their students, and trying to plan for their own futures.
"It's catastrophic, really," she said from her downtown office overlooking the corner of Dunsmuir and Hamilton Streets.
She said the government's own Select Standing Committee on Finance and Government Services recommended in November that B.C. "support provincially-funded [English language training] programs delivered by BC post-secondary institutions, and work with institutions to develop a long-term and sustainable strategy for the delivery of [English language training]".
Advanced English language training is also necessary for attracting and retaining skilled immigrant workers to the province, a part of the BC Skills for Jobs Blueprint released by government earlier this year.
Although Mankhof's department won't be cut until later this month, many courses have already ended, prompting students with no hope of finishing career or college prep English to return to their home countries.
"We had an Iranian doctor who was sort of our spokesperson for the [program], she's gone back to Iran. Can you imagine going back to Iran?" she asked, adding another Iranian student, a trained surgeon, returned for the same reason.
"There's just no hope of them being able to get their licensure here [without academic English]."
Students in limbo
The programs were originally funded through the federal Canada-British Columbia Immigration Agreement. But in 2012 Citizenship and Immigration Canada announced it would not renew the agreement when it expired in 2014.
In 2013, the federal government took applications for funding from organizations that wanted to provide settlement services, including basic English language training. When The Tyee reported on the cancellation of federal funding for English courses in February , Citizenship and Immigration said they had not yet made a decision on which organizations would be funded. They did not respond to The Tyee's request for an update on the funding by deadline
Mankhof has taught English at VCC for 25 years, and has no idea what she'll do next.
But she has a better chance at finding decent employment than many of her students.
For example, Jean Chen immigrated to Canada from the United States in 2009, but is originally from China where she worked as a medical researcher. Despite her thick accent and intermediate-level English, Chen was able to find work in her field in the U.S.
Once in Canada she lost her job as a research assistant at the University of British Columbia partly because her English wasn't strong enough. So Chen enrolled at VCC. This month, she finishes level two of English Professional Advancement. She doesn't think she'll find a good job if she can't do level three.
More important, Chen said she will miss the college where she found friends and camaraderie.
"I feel VCC is just like home," Chen said. "You come here to build your [social] connections," she said, tears forming in her eyes.
When Chen left the U.S., she left behind friends and colleagues. When VCC's programs close, she fears she "will risk that [happening] here."