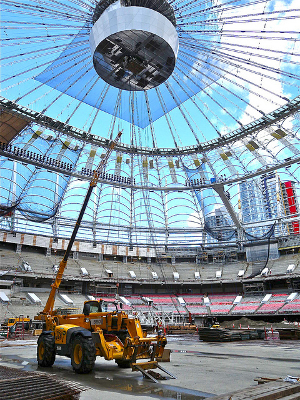 B.C. Pavilion Corporation revealed Sept. 24 that it ordered the retractable roof of B.C. Place Stadium to not be opened or closed while people were on the field of play for several months in 2012.
That according to a letter from PavCo's lawyer, Clark Ledingham, after an adjudicator with the Office of the Information and Privacy Commissioner ordered Sept. 18 that information about safety hazards be released immediately.
"We are able to advise you that PavCo did indeed mitigate the initial hazard identified in the Beauregard Engineering Review reported in August 2012 such that there exists no safety risk to the public," Ledingham wrote. "These components have been addressed by the contractor, Hightex, and certified by their engineer Beauregard in a letter of assurance. PavCo's engineer of record has also reviewed the letter of assurance supplied by Beauregard and is satisfied with its content."
Hidden facts made public
Adjudicator Caitlin Lemiski ordered information to be disclosed that previously was removed by PavCo from a letter by engineer Phil Beauregard. PavCo originally withheld the contents because it claimed there were third-party trade secrets. Ledingham's letter quoted information that had been redacted from the first five pages of Beauregard's letter, which indicated the failure of at least 20 circlips (circular clips) and other components caused a hazard for people below.
"Several 34 mm [in diameter] circlips located on the pins attaching the outer circumferential belts to the driving carriages have broken and fallen either on the glass of the ITR or onto the field of play. Analysis of the possible causes of failure indicates that there may be problems with circlips at other locations as well," according to Beauregard's letter.
"In at least one case, the slider plate fell off the roof and landed on field of play. This is an unacceptable condition."
Severe gouging of brass slider plates created a debris hazard and some threaded rods "do not have an adequate safety factor."
Ledingham wrote that all 34 mm circlips were replaced by Aug. 9, 2012 and circlips on the retractable roof's inner and outer ends were checked. One corroded 55 m circlip was replaced. Brass plates at sliding carriages were replaced. Threaded rods were fixed and carriages realigned.
Ledingham included a copy of the Oct. 25, 2012 Beauregard letter of assurance that the modifications were adequate.
"It is permissible to operate the roof (open, close, inflate and deflate) while people are on the field of play," Beauregard wrote.
His letter referred to a washer being the only object to fall onto the field of play, but it should have been retained by a 34 mm circlip.
"Contrary to what had previously been believed, none of the brass plates on the sliding carriages has actually fallen off the roof; they have all been discovered on the cushion surface," Beauregard wrote.
The stadium reopened from a $514 million renovation on Sept. 30, 2011 but has been plagued with controversy. Workers are fixing the roof for the third consecutive year because leaks of grease from roof support cables have stained the roof fabric.