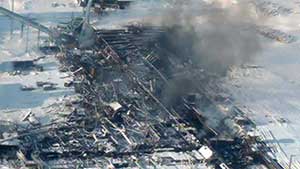 WorkSafeBC needs to forge an alliance with law enforcement if it wants to make charges stick, said a report released yesterday.
The interim Review and Action Plan report by WorkSafeBC administrator Gordon Macatee said WorkSafeBC investigators failed to prosecute those potentially responsible for two deadly sawmill blasts because they did not have search warrants and those interviewed were not informed of their rights under the Charter of Rights and Freedoms.
"Case law has determined that where a regulatory agency moves from an investigation for cause to an investigation for prosecution, WorkSafeBC cannot use its 'cause and prevention' tools to gather evidence against the employer," said the Macatee report. "Warrants are required for seizure of evidence, and charter rights must be explained where legally required."
Two workers were killed and 20 injured on Jan. 20, 2012 at Babine Forest Products' sawmill in Burns Lake. On April 23, 2012, two were killed and 22 injured at the Lakeland Sawmill in Prince George. Both incidents were connected to high concentrations of wood dust and both were considered preventable.
"The incidents may not have occurred if effective actions had been taken to control the airborne dispersal of wood dust and to control the excessive accumulations of wood dust on floors and surfaces."
Macatee, a former deputy minister and current B.C. Ferry commissioner, was appointed WorkSafeBC's administrator in April. His report recommended splitting the WorkSafeBC fatal and serious injuries department into two units. While it said there should be the ability to conduct both cause and prosecution investigations, the report recommended not separating enforcement from regulation.
"Following the Babine and Lakeland explosions, WorkSafeBC conducted investigations of each incident. On the basis of the information gathered, both the Babine and Lakeland incidents were referred to the Criminal Justice Branch (CJB) for charge assessment. In both cases, the CJB issued Clear Statements outlining that no charges would be approved against either Babine Forest Products or Lakeland Mills Ltd. due to the inadmissibility of some of the evidence gathered by WorkSafeBC investigators and the defence of due diligence."
Among the recommendations were simplifying the requirements to issue stop work orders at unsafe workplaces, escalating fines on employers in violation of occupational health and safety requirements and to consult with industry and labour about possible fines for workers who fail to wear personal protective equipment.
Irene Lanzinger, BC Federation of Labour's secretary-treasurer, said the report doesn't go far enough.
"Increased enforcement and prosecution of negligent employers is fundamental to improving worker safety and compliance with the law," Lanzinger said. "While we are encouraged that the report takes initial steps in that direction, it fails to take the bold steps necessary to make substantial change."
The report also recommended adding two new members to the WorkSafeBC board of directors, including a legal or regulatory expert and a person with professional occupational health and safety designation. Another recommendation included consulting industry and labour stakeholders about publishing employer non-compliance information to increase transparency.