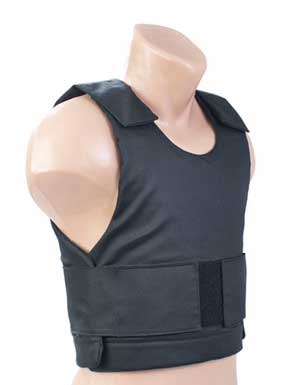 B.C.'s government is shopping for a company to supply bulletproof vests to 150 Natural Resource officers.
The compliance and enforcement branch of the Ministry of Forests, Lands and Natural Resource Operations issued a tender notice with a June 27 deadline for bids to sell the government ballistic resistant soft body armour that is "designed for routine/everyday wear under the uniform."
"The province intends on purchasing most units at one time and establishing a supply arrangement for a period of 12 months after the initial delivery to facilitate any ad hoc ongoing purchases that would be required," said the document. "The vendor will be required to travel to Chilliwack, Nanaimo, Kamloops, Prince George, Victoria and Castlegar or Nelson on days to be arranged with the successful vendor to provide a fitting service with the intent of ensuring an accurate fit of vests for officers."
Natural Resource officers enforce more than 46 laws, including the Forest Act, Environmental Management Act and Wildfire Act. The ministry website says they conduct more than 8,000 inspections a year.
The vests are to be worn under uniforms, with front and back ballistic panels and a trauma pack insert. It isn't the first regulatory agency to buy such equipment. In late 2011, the Liquor Control and Licensing Branch sought 40 sets of soft body armour for its inspectors, mainly to protect them against slashing and stabbing at unruly bars. A 2006 brawl at a Richmond establishment prompted the purchase.
Forests, Lands and Natural Resource is the government's main agency that oversees access to and use of Crown lands in B.C., about 94 per cent of the province.
But why?
A prepared statement from the ministry denied that the purchase, worth approximately $1,000 per unit, was triggered by a specific incident. According to the ministry, a public service agency risk assessment report recommended buying the equipment or to "no longer carry out some of the activities as per their mandate." Natural Resource officers are not trained or equipped with firearms, nor are they equipped with other weapons.
"The focus is on officer safety, and proper protection means they may be able to assist other enforcement agencies (Conservation Officer Service and RCMP) as necessary on patrol activities," said the ministry statement.
The ministry's February-issued service plan mentions adoption of a new safety management system, regular safety audits of ministry workplaces and the overall need to balance social, economic and environmental outcomes, but it doesn't mention the risk of conflict.
With spring 2014 amendments to the Agricultural Land Reserve and the Park Boundary Adjustment Policy, the government has opened the door to applications for mining and pipeline projects on land that was previously off-limits to development.
"Forestry, tourism, mining and energy related industries are primary and important natural resource sector employers in many of British Columbia's communities," said the service plan. "A thriving resource sector needs resilient communities that enjoy economically viable opportunities. With the current economic recovery in the sector creating demand for land use, any delay in resolving applications can result in lost opportunities."
In 2011, the government restructured Crown land and natural resources under the Natural Resource Board that includes Forests, Lands and Natural Resource; Aboriginal Relations and Reconciliation; Agriculture; Energy and Mines; Natural Gas Development; Environment; and Jobs, Tourism and Skills Training.