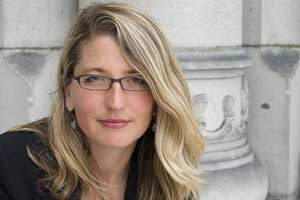 When the NDP small business critic spoke out April 2 against the imposition of recycling fees by a private, industry-led monopoly, she drew the ire of Speaker Linda Reid.
Lana Popham was using an allotted two-minute private members' statement slot to urge the BC Liberals to delay the Multi-Material B.C. (MMBC) program because of the anticipated job losses for the newspaper industry.
She said the industry pioneered the blue box recycling system and recycles 85 per cent of the newsprint that it uses. But MMBC, enabled by government legislation, is slapping new fees on producers of printed paper and packaging. It is part of a bigger plan that MMBC claims will be a shift of the burden away from residential taxpayers and onto producers. But there is no requirement for the fees to be disclosed to consumers who may end up footing the bill.
"MMBC is currently demanding $10 million in annual fees from the newspaper sector to pay for the recycling that is already happening," Popham said in the legislature. "As well, MMBC is insisting on an additional $3 million worth of free advertising to promote itself."
Reid interjected: "Content of statements in the afternoon should be aligned with Standing Order 25. I would ask you to bring your remarks in line."
Popham did not appear to be breaching Standing Order 25, which says statements must be on one matter, not "revive discussion" on a matter already discussed or raise a question of privilege. The Hansard Index does not indicate Popham spoke previously in the legislature on MMBC or recycling during the current session.
She did not protest and carried on, quoting Newspapers Canada CEO John Hinds's prediction that the fees would lead to the loss of 300 to 500 jobs and closure of small community newspapers.
Again Reid interrupted, but Popham did not finish the speech. It was posted to her Inside Saanich South blog, but later removed.
"We can all agree that recycling is worthwhile and most people agree that in principle it makes sense to require those who make the waste to pay the cost of recycling it," said Popham's blog.
"That is not the issue. Immediate attention is required. Specifically, implementation of the MMBC system must not be allowed to go forward on May 19."
Public bodies under pressure
Newspapers Canada is part of a nine-member coalition under the #RethinkItBC banner, including the B.C. Agriculture Council, B.C. Bottle Depot Association and Canadian Federation of Independent Business. They brand MMBC a monopolistic, anti-competitive job killer that will tax business and consumers. Moneys collected will not be disclosed in public accounts and MMBC won't be subject to auditor general oversight.
Records obtained via Freedom of Information show two Crown corporations are also wrestling with the regulation and costs.
Internal B.C. Lottery Corporation emails indicate the only alternative to MMBC was an in-house program, so BCLC opted to sign-on to MMBC.
Sustainability specialist Mark Cannon's Nov. 18 email said the B.C. program cost four-times more per kilogram than a similar program in Manitoba. The Manitoba program is 20 per cent paid by government, while B.C. is 100 per cent producer-paid.
"The official MMBC site calculator is not yet available, however, applying the 24 cents per kilogram to the weights of paper declared by the divisions leads to a total cost of compliance for 2014 of $247,000," Cannon wrote.
Of the estimated total, $240,000 was a cost for the lottery division and just $6,500 for the casino division. BCLC's corporate social responsibility department was to fund the first $62,000 payment to MMBC from its 2013-2014 budget.
A prior undated update on recycling regulations and compliance indicated uncertainty and confusion. It also expected smaller costs.
"BCLC currently tracks the weight of lottery roll stock. If the four cent (per kilogram) levy was applied to the weight of roll stock paper purchased in 2011, the annual cost for managing the recycling through the MMBC program would be approximately $10,000."
The weights of paper for instant play tickets and marketing paper were unknown.
"For example, a windowed envelope is used to mail a player some form of marketing material. The type of plastic would need to be identified and reported separately from the paper envelope. The paper used for the enclosed communication also requires reporting," said the report.
"For example, a reusable beverage container is given away as part of a marketing promotion. The container is not obligated, however, any packaging that the container is wrapped in (cardboard, plastic, metal etc.) must be identified and data provided."
A Sept. 24, 2013 quarterly report by the provincial auto insurer and regulator said it was responsible to report, reduce and ensure a 75 per cent recycling rate of printed materials for non-commercial, industrial and institutional end users.
ICBC reported using 414,801.5 kilogram of printed paper and 2,725.92 kilogram of packaging in 2012, equal to almost 7,100 mature trees. The APV 2500 insurance form comprised 230,490 kilogram of the total -- 56 per cent of 2012's reportable printed materials. ICBC said it would be required to pay $101,025 to MMBC. The remainder of printed materials included brochures and booklets given to customers and brokers.
Considered out of scope were cheques, traffic tickets, organ donor registration cards, traffic circle safety flyers, T4 slips, pension statements and correspondence to employees. BC Hydro, the province's biggest taxpayer-owned company, responded to a request for board and senior management cost/benefit analyses, business plans and briefing notes by claiming no such records existed, according to a letter from FOI manager Scott Macdonald.