[Editor's note: Young Aboriginals in Canada, a fast-growing group, have their gaze set on taking expanding roles in realms such as politics and the economy. But most of those roles require a post-secondary education. With mainstream university settings clearly falling short, this new series by Tyee Solutions Society reporter Katie Hyslop looks at some unconventional institutions or programs which have set out to deliver post-secondary-level instruction, with a clearly indigenous voice. Watch for three further installments on The Tyee this week.]
It's a sunny afternoon in late July. Six First Nations students march across the white sand of North Beach on tiny Calvert Island in Queen Charlotte Sound, British Columbia, to greet two different groups of travellers.
Part of a class described as an "Introduction to Parks and Protected Areas," the students are learning the proper way to approach people in conservation areas: friendly and polite, but clearly informing the visitors about what they can and cannot do in the area.
The students -- three women and three men -- split up by sex. The women introduce themselves to the first group, four kayakers from the West Coast setting up a day camp on the beach. The men walk further down the beach to introduce themselves to pilots of two small planes who have stopped for a snack on their way back from an Oregon-to-Alaska round trip.
This could go badly: the students don't have the enforcement powers of park rangers or Department of Fisheries and Oceans (DFO) enforcement officers, and might not command the same respect as those officials. But the travellers are friendly and willing to talk about where they're from and why they're on the beach. The students, a little shy around the strangers, are slowly warming up to their assignment.
Among themselves the students are more outgoing, joking and laughing like old friends even though some met only the week before. "What an engaging class," their instructor, Marilyn Funk, had mused earlier that day. "So different from my first year [students]."
But while these students are learning to perform duties typically handled by BC Parks or DFO, they're not training for government jobs. Instead they're part of the Stewardship Technician Training Program, a partnership between Vancouver Island University (VIU) and the Coastal Stewardship Network, formerly, and in some communities still, known as Guardian Watchmen.
The men and women, who range in age from barely 18 to 50-plus, have varying levels of experience and formal training but, until now, little to no post-secondary education. This is a problem, since budget cuts at both BC Parks and DFO have increasingly left these local residents as the only eyes and ears patrolling the coastal waters, beaches, and forests north of Vancouver Island for poachers, polluters or lost tourists.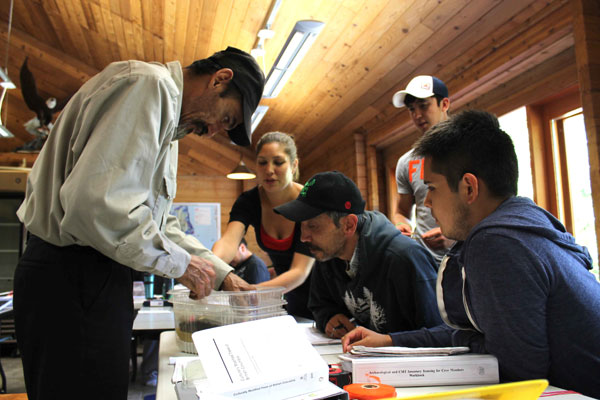 The new program, funded by the provincial and federal governments, is designed specifically to meet their needs. Seven one-week courses, delivered over eight months at three locations closer to their communities than most provincial post-secondary institutions, will help these trainee technicians advance in their careers. For some it might even open the door to a higher level of education.
"There's a couple of students in this program who want to go on and do their bachelor degree or the certificate programs at VIU, so this is a good start," said Sandra Thomson, a communications and outreach worker with the Coastal Stewardship Network.
"It's a big commitment of time, so it's about learning and training," she added. "But it's also about starting to get credit and credentials around the training they're taking."
Guardians of the rainforest
B.C.'s Central Coast houses the Great Bear Rainforest, the largest intact temperate rainforest left in the world. Attracting environmentalists, tourists, big game hunters, and natural resource developers from all over the globe, this fragile and much-coveted ecosystem has been home to First Nations for over 10,000 years.
But full-time, sustainable employment is sparse in the region's scattered communities. The lack of economic options prompted seven First Nations along the Central and North Coasts -- including the Wuikinuxv, Heiltsuk, Kitasoo/Xaixais, Nuxalk, Gitga'at, Metlakatla, Haida and, until last year, the Haisla Nation -- to come together in 2000 to form the Coastal First Nations Great Bear Initiative (CFN GBI) to improve access to their traditional territories and unlock its economic opportunities.
Six years later, the B.C. government took steps to protect both the vulnerable rainforest and the interests of its First Nations, environmentalists, and industry, through Central Coast and North Coast Land and Resource Management Plans covering 6.4 million hectares of land.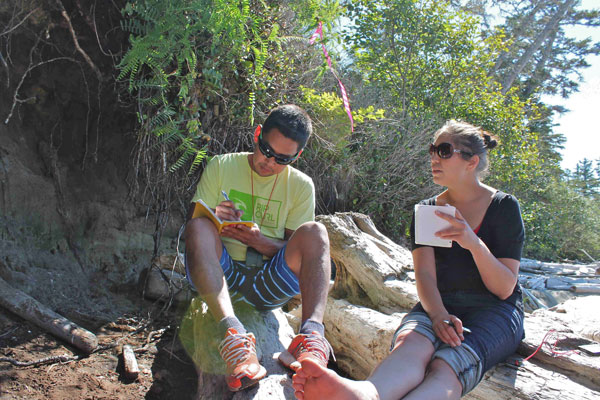 Of that area, 1.8 million ha were placed in nature conservancies to be protected from development. The rest was divided between Biodiversity, Mining and Tourism Areas, where forestry and commercial hydro projects are banned but mining and resource extraction for First Nations food, social, and ceremonial purposes are permitted, and Ecosystem-based Management Operating Areas, which allow commercial resource extraction which strives to leave the smallest environmental footprint possible.
The Resource Management Plans paved the way for a Land and Resource Protocol Agreement signed between the provincial government and the CFN GBI to establish a new working relationship.
Refusing to accept a status equivalent to outside interests as just additional "stakeholders," the First Nations demanded that the provincial government negotiate implementation of the Resource Management Plans on a "government-to-government" basis. The province agreed, giving First Nations a say over managing coastal resources. The unprecedented concession renewed the area's original inhabitants' sense of ownership of, and responsibility for, their territories' natural wealth.
To help ensure that the agreements served their best interests, the CFN GBI member nations created the Guardian Watchmen to share information and best practices for managing issues from fish populations to whale monitoring and bear protection.
At the same time, environmental organizations and First Nations raised $60 million in private funds, which was matched by $60 million in provincial and federal funds, to invest in conservation, research and resource stewardship, as well as "sustainable business ventures" in their communities. Interest earned from the $120-million Coast Opportunities Fund now helps finance the Coastal Stewardship Network.
Although hundreds of kilometres apart in some cases, the participating nations found that working together was better than trying to go it alone.
"The initial benefits came in relation to finding out what other communities were doing; finding that some of their programs were similar or the same as ours, and comparing the results," said Mike Reid, Heiltsuk aquatics manager, whose community of Bella Bella hosted the first meeting of Guardian Watchmen in 2007.
"The bigger thing was connecting with those other communities to get a bigger picture of what was going on with all of the things that we were monitoring and what we were concerned about."
Traditional training a bad fit
But that role has expanded in response to funding cuts to BC Parks starting in 2009, and to DFO in 2012. First Nations stewards now find themselves picking up much of the work formerly done by government agents: monitoring the health of local wildlife and recording and reporting resource and recreation activity on their lands.
"If you look at a map at the end of the field season, of where these [stewardship technicians] have been, they're out there every day for six months of the year, if not longer. And DFO and the agencies, as their staff gets cut back and the funding gets cut back, they're just not the ones out there," Thomson said.
The only thing they can't do that government agents could is enforce the law.
"It's not legal authority," Thomson added, "but it's situational authority, contextual authority, authority because they do have rights and title to manage their resources. It's one of the steps towards asserting rights and title."
But as their responsibilities expanded, many coastal stewards also lacked training equivalent to their government counterparts. First Nations did provide some training basics like wilderness first aid, bear safety, GPS use, and small vessel operation and minor repairs. But for small communities with even smaller budgets, post-secondary level training was too far away and too expensive to fund.
The Coastal Stewardship Network previously tried to address the shortfall through the Coastal Guardian Watchmen Training Program provided by Northwest Community College (NWCC) in Terrace. Participating nations sent their stewards to month-long modules offered in Haida Gwaii in 2008 and Prince Rupert in 2009.
But some couldn't afford to send all, or even any, of their workers so far from home for training. Others had workers take the training only to leave soon after for more full-time positions (most coastal stewards work only eight months of the year).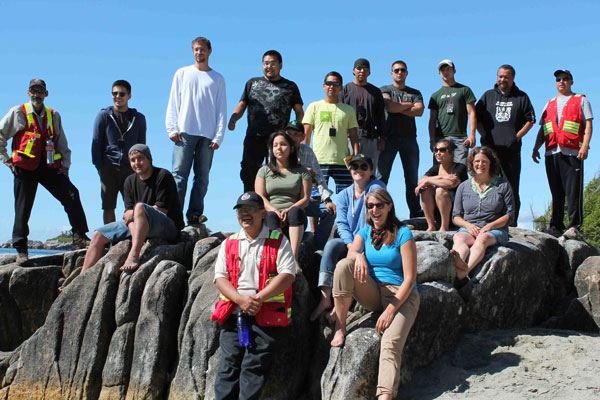 Jennifer Walkus, former fisheries manager for the Wuikinuxv First Nation, sent her three Guardian Watchmen to the training. One fell in love and never returned, while the other two came back for a season but within a year found new jobs outside of the community.
"If you can't afford to keep someone working year-round, then quite often they will move on. And the problem with having a small pocket of funding is you can't necessarily find as much work [as they need]," Walkus said. To respond, her small community has scraped together other small contracts and applied for more Coast Opportunity Funds to keep the Watchmen working year-round in 2013.
For her part, outreach officer Thomson says Northwest's program didn't really fit with the Watchmen's training needs: "It was less customized for the work that people were doing on the ground. [NWCC] were trying to fit [people into] the courses that they already had from other programs, and it was set up more according to how [NWCC] manages their programs, by semesters."
Governments fund training
In 2012, a new training opportunity emerged. The Aboriginal Community Based Delivery Partnership Program, a Canada/B.C. labour market agreement, was accepting applications for post-secondary training programs offered in first nations communities that would increase their members' employment opportunities.
Drawing on conversations already under way with Vancouver Island University, the Network asked its member nations to identify training needs, and tried to match them to courses offered through VIU.
Together, VIU and the Network developed seven, one-week, full-time learning modules based on several existing courses in the university's Resource Management Officer Technology -- the same program that many aspiring BC Parks rangers and DFO enforcement agents take.
The new initiative applied insights gained from the earlier experience with NWCC. "We've learned a lot, which is why [the VIU partnership] is set up with these shorter modules based closer to home, as much as that's been possible," said Thomson.
Again, unlike the NWCC training, most of these courses also come with university credits accepted equally by VIU and the BC Institute of Technology. They also qualify graduates for recognition by the BC Archeology Association to do inventories of cultural sites, or for BC Parks administration certification, opening the door to further post-secondary certificates, diplomas and degrees.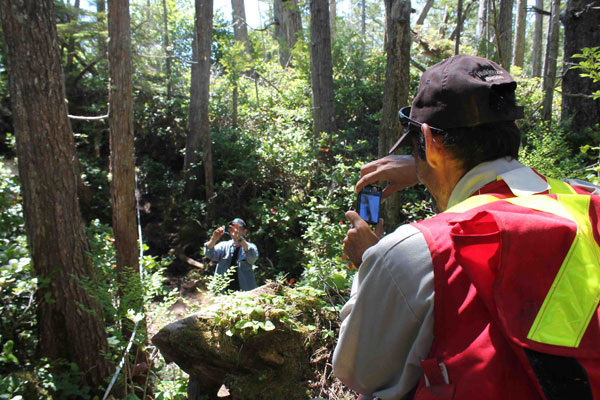 The Network and university applied for funding from the Aboriginal Partnerships Program in the fall of 2012, securing $282,890. The private Hakai Beach Institute on Calvert Island, which has played host to the Network's annual general meeting for the past three years, offered to provide the location for the new program's first four modules, plus room and board for students, faculty and network staff, free of charge.
Stewardship training was scheduled at the same time as students and faculty from Simon Fraser University's Hakai Network for Coastal People, Ecosystems and Management were conducting research in the area, exposing each group to what the other had to offer in experience and knowledge of resources on the coast.
Participating nations only had to pay for transportation -- up to a two-day boat trip from Haida Gwaii to Calvert Island -- and accommodation for modules set elsewhere.
Sixteen stewardship technicians and managers signed up for the seven weeks of training. In addition to the Parks and Protected Areas course, they learned about archeology and culturally modified trees, about environmental monitoring, Aboriginal resource management issues, how to communicate legal requirements to natural resource users and document non-compliance, and boat motor servicing (a critical skill in an area where a break-down can be life-threatening).
"We've had great appreciation for the Hakai Beach Institute for their generous donation," VIU Aboriginal projects manager Sheila Cooper said. "That really set the program off, allowing the students to gel because they were living together, eating together, being students and bonding. That was an amazing gift."
In addition to the four modules provided at Hakai in June and July, two were delivered in Prince Rupert in October. A final session will take place in February in Port Hardy on Vancouver Island.
The university, Cooper said, is already planning to run more modules next year -- if funding can be found. The Aboriginal Partnership program was a one-time deal.
Earning that piece of paper
Although the Stewardship Network was only established six years ago, some nations, like the Haisla, have been conducting their own stewardship activities for decades. So after over 20 years on the job, there wasn't much new the courses could teach Chris Wilson from the Haisla Nation -- who still call their stewards Guardian Watchmen -- that he didn't already know. But until the VIU program, he had little formal training, or formal credit for his skills.
"Most of this stuff I've done before," Wilson explained. "It's just I had no certification. I picked [it] up working with other people," and from the non-credit NWCC training.
But at only 46, Wilson's not too old to go back to school or change careers. Armed with new university credits, he's now considering going further, either through NWCC's Applied Coastal Ecology program, or securing a Resource Management Officer Technology diploma or degree at VIU.
Tara Brennan, a forest technician from Masset on Haida Gwaii, has less experience than Wilson. At 28, she's had this job for less than two years, but she's already encountered many of the situations the courses are teaching her how to handle, like what to do when she stumbles over culturally significant artifacts.
For example, she said, "I found two canoes in our protected area." While neither has been properly dated, one was made with stone tools. Before her training, when Brennan made such a find, she had to call in an archeologist to assess its significance. Now she and her Haida co-workers can do that themselves.
Brennan would also like to use the training she's received to further her career, possibly with a promotion to crew leader within the Haida Mapping Department where she works. She also plans to go back to school next February, either to the University of Victoria or "anywhere that [ethnobotanist and Plants of Haida Gwaii author] Nancy Turner is."
But the training will also help her band. With the Haida Nation negotiating land claims with the province, Brennan and her three fellow forest techs in Masset are busy mapping protected sites to collect evidence of their ancestors' presence before colonization.
Watching whales is easy, it's people that are difficult
Back on Calvert Island, the sun is setting on the first day of Parks and Protected Areas training -- the fourth and last course of the Hakai module. Heiltsuk fisheries technicians Randy Carpenter and Richard Reid are taking Thomson and instructor Marilyn Funk out on their boat for a quick runabout.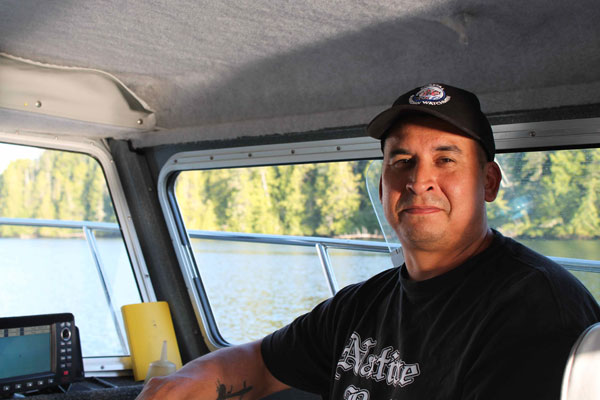 If you ask the Heiltsuk men, who hail from Bella Bella, they'll tell you that Calvert Island is in their territory. If you ask the Wuikinuxv from Rivers Inlet, they'll say the island belongs to them. But when stewardship technicians from both nations meet there for training, there is no tension between them.
"[We] seem to leave the arrogance and the animosity and rash feelings at home," Reid says before adding with a chuckle, "War does exist, but just in the Middle East. It doesn't happen here anymore."
An intimidating presence with his shaved head, broad shoulders and dark sunglasses, Reid, 40, nonetheless values the new confidence gained from that morning's practice talking to travellers. Especially, he laughs, "if you're not being treated politely back."
"Today I did it no problem, like it was just a walk in the park. Just doing my job. It feels pretty good not worrying about how I'm going to look or sound."
Navigating rising waves -- seven feet tall, Reid estimates at one point -- the two men steer their boat south, following the shore and looking for the ancient petroglyphs that Simon Fraser University students reported finding on some smaller islands. Funk and Thomson are hoping to see some humpback whales. But with the exception of a few birds and a DFO boat speeding away in the distance, they come up empty.
"We don't even notice the humpbacks anymore," shrugs Carpenter, who's been on the job for 10 years.
With so much to watch for on the open ocean -- fishing infractions, tsunami debris -- and ashore -- illegal forestry or visitors trespassing on cultural sites -- whale spotting comes last for First Nations stewards.
Tomorrow: The first in a series of features looking at a successful post-secondary programs driven by Aboriginal educators and ideals.