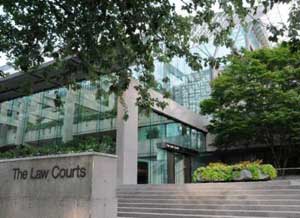 [Editor's note: In a 95-second hearing this morning, lawyers for Francesco Aquilini and his wife Taliah announced a settlement had been reached, meaning their sensational divorce trial would be cancelled formally at a Sept. 11 hearing. Find the story update here.]
Almost six years after his lawyers finished defending his family's purchase of the Vancouver Canucks and their downtown rink, billionaire Francesco Aquilini is heading back to British Columbia Supreme Court.
This time, it is to defend against a divorce lawsuit filed by wife Taliah.
During the summer of 2007, Aquilini and Taliah sat in the courtroom 20 gallery at the law courts while lawyers argued whether the $250-million, November 2004 transaction with the reclusive John McCaw was legal after he split from a joint bid with Tom Gaglardi and Ryan Beedie.
In early 2008, Justice Catherine Wedge ruled in Aquilini's favour. B.C. Court of Appeal upheld the verdict.
Francesco Aquilini and members of his family have gone on to not only grow their financial empire, but consistently donate large sums to the BC Liberals and, lately, the BC NDP.
The couple separated in early 2011, before the Canucks lost the Stanley Cup final and downtown Vancouver erupted in a riot. Now a judge will ponder whether and how to divide assets.
The pending divorce court procedures could pry open the family's labyrinthine holdings and possible political interests tied to those enterprises.
But that won't happen if Francesco Aquilini gets his way.
'To protect my children'
Lawyers and accountants hired by Taliah Aquilini have been examining corporate records to determine just what those assets are. One of the keys to the dispute is whether number one son Francesco controls the assets. Or if they're held by the family as a unit, with younger brothers Paolo and Roberto, mother Elisa and father Luigi.
Francesco Aquilini opened a Twitter account under the handle @fr_aquilini, and offered a lone Sept. 4 tweet about an order his lawyers will seek "to protect my children."
"Today my lawyers have filed notice that we are seeking orders to protect the confidentiality of private family and commercial interests in the course of the divorce trial that starts on Monday, September 9th. This request is consistent with a decision made by the court in August of last year. I am requesting this order to protect my children. During this trial, protecting my five children will be at the heart of everything I do relating to both custodial and financial matters. While I can personally withstand the impact of media coverage, it is simply not fair to have my children exposed to the effects of sensitive family matters being aired this way. I am confident that my wife Taliah would agree that this order is in the best interests of our family."
The diversified Aquilini Group is a complex network of private companies, partnerships and trusts in real estate, construction, berry farming, hotels and foodservice. The list is vast, starting with trusts bearing names like 111 Mercer, Cordell, Malibu, Makena, Loma Linda and Robin Drive. There are more than two dozen companies, from Global Coin Corp. and Pacrim Hospitality Services to Garibaldi Project, Golden Eagle Aquaculture, PH Restaurants and Saint-Laurent Faubourg Partnership.
Nearly a million dollars in political donations
The Elections BC database lists $968,495 of political donations from Francesco Aquilini and various companies, such as Aquilini Development and Construction Inc., Aquilini Group Properties LP, 1941 Garibaldi, Parkview Terrace-Franklin, Renfrew Garden, Triumph 1975, Aquilini Renewable Energy LP, Camp Developments Corp., GERI Partnership, K&L Land Partnership, K and A Investments and Tri Power Developments LP.
Most donations went to the BC Liberals; the 2007 ownership trial heard how Francesco socialized with former finance minister Gary Collins and now-deputy premier Rich Coleman.
The NDP did receive $120,000, in anticipation of the expected change of government that ultimately didn't occur.
The Aquilinis hail from Brescia, Italy. Court filings deny Francesco has ever had any interest in a property near the Tower of San Martino. Fittingly, that's a landmark that commemorates a 19th century battle between the Piedmontese and Austrians.
Opening lid on Canucks
The Aquilinis' best-known assets are, of course, the Vancouver Canucks and Rogers Arena, where a sellout crowd of 18,890 is expected for the Oct. 5 home opener and the first of three new towers is on track for 2014 completion. Subsidiaries Vancouver Canucks LP and Vancouver Arena LP do business as Canucks Sports and Entertainment Ltd. which owns the arena and team.
Taliah Aquilini's representatives have sought a library full of audited financial statements for the team, arena and associated companies, plus contracts with players, management, media companies, suite holders, sponsors and vendors, gate receipt reports and even NHL board of governors minutes and franchise sale information.
How lucrative is the hockey business for the Aquilinis? Fees from more than five dozen sponsors were expected to gross $18,205,249 in the last fiscal year. Local and national radio and TV broadcast rights were forecast at $72,537,155 in fiscal 2013 and $52,703,700 in fiscal 2014. Contrast that with the upcoming season's $64.3 million salary cap.