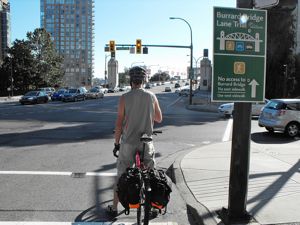 Vancouver is moving closer towards its goal of increasing cycling in the city, despite boisterous opposition to two motions at city council.
On Tuesday city council approved a bicycle share system to start in 2014. Later that day, the process began for council to vote on a new bike route along Point Grey Road and York Avenue on the city's west side.
Council had to delay voting on the bikeway to allow more time for the nearly 200 people who signed up to speak on the issue. Some simply shouted their opinions from the balcony in council chambers.
The bikeway is at the crux of a debate that has some people calling Vision Vancouver's focus on cycling aggressive, non-democratic and elitist. Even though some argue that cycling fills a gap in the city's web of transportation options while reducing greenhouse gasses and congestion, others say that the costly changes will only benefit a select few.
Although cycling trips have increased by 40 per cent in the past four years, the majority of trips in the city are made by car. And opponents say that no amount of investment will offset Vancouver's hills, rainy weather, and size as cycling impediments.
Despite these objections, Vision Vancouver continues to move forward on plans for cycling infrastructure like separated bike lanes and the bike share program -- and it's expected the majority Vision council will approve this bikeway as well.
Bike sharing craze comes to Vancouver
The bike share system will require a $6-million cash infusion from the city, which will go towards the bicycles, helmets and docking stations. A further $500,000 per year will go towards maintenance and signage. The system will include 1,500 bikes at 125 docking stations in the central part of the city bordered by Main Street to the east, 12th Avenue to the South, and Arbutus Street to the west.
NPA councillor George Affleck opposed the motion. He said he couldn't find any evidence based on other bike share systems that the one in Vancouver wouldn't fail or cost more money.
Deputy City Manager Sadhu Johnston said that Vancouver's advantage as a late-comer onto the bike share scene is being able to learn from other cities' mistakes. To date, more than 500 other cities have joined the bike share craze.
For instance, Toronto's strained Bixi system is said to struggle with the combination of a hefty multi-million dollar loan (as opposed to Vancouver's one-time investment) and too few bikes and docks.
Tanya Paz, chair of the city's Active Transportation Policy Council, added that bike share systems in Melbourne and Brisbane, Australian cities that also require riders to use a helmet, continue to struggle because users have to bring their own helmets or go to a store to purchase one. By contrast, Vancouver's bike share system will be the first to include a helmet dispenser.
On the other hand, New York City's new bike share program was cited as a huge success. So far over 60,000 people have signed up for an annual membership.
Kay Teschke was another speaker on the motion. She's a professor at the University of British Columbia's School of Population and Public Health who has researched what factors encourage cycling.
She lauded the city for initiating a bike share program but added that it will have to be accompanied by better cycling infrastructure to see success. Specifically, she told council that Vancouver needs a connected system of separated routes.
Who is this bikeway for?
Teschke's research shows that people are justifiably deterred from cycling because of a fear for their safety. According to her findings, separated bike lanes and bike routes along residential streets incur the fewest collisions.
But the next item on that day's agenda, the Seaside Greenway along Point Grey Road and York Avenue, has been met with fierce opposition. Dozens of speakers waited to share their opinions, clutching their speaking notes in hand and mumbling opposition at opportune moments.
Other than increased traffic and congestion, a major concern for opponents is that the bikeway benefits too few people.
Jill Weiss of the city's Persons with Disabilities Advisory Committee said that the bikeway does not support people of "all ages and abilities," as the plan emphasizes. Instead, it would only benefit young and fit people, said Weiss.
Since the route offers no public transportation, people with reduced mobility can only access the popular seaside parks along the route by car. And for them, being able to park nearby is a necessity, not a luxury.
Weiss said that her committee was only contacted eight days before the city's latest report on the bike route was released. She believes that although city staff are sincere in their efforts to be inclusive, her committee has only been given verbal reassurance that they will be accommodated.
Brian Tucker was the first of 192 registered public speakers. He addressed council wearing a Guy Fawkes mask on his head. He believes that cyclists' interests are overrepresented in the plan. "What has happened is that the cyclists have stuffed the ballot boxes," he proclaimed.
Like many residents, Tucker thinks that too few residents had input on the bikeway. But many have argued that the consultation process, which began in December 2012, has been open, lengthy and adequate. So far city staff have incorporated suggestions from two rounds of consultations.
The next meeting on the Seaside Greenway will take place on July 25 at 6 p.m., at which time council will continue to hear from registered speakers and vote on whether or not to pass the motion to accept city staff's recommendations.