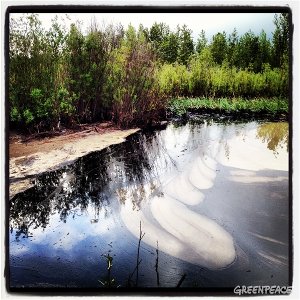 A Houston-based pipeline company responsible for three major oil spills in Alberta in three consecutive years has a questionable safety record in both the United States and Canada, according to regulatory documents.
On June 15 Plains Midstream, a subsidiary of Plains All American Pipelines reported a 1,000 barrel condensate spill near Manning, Alberta.
More than 40 workers are involved in cleaning up the highly toxic condensate which is used to dilute thick bitumen so it can move through pipelines.
The Midstream spill follows another hazardous rupture on an Apache-owned pipeline near Zama City. It contaminated 42 hectares of muskeg with 60,000 barrels of toxic waste water.
The spills will do nothing to silence critics demanding tighter regulation of Alberta's oil and gas industry. Their anger was already stoked by the province's choice to head the newly created Alberta Energy Regulator -- industry insider Gerard Protti, former vice president of energy giant Encana and founder of the Canadian Association of Petroleum Producers.
Those critics now may point to the case of Plains All American Pipeline, the owner of Plains Midstream, which appears to be a repeat offender when it comes to pipeline safety in both countries.
Violations in US
Last May the U.S. Pipeline and Hazardous Materials Safety Administration (PHMSA) issued three uncontested safety violations to the company on pipelines running through Texas, Louisiana and New Mexico. One of the violations included overpressurized safety devices and overfilled protection systems.
The company was also ordered to review its program for monitoring internal corrosion.
In 2010 the company agreed to a significant settlement with the U.S. Environmental Protection Agency (EPA) over repeated violations of the Clean Water Act involving the discharge of nearly 7,000 barrels of crude oil into waterways between 2004 and 2007 in Texas, Louisiana and Oklahoma.
In the settlement the company agreed to spend approximately $41 million to upgrade 10,420 miles of crude oil pipeline operating in the United States as well as to pay a $3.25 million civil penalty.
In particular the company agreed to spend $6 million on improving internal corrosion control on 2400 miles of pipeline. Plains All American moves about three million barrels of hydrocarbons a day and posted revenues of $9 billion last year. It has plans to build more pipelines in Canada to move condensate from shale gas fields in northern B.C. and Alberta to Fort Saskatchewan where the condensate will be used to dilute bitumen for export.
Yet the company's Alberta spill record is dismal. Three major leaks in three years on lines owned by the company also challenge the competence of provincial and national regulators.
Alberta regulator 'failed to identify the risks'
In 2011 the National Energy Board issued an order against Plains Midstream that reduced pressure in two crude oil pipelines (Milk River and Wascana) due to two year-old concerns about their integrity.
"Accordingly, the board requires Plains to reduce the operating pressure of both pipelines and take further precautionary actions to ensure public safety and protection of the environment," says the order.
That same year Plains Midstream's Rainbow Pipeline leaked nearly 28,000 barrels of crude oil in wetlands near the Lubicon Cree community of Little Buffalo, Alberta.
To make matters worse the company tried to restart the line three times after the line ruptured.
Alberta's energy regulator, the Energy Resources Conservation Board (ERCB), reported two years later that the company "failed to fully assess the history of the pipeline, failed to identify the risks posed by the application of Type B sleeves used for corrosion repair, and did not have measures in place to monitor and inspect the repairs."
Tellingly, the ERCB report makes no mention of the company's U.S. record or the EPA settlement. Yet it adds that "Given Plains has significant experience and expertise operating pipelines in both Canada and the United States, the ERCB found its communications preparedness and response to be unacceptable and substandard."
The company now faces $1.5 million in fines for three violations of Alberta's environmental laws over what was then the largest spill in the province in 36 years. (The Apache spill, which the regulator didn't report for 12 days, has since broken that record.)
Rushing to protect industry's image
Internal documents obtained by Greenpeace show that the prime concern of both the regulator and the Alberta government during the massive Rainbow spill was not competent pipeline integrity assurance but "to limit the damage to the oil industry's public image."
In 2012 another Plains Midstream pipeline ruptured by the Red Deer River and fouled shorelines with 3,000 barrels of crude oil. Following that costly spill, W. Dave Duckett, president of Plains Midstream Canada, earned a $4-million bonus in addition to his $300,000 salary.
A senior Plains executive told the U.S. Congress in 2010 that "liquids pipelines are subject to comprehensive federal and state oversight with respect to pipeline safety. The industry safety record is admirable, and improving, under the current regulatory regime."
The U.S. EPA reported in 2010 that pipeline leaks and ruptures released "more than two million gallons of oil into the environment, posing a serious threat to human health and natural habitats."
In 2004 PHMSA imposed $4.6 million in fines against pipeline companies for poor safety practices. In 2009 the regulator levied $6.5 million in fines.
In contrast the National Energy Board failed to exercise its mandate to punish persistent pipeline lawbreakers with fines until this year. Alberta's regulator rarely fines companies for non-compliance.
Accordingly to the Pembina Institute Alberta's Department of Energy recently reported that the ERCB's inspections found an 83 per cent jump in "high risk" violations in 2011, roughly one-third of which involved pipelines.
'Revolving door' for regulators
In Canada's pipeline industry, those who lobby for it and those who regulate it often switch roles, due to what's known as "the revolving door syndrome."
The former head of the ERCB was Dan MacFayden. He previously served as Vice President, Regulatory Affairs & Public Policy, for the Canadian Energy Pipeline Association, which lobbies for the industry.
And the current director of the association, Brenda Kenny, once worked for the National Energy Board, which oversees interprovincial pipelines.
The new director for the Alberta Energy Regulator, Gerard Protti, was the founder of the Canadian Association of Petroleum Producers and served as a senior executive for Encana Corporation.
Despite protests from more than 30 different groups, the Alberta government recognizes no conflict of interest in appointing a prominent energy lobbyist as the province's key regulator.
Dave Core, a founder of Canadian Association of Energy and Pipeline Landowner Associations and a long-time critic of Canada's energy regulators, told The Tyee that "as long as we count on bureaucrats from a captured agency to oversee reckless pipeline monopolies, unnecessary spills will continue to be the norm. It doesn't matter whether it is Plains Midstream or Enbridge Line 9 -- a bad system results in faulty pipelines."