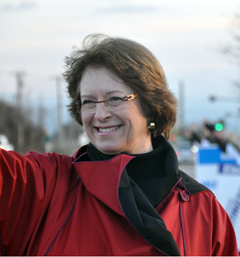 The possibility of a tightening election race in British Columbia suggests a third scenario where a diverse band of independents and MLAs from smaller parties end up with outsized influence.
It's an unlikely but possible outcome, one that would radically change the character of B.C.'s legislature. But emerging from the May 14 election holding the balance of power is an idea that's occurred to the three current independent MLAs who are running again.
"I think it's a credible question this time around," said Vicki Huntington, the MLA for Delta South, whose 2009 election was a rarity in that she won while running as an independent. "Whether it's independents, or a combination of independents, Greens, maybe a Conservative."
John van Dongen, elected as a Liberal but now sitting as an independent after briefly being a Conservative, said many voters are frustrated with the two main parties and are looking for someone else to support.
"I think this election is a fairly unique provincial election, in that we're seeing on a riding-by-riding basis many unique situations," he said.
"You combine that with the fact we see a very significant group of voters out there, across the province, who are not happy with the Liberal or NDP option... Where they have credible independent candidates, whether they're incumbents or not, or whether they're Greens or other persuasions, they're going to look at all of them, more so than ever before."
Great Green hopes
"I think there's a definite chance of a Green breakthrough, not just in one riding," said Bob Simpson, who was an NDP MLA until 2010. Andrew Weaver in Oak Bay-Gordon Head and Adam Olsen in Saanich North and the Islands both have very good chances, he said.
Those two Capital Region constituencies overlap with ridings where the Greens have done well federally, electing leader Elizabeth May and coming unexpectedly close to a win in a recent byelection.
Simpson also pointed to Peace River North, where Arthur Hadland has a shot at beating Liberal backbencher Pat Pimm. In 2009, Hadland came second in the constituency, less than 12 per cent back at a time when the Liberals were much stronger.
"The three of us, we have our own nuances to our electoral challenges, but if you say we get in, there are six sitting members who are not part of those two [main] parties," he said.
Simpson said he believes the race between the two main parties will get closer and that there may be a result like 1996 where a party wins the popular vote, but the seat count depends on constituency-by-constituency results.
"If that tightens up and you've got a group of four, five, six people here, quite conceivably you'd get a lot more power that way," he said. "And I do see the electorate will tighten up. I believe it will tighten up as we get towards the election."
At this point the NDP still has a large enough lead to win a comfortable majority. Liberals face a steep comeback trail, but what if they regain enough ground that no party wins a majority?
'Room for optimism': van Dongen
While a minority government would no doubt be frustrating to whoever is the premier after the election, the independents see the benefits.
"I think they'd have to work with us," said Huntington. "If they were introducing controversial legislation, for sure."
The government would also need to start taking the legislature's committee system more seriously, she said. "I think we might be able to impress upon them the need to really make these standing committees work," she said. "Personally I think that's the most important issue facing the legislature right now. They're a farce, right now, I can go so far as to say that's my opinion."
Several of the committees exist on paper, but never meet. And those that do meet tend to be controlled by the government, she said. "Right now these committees, public accounts, you can cut it with a knife if there's a recommendation the government doesn't like. That's not the way it ought to be."
Huntington described visiting a seniors centre recently for a discussion about what kind of government people deserve. "People can say the masses don't have an opinion, but they do," she said. "When you took all of the discussion as a whole, at the root of every single comment was a fear that democracy was in decline. They want to see changes."
Simpson cited Australia, where six members of parliament from outside the country's two main parties have held the balance of power since 2010. "What I would hope then is you do actually get influence over the government's agenda," he said.
"But more importantly what they've discovered in Australia is then the other elected representatives start to assert themselves more, because their vote also becomes crucial," he said. "I've long maintained the way to fundamentally change this place is MLAs saying 'I'm going to think about that.' My vote's not a gimme. Don't ever treat my vote as a gimme. I'm going to think about that."
"The notion that MLAs should be trained seals doesn't fly with voters," said van Dongen. "It flies with leaders or senior political staff, but doesn't fly with voters. They're going to really ask themselves, 'Who is really standing up for me, as opposed to standing up for the party or the leader or being the emissary from Victoria to the ridings?'"
He added, "There's room for optimism."
On his BC Iconoclast blog, Bernard von Schulmann is predicting a big NDP majority, along with the election of three independents and one Green Party MLA. They don't have to hold the balance of power to make a difference, he said.
"That in itself changes the dynamics of how the legislature works," he said. "The very fact they sit in there and ask the difficult questions."