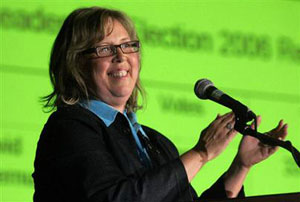 Green Party Leader Elizabeth May has won election in the British Columbia riding of Saanich-Gulf Islands, becoming the first person from her party ever elected to the Canadian parliament.
She celebrated the victory with rounds of thanks to the many volunteers who worked on her campaign, and criticized the media for shutting her out of the debate and largely ignoring the Greens during the election.
"Today we proved that Canadians want change in politics," May told an enthusiastic crowd of supporters gathered in an airplane hangar in Sidney for election night.
"I remain committed, as I've been throughout this campaign, and all of us are, to rejecting the politics of cynicism and fear, to embracing hope, to respect and bringing respect back to the House of Commons," she said.
With a few polls still to report, she had 29,900 votes to 22,500 for Conservative cabinet minister Gary Lunn, a victory campaign workers were calling a landslide. The NDP's Edith Loring-Kuhanga was a distant third, ahead of Liberal Renee Hetherington.
Lunn's vote total at that point was 5,488 fewer than he received when he won in 2008.
May said Lunn was gracious during a call after it was clear he had lost and that she plans to seek his help in the future since he knows the riding well.
'Amateurs built the arc'
May vowed to use her time in Ottawa to shake up politics in a Parliament where Conservative Prime Minister Stephen Harper has won his first majority.
"I will never shrink from speaking truth to power," said May. "Nor will I embrace the politics of spin. We need hope over fear. We need compassion over competition."
People said there were too many seniors in the riding who wouldn't vote Green, she said. "People don't get that our seniors are rocking," she said, noting that former Chilliwack guitarist Bill Henderson has been an active supporter.
They also said the Greens wouldn't be able to compete against Lunn's well-oiled election machine. "Amateurs built the ark," she said. "Professionals built the Titanic."
To win, she built a team that was more like a grassroots movement. "This campaign has been about commitment, passion, enthusiasm and excitement that we could all feel sweeping through the riding," she said. People came to believe "that we could decide to embrace what's possible and even what's impossible," she said.
"What we do now is what will prove the virtues and the benefits of what we've accomplished so far," she said. "The work is just beginning... We have to prove to all of Canada that one MP for the Green Party, one MP with a different approach, one MP not squashed by partisanship and entangled in cynicism, can actually make a big difference."
In the excitement of the moment, it wasn't until 10 minutes into her speech, after she'd told folks in Gaelic in her Cape Breton hometown that she loved them, that she remembered to say a few words in French.
Local gain, national drop
The stakes were high for May and the Greens in the election. They chose the riding for May to run in based on polling that suggested it was one of the most winnable ones for the party. May moved to B.C. from Nova Scotia and worked at becoming a presence in local politics. She attended a local church and joined the Rotary Club.
The party put enough funding into the riding that she would spend close to the limit and she spent almost the entire campaign in the riding. It was more important, the argument went, for May to win a seat than it was for her to be a national presence.
It was a strategy that had an apparent downside. While May won her seat, the party's share of the national popular vote dropped to 3.91, down from 6.78 per cent in the 2008 election. And with parties receiving public subsidies of roughly $2 per vote each year, the decline will hurt the party's bottom line.
May, in a scrum with reporters, said the Green's strategy wasn't what hurt the national campaign. "It's pretty clear we weren't given anything like the same degree of news coverage in 2011 as we were in 2008," she said. "My national leaders tour happened without real media coverage. I was the only national party leader to campaign in Calgary, and it got covered in Calgary but not across the country."
May also criticized the consortium of broadcast media executives who kept her out of the national leaders' debates. "[They] made a decision not only to not invite me to the leaders' debates, but essentially to not invite the Greens to the election," she said.
"At the end of the election, the leader they didn't expect to see in the house is there, me, and the leaders they thought would be there, Michael Ignatieff and Gilles Duceppe, they were sure they'd be there, and they're gone," she said.
"In terms of election results, the big losers tonight are all the pundits," she said, laughing.
The Green Party will work with the funding it has and receives enough donations so that it does not have to rely on the public subsidies as much as some people think it does, she said. "With this seat here we will be building and we will have a stronger party when we go into the next election."
Provincial impact?
Among the attendees was B.C. Green leader Jane Sterk.
"I think it's fabulous," she said as it became clear May was going to win. "This is a game changer for Elizabeth, for the federal party.
"I expect it will maybe make the media sit up and take notice that Greens can get elected," she said. "Maybe it will make the polling firms actually start to ask about the Green Party again."
May will do a great job, working hard, paying close attention to what the government is doing and letting people know, Sterk predicted. "I think she will demonstrate a different kind of political respect and civility."
Support for May was widespread in the riding, not limited to the Gulf Islands where the party has long done well, Sterk observed. "This demonstrates she went through on the Peninsula as well which is good, very good."
The victory will give people in the provincial party much to think about, she acknowledged. "It means we have a lot of work to do to see if we can capitalize on this. I think it makes Saanich-North and the Islands a much more interesting riding than it's ever been before," she said.
"We're going to be talking with some folks about that to see what we should do," she said. "You know what, given the potential for a September election, we're going to have to work bloody hard."
The drop in the national vote shouldn't be blamed on the local focus strategy, she said. "It's a consequence of the media shutting out our candidate and the polling firms not polling for the Greens."
Greens getting professional
"This will definitely be a breakthrough of international significance," said Ken Wu, an environmental activist who worked as May's communications director and event organizer.
"North America is the centre of world power still, at least for now, and to get a Green through a first-past-the-post system on this continent is unheard of. It'll shift the dynamics."
Wu said he always thought May would have a chance in the riding, but never thought she would win by such a large margin. "When I heard she was going to run, I thought, 'It's doable, but there's still probably a 60-40 chance that the Conservatives will take it, but it's worth a shot.'"
The party became much more professional during the campaign, doing things like working to identify some 17,000 Green supporters they could target with a get-out-the-vote effort, he said.
Lori Waters is a Central Saanich resident who has been involved in several battles to preserve farmland and the rural character of the area, who helped on May's campaign. "I'm elated," she said. "I'm absolutely overjoyed and I think it's going to help us a lot locally."
A couple months ago she started to believe May could win people over, she said. "I'm so glad that Lunn is done," she said. "I just think he was out for his buddies and not for the public good, so I'm glad he's gone."
Bright spot in dark times
Long time Green organizer Steve Burtch was one of the people who "signed the party into existence" in 1984. Had he known it would take so long to get someone elected nationally, he would have been discouraged, he said, but with May's victory it feels worth the effort. "It's never too late. This is the beginning."
Acting as a scrutineer for the party it was heartening to see large numbers of young people voting, and May will be the ideal antidote to a Harper majority, he said. "They've got the Darth Vader and the Death Star, we've got our Luke Skywalker now. I like the odds."
The election was about competing ideas of Canada, said longtime environmentalist Vicky Husband. She asked, "Are we going to be this moderate, kind, human-centred country, or are we going to go the way of Harper?"
Harper's positions on climate change and the Middle East have been backwards, she said. "We are not regarded in the way we were before, and for me that's scary," she said. "It's a very scary future. He's changing our country, my country, and I think that it's time for the people to say to him what we want."
While disappointed with Harper winning a majority, Husband said she was glad May won. The two have known each other some 25 years, and May's daughter Victoria is named after Husband. "This is the bright spot of the whole election," Husband said. "If we can elect Elizabeth here in Saanich-Gulf Islands on southern Vancouver Island, that is the joyful news of this election."
May has an analytical mind and is a strong communicator, she added. "[May] will be our conscience, our eye on democracy in Canada," she said. "I think she's going to make everybody care about what's going on in Ottawa."