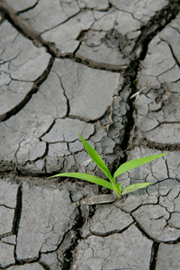 How much do you know about what's happening in our climate? If you've been following the Tyee's eight-part Climate Change Crash Course, then you'll ace this climate facts quiz. Take the test, check your answers and prove you're a citizen climate expert! The quiz should take just minutes to complete but take as much time as you wish and feel free to look at the course material as you go (the eight bold-faced headings in this exam link back to pertinent course material). If you get 12 or more answers right, download a certificate of completion declaring you to be a qualified settler of arguments with climate change deniers. Ready? Begin…
1) The most abundant greenhouse gas in the atmosphere is:
a) oxygen b) methane c) carbon dioxide d) water vapour
2) CO2 captures and re-radiates:
a) heat arriving from the sun b) visible light energy arriving from the sun c) infrared energy radiating from the earth d) energy from radio waves
3) The extra energy that our elevated CO2 level pours into the Earth's climate system is how many times more than humanity's total energy use:
a) 1,000 times b) 600 times c) 30 times d) 5 times
4) Carbon dioxide is the most important greenhouse gas because:
a) it captures more heat than any other greenhouse gas. b) it's the most abundant greenhouse gas. c) it is stable, long-lasting, and keeps the atmosphere warm enough to hold water vapour. d) it is produced from burning fossil fuels.
5) The sun used to be much dimmer. The Earth stayed relatively warm most likely because:
a) CO2 levels were much higher than today b) the many animals alive then warmed the atmosphere c) there were a lot of volcanoes d) Earth's orbit brought it closer to the sun
6) More recently, the world was too warm for polar ice sheets to form when carbon dioxide levels were:
a) several times higher than at present (levels are now about 394 parts per million) b) less than half of today's level c) there is no correlation between CO2 and ice ages d) around today's level or slightly higher, between 350 and 550 ppm.
7) Climate change is bringing Canada:
a) less rain, as the world gets drier b) both more rain and more rainy days c) no change to our precipitation d) fewer rain days and fewer big storms
8) Today's climate change is different from past climate shifts because:
a) Earth has never been this hot before b) it's happening hundreds of times faster c) the ocean is absorbing much more heat than before d) this time we can predict exactly where on Earth we'll get different weather
9) By the end of this century, climate models predict that extreme drought will affect how much of the world's farm land:
a) nearly one-third, or 30 per cent b) more than half, or more than 50 per cent c) about one-tenth, or roughly 10 per cent d) about what it is today: less than five per cent
10) Warmer temperatures will affect plants and wildlife by:
a) helping plants grow faster and reducing the stress on animals from extreme cold b) encouraging plants and animals to move to follow the weather they prefer c) disrupting weather patterns and ecosystems that plants and animals depend on, leading to extinctions d) creating more room for them to live, as glaciers and ice-caps melt
11) The world's oceans have been soaking up a lot of both heat and carbon dioxide. Lately, this absorption has:
a) increased, as fossil fuel emissions and temperatures rise b) decreased: while oceans are still absorbing heat, they're absorbing less CO2 as their water becomes saturated c) hasn't changed: the oceans are still soaking up as much heat and CO2 as ever d) in fact, the oceans don't play any role; climate change happens in the atmosphere
12) The warming Arctic could affect the rate of climate change by:
a) slowing it down, the way ice in a glass of water makes it cooler b) speeding it up, as reduced ice and snow cover is available to reflect sunlight back out to space c) speeding it up, as the once-frozen permafrost releases the carbon from defrosted organic matter d) both b and c: less reflection, and more carbon from melting permafrost
13) When scientists talk about the "uncertainty" of climate change, they mean:
a) they use dice to decide what conditions they will forecast for any given day in the future b) that they don't entirely understand the behaviour of greenhouse gases and have to make guesses c) that they are confident about the general trends of climate change, but can't predict all its details d) that climate change might not be happening at all
14) The latest real-world observations about climate change indicate that:
a) some changes, like the melting of ice-sheets and ocean rise, are actually happening faster than predicted b) scientists are right to be "uncertain" because the observations don't match their predictions c) climate change is only happening in some places on the planet, not everywhere d) climate change actually stopped in the late 1990s
15) Scientists say that any more than about 450 parts per million of CO2 in the atmosphere could create runaway climate change by melting permafrost and our remaining ice sheets. At our current rate of emissions, we'll break through that level:
a) by the end of the century b) in 200-300 years c) by the end of this decade d) within less than 30 years
16) We can avoid pushing our atmospheric carbon "budget" beyond the tipping point of 450 ppm if we:
a) switch from coal and oil to natural gas, including unconventional natural gas, for our energy supply b) limit fossil energy use to only conventional oil and gas supplies c) close down all coal-fired power plants immediately d) climate 'lag' means it's already too late to avoid disastrous global warming
Answer key:
1:d 2:c 3:b 4:c 5:a 6:d 7:b 8:b 9:a 10:c 11:b 12:d 13:c 14:a 15:d 16:b
How did you do? If you got 12 right, you may now download a certificate to frame and hang in a place of pride. Point to it regularly when guests visit, reminding them that you know more about climate change than they do.
Get the certificate by clicking here.
Thanks and congratulations!