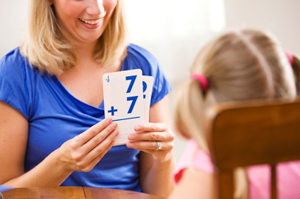 By October the panic sets in. Kids have been back at school long enough to take tests, hand in an essay or two, or learn their ABCs, and, for better or for worse, the marks start coming home. But no matter if it's straight Fs or a B+ average, about a third of Canadian parents will respond the same way: hiring private tutors.
Ranging from a single university student looking to make a buck to a private corporation with franchises across the country, private tutoring businesses aren't new. Most of the big names like Sylvan, Oxford Learning Centre, and Kumon have been in North America for 30 years or more.
Although there is no oversight for tutoring quality in Canada, that hasn't stopped parents from signing their kids up as fears about the failures of the public education system grow. For teachers like Anna Chudnovsky, however, the use of tutors is just another mark of inequality in the public school system.
"It's not in our interests as a community to have some kids get private tutoring and some kids not," says Chudnovsky, a Grade 7 teacher at Thunderbird Elementary, an inner city Vancouver school whose students can't afford private tutors.
"What's in our interest as a collective community, both economic and socially, is to have a system that meets the needs of all the kids so that we can begin to level the playing field and allow our kids the opportunity to succeed later on in life."
But academics say the use of tutors isn't a reaction to an under-resourced school, but how parents perceive academic success. In an increasingly globalized world, parents from all cultural backgrounds are using tutors to give their kids an academic edge over the "competition": their peers, both at home and abroad.
There is very little statistical data on private tutoring in Canada, but one thing the proponents and critics can agree on is that tutors aren't going away. With the move to more individual, personalized learning in schools creating confusion for parents, we can no longer afford to ignore tutors' influence on education.
Ahead of the class
A 2007 study from the Canadian Council on Learning (CCL) found one third of Canadian parents hired private tutors for their children. Although the popularity of private tutoring schools is often credited to immigrants from countries like Japan, South Korea, and Hong Kong where such services are in high demand, the CCL study found household income, not immigrant status, was the prominent characteristic of families that would hire tutors.
Parents whose annual income was over $100,000 were 2.9 per cent more likely to hire tutors for their children than those households that make less than $40,000. Not surprisingly, tutoring is expensive: operating on an hourly basis, costs can run anywhere from $25 to $60 per session, lower if a package of multiple sessions is purchased.
But parents' educational attainment and language spoken at home were significant predictors of tutor use, too. Wealthy parents who somehow managed to gain their riches on less than a high school education were less likely to hire tutors for their kids than parents who made less but had the same level of education.
Families that spoke both French and English, or neither language, at home were more likely to hire a tutor for their children than families who spoke either English or French at home.
Further information on private tutors in Canada is scarce. Beyond requiring a business license, the teaching credentials of tutors in Canada aren't regulated. Although some franchises require tutors to have education or undergraduate degrees, there are no requirements for tutors to have any training beyond what the franchise may provide.
Sociologists Janice Aurini and Scott Davies, at the University of Waterloo and McMaster University, respectively, have filled in some of the gaps with their own research on private tutoring, based mainly in Ontario.
In their first paper on the topic published in 2003, they found parents weren't just turning to tutoring to help their children pass; they saw tutoring as a normal part of education.
"It was far more pervasive than just C and D students," Aurini told The Tyee.
"A lot of parents conceptualized private tutoring as one of the many lessons that their children participate in, and even those children who are, by their own parents' accounts, A and B students, are still participating in private tutoring as a way to get a leg up in certain subject areas."
Tutoring crosses cultural, ethnic lines
Sociologist Julian Dierkes, an assistant professor and Keidanren Chair in Japanese Research at the Institute of Asian Research at the University of British Columbia (UBC) has studied private tutors in Japan and South Korea at length.
Known as jukus in Japan, they are for-profit, private supplementary education businesses popular among Japanese, South Korean and some Chinese students hoping to make it in an increasingly competitive secondary and post-secondary education system.
But although B.C.'s Lower Mainland has a large East Asian population, Dierkes says the high number of private tutoring establishments -- in 2008 he counted 74 tutoring centres or brokers run by 55 companies in Vancouver alone -- can't be chalked up to ethnicity and country of origin alone. Instead he points to parents concern over a perceived decline in public education and an increasingly globalized workforce.
"There's a big contagion affect where parents get nervous when they are increasingly inundated in the media about competitiveness measures, and then little Johnny comes home and says half the kids in his class are going to a tutor. Most parents respond, 'Oh, well, I better do something as well,' if they can afford it," he says.
"And that's relatively independent of little Johnny's ethnicity."
Darlene Pettitt has been working with Oxford Learning, a Canadian private tutoring business, for 20 years. A teacher by trade, Pettitt co-owns a franchise in Coquitlam and recently sold another franchise in Victoria.
Playing into the stereotype, Pettit says Oxford's Richmond centre is one of the top 10 most popular in the country. Richmond has the highest immigrant population of any Canadian municipality with close to 60 per cent of residents identifying as immigrants in 2006. Of those immigrants, over 50 per cent were from East Asian countries.
But Pettit says her franchise in Victoria, while not as crowded, was almost entirely composed of Caucasian children whose parents worked for the government or local post-secondary schools.
"[The parents in Victoria] were very highly educated themselves, and that was really important to them that their children have those same opportunities and are able to get into the post-secondary of their choice, which is getting harder and harder," she says.
Tobey Steeves, a teacher on call working on his master of arts in trans-disciplinary educational research at UBC, worked as an English language tutor for a year and a half in Vancouver. Tutoring mainly for the Canadian College of English Language, Steeves' students ranged in age from seven years old to mid-60s.
While most of his adult clientele were jet setting business men from China or Taiwan, his younger clients were much more diverse: "There were students from Turkey, Spain, Italy, Columbia, Mexico, Brazil, Argentina, Taiwan, Japan, China, Russia, Germany, and Saudi Arabia," he told The Tyee.
Teacher vs. tutor
There are free public tutoring options, too, for families who can't afford a private tutor. The Ministry of Education offers online tutoring services through LearnNowBC's distributed learning portal for Kindergarten to Grade 12.
But Dierkes says equal access to tutoring isn't necessary because tutoring isn't necessary.
"There's very little [tutoring] in Canada and Canadian education is doing very well, thank you very much," he says.
However what difference tutoring makes to academic outcome is a matter of debate. Public school teacher Chudnovsky says the best person to educate a child is their teacher, who, given enough resources, is perfectly capable of meeting all their students' academic needs.
"The teacher is the expert in that case and should be the one providing the education. It's also, overall, cheaper and better to have teaching professionals do that work than private tutors who may or may not have expertise in education delivery," she says.
Over his 10-year teaching career, David Wees has found tutoring at best has a minimal effect on his students. At worst, it brings out a blasé attitude towards teachers.
"Occasionally I have a student who won't pay very much attention in class and say, 'Don't worry, my tutor's going to fix it anyway.' That to me is the tutoring not really acting as more learning time," says Wees, a learning specialist in information technology at Stratford Hall, a Vancouver private school.
Unlike classroom teachers, tutors don't always get a chance to know a student's learning style or background either. For struggling students, tutors are more of a band-aid solution to a learning problem.
The way tutors teach students can also have an effect. If a tutor has students memorizing facts or formulas instead of analyzing problems or thinking critically, students could do well on a test but still not learn anything.
"It doesn't necessarily mean just because [a student's] got more time with another adult that they're going to do better, because that adult may not know what's appropriate," says Wees.
Instead of expanding tutoring to kids whose families can't afford it, he says parents need to forget the idea of academic competition.
"If we remove that sort of drive for everybody to be better than each other, to keep up with the Jones', then tutoring would become much less necessary," he told The Tyee.
Instead of spending hours a week on tutoring, Wees suggests families use that time to expand their children's horizons beyond academia, whether that means extra-curriculars like sports and the arts or a part-time job to gain experiences outside of school.
But while core learning in public schools may not be in trouble, English language instruction is one area even the BC Teachers' Federation says is in trouble. The teachers' union says cuts to English Language Learning over the past 11 years means kids learning in a new language aren't getting as much time with their teachers as they need. For parents who can afford it, that's where English tutoring comes in.
English tutor Steeves, a fierce defender of public education, believes the system is underfunded. But unlike Chudnovsky, he thinks tutoring in English can make a positive difference in students even if that difference isn't reflected in their marks.
"It can be just a simple matter of being more confident while watching an English movie and reading subtitles," says Steeves, "or if they meet someone that's an English speaker they actually have the confidence to talk to them, which is a huge deal, trying to get these students to be willing to make a mistake when meeting someone new."
Tutors: choice or consequences?
Dierkes says because the government is doing a poor job of communicating what personalized or "21st century" education means, the popularity of private tutoring franchises will only grow in B.C.
Despite dismissing the idea of tutors as only popular among immigrants, he believes parents who for cultural or ethnic reasons expect a certain type of education, will turn to tutors when public education changes without their input.
"There's a reason the B.C. ed plan talks about building analytical skills rather than computational skills in the example of math," he says.
"But if that's not communicated very clearly to parents who may well be expecting computational skills to be an area of focus, then what are those parents going to do? They're going to continue to do what they're doing already, which is to go to tutors."
If tutors remain under government radar, Dierkes believes they will soon play a larger role in education. That's something British Columbians should be talking about before it's too late.
"One of the things that happens as you have a big sector grow is the public, the government, the policy makers lose control over some aspects of education," he told The Tyee.
"Some will say that's a great thing because it introduces choices that responsible parents can make, and other people will say, 'No, education is one of those areas where we want to make a collective and a public decision about curriculum and aims of education.'
"That's a discussion that requires some thinking about whether we want to have some oversight or not."
Tomorrow in The Tyee's Back to School week of education stories: A public school teacher confronts his anxiety that the private education is gaining support B.C.