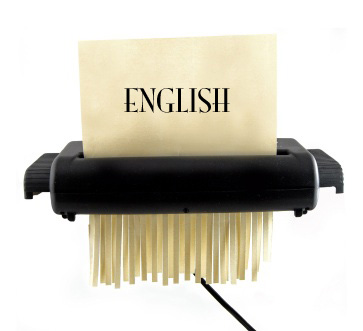 Linguists estimate that about 2,500 of the world's 6,000 languages are "endangered." One of them is mine: 20th century North American Standard English.
An endangered language is one whose speakers' children are unlikely to be using it 100 years from now. North American Standard is already vanishing before our eyes (and ears).
I have an understandable reason to regret its passing: I taught it from 1967 to 2010. Long before I left the classroom, though, I knew I was whipped. Better said, Standard was whipped -- by more politically powerful dialects.
A dialect is a version of a language that's more or less understandable to speakers of other dialects. If a dialect's speakers wield political and economic power, they establish the de facto standard for the whole language. So when my beloved Standard is no longer the standard, I know power has moved away from me and mine. Those who speak and write New English are in the saddle.
The Standard I learned in the 1940s and 50s was a hand-me-down from the English of the 19th-century British and North American upper middle classes. (Aristocrats spoke and wrote as they pleased, and damn your bloody eyes if you didn't approve, you contemptible little clerk.)
Those middle classes, relentlessly rising, tended to ape the manners of their betters -- not because they admired aristocratic behaviour, but because that was where the money, power and prestige were.
The English of power
Chaucer, I taught my students, wrote and spoke in the dialect of 14th-century London. Lots of poets were active then, but their works were doomed by their rural dialects. London English was the English of power, and you learned it if you sought to rise with the rest of the middle class.
But even London English was subject to linguistic drift. Constant immigration brought new words, unusual grammar, and odd accents. Imperial expansion accelerated the process even as it planted colonies in North America, Australia and South Africa -- where London and rural English dialects evolved away from their roots.
The power elites' dialects in those colonies rapidly evolved into local Standards, but none survived intact for more than a generation or two. Speakers of other dialects were always migrating into the country, or rising from the lower classes, to create new standards.
Worst of all, kids of all classes ignored their parents' dialect and invented their own. The Norman masters of medieval England must have been furious when they had to hire French tutors for their own children, who'd been hanging out in the barnyard with the Saxon peasants' kids, learning rude words until they were now speaking like peasants themselves.
If you like old American films, you hear a lot of the now-dead dialect called Mid-Atlantic. You can hear it also on CBC Radio programs like Rewind. I certainly heard it in the radio and movies of the 1940s, but by 1960 my generation had framed its own Standard.
And now... the test!
That Standard is now on its way out, along with its speakers. New English -- yet another mutant -- is reframing my dialect as Old English. New and Old dialects still overlap, but you might as well know which one you're speaking. So here are 10 ways to tell if you speak the New English of youth or the Old English of age. If these sentences sound OK to you, you're New English; if they don't, good luck finding a nursing home where they'll understand you.
1. "Thank you very much." "No problem." In Old English, the answer would be: "You're welcome."
2. "Me and him went to the Canucks game." In Old English, "me" and "him" are in the objective case, not the subjective; in New English, "I" and "me" and "he" and "him" are interchangeable: "Dad gave he and I tickets to the Canucks game."
3. "Snow and sleet is falling on the Coquihalla." Old English treats a compound subject as plural. New English doesn't know what a compound subject is.
4. "The Sedins played great in the third period." In Old English, verbs take adverbs, not adjectives: "The Sedins played brilliantly in the third period."
5. "You did real good in your presentation, you're sure to make the sale." In Old English, you do real good when you donate to the Red Cross, and you do really well when your presentation impresses your audience. Also, in Old English, you put a period or semicolon between one independent clause and another if you don't want to use a conjunction like "so."
6. "We've done alright since we moved to Calgary." In Old English, "alright" is alwrong. We say "all right."
7. "The company has less full-time employees, but the amount of part-timers has grown." In Old English, "less" and "amount" apply only to non-count nouns like "flour" and "wealth." It says "fewer employees" and "number of part-timers."
8. "The committee made a fulsome study of the problem." In Old English, "fulsome" means insincerely flattering. In New English, it somehow means "full."
9. "She's an alumni of Simon Fraser." In Old English (and Old Latin), "alumni" is the male plural of "alumnus," and she must be an alumna of SFU.
10. "So I'm like, 'What's your problem?'" In Old English, "I'm like" is pronounced "I said."
New English isn't "wrong." It's just the latest mutation of an endlessly evolving language. And language usage helps to define who's in and who's out. Speak the language like a native, and the natives accept you. Speak it with an accent, or ungrammatically, and the natives will know you're not one of them. (My Fair Lady is the classic dramatization of language as class weapon.)
So my generation of Old English speakers will always be at a distance from New English speakers. They understand us (mostly). We understand them (mostly). But we recognize that our dialects reflect bodies of experience forever closed to one another.
New English will of course age. By mid-century, it may have evolved into a "Mid-Pacific" dialect, as rich in Chinese and Japanese terms as Chaucer's was rich in French. Or Spanish may move in and make itself at home.
Whatever, as New English speakers would say. Each new dialect will reflect shifts in power as each generation rises. And aging New English speakers will no doubt be scandalized when they say "Thank you," and young louts will say "Huh?" instead of a polite "No problem."