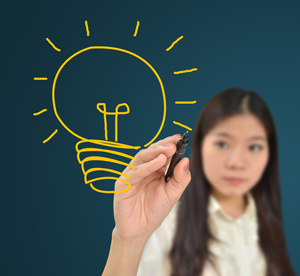 When the B.C. government announced last May they wanted to increase the number of international students in the province by 47,000 over four years, they couched it in terms of economic growth.
Part of one of the "Four Pillars" of the BC Jobs Plan, the government noted in a press releasing that "in 2010, international students in B.C. spent $1.8 billion on tuition, accommodation and other living expenses, creating almost 22,000 jobs and generating $66 million in government revenue." This was followed by an estimate of 1,800 jobs new jobs and a $100 million increase in the GDP for every additional 10 per cent of international students.
Government's plan means a 30 per cent increase for public post-secondary institutions, adding 14,100 students to the current 94,000 international students already in B.C.
But are B.C.'s public post-secondary schools prepared for this increase? The Ministry has not announced any new funding to accommodate these new students, leading some post-secondary educators to believe the increase is part of a plan to further erode government's financial contribution to post-secondary education.
"You need to have stable funding so [institutions are] not out scrambling for students where the sky's the limit for tuition fees they can charge," says Cindy Oliver, president of the Federation of Post-Secondary Educators of BC.
"You need to not rely on students to provide all that funding."
Over-capacity college
No one The Tyee spoke had an issue with international students themselves. Cited by all sources as bringing a diverse, multi-culture worldview to the classroom and workplace, there wasn't a negative opinion about including international students in our post-secondary schools from any of our sources.
But there is trepidation over the number of students our institutions can support. Jessie Smith, coordinator of Latin American Studies at Langara College contacted The Tyee with her concern that government is asking public post-secondary schools to increase their international student numbers when her school was already filled to capacity.
"Langara is over capacity: we're at 107 per cent. There's no room for anything; if you want to book a room you can't get one," Smith told The Tyee.
"In some areas the waitlists are hundreds of people that are trying to get into a class and can't get in."
Roy Daykin, Langara's chief financial officer and vice-president of administration and finance, says the waitlists for some courses are long because students covet the 10 a.m. to 2 p.m. class slot and will sign up for courses in those times. If they don't get in, they can still get the course at another less ideal time.
In the 2011/12 school year Langara had 7,550 domestic Full Time Equivalency (FTE) students and 1,000 international FTE; 30 per cent increase means 300 more international FTEs for the college.
Daykin confirmed government funds 7,500 domestic FTEs, bringing the college to 107 per cent capacity. It's not normal, he says, but adds Langara isn't the only school in this boat.
The University of British Columbia, for example, had a government FTE target of 35, 093 domestic students for the Vancouver campus in 2011/12, but had a total of 48,444 FTE students on campus.
"Are we over our physical space capacity? We're getting close to the problem, but we are not there yet," Daykin told The Tyee, adding the school and government having been working on a capital plan for the community college for two years now. He says it will be years before new ground is broken on any capital projects.
"We can, with more creative use of space, offer programming in different times than we traditionally do."
Options include more night, weekend, and summer semester classes. Daykin says the percent of students enrolled in summer is similar to the fall and winter semesters.
This year's budget did include $1.8 billion to maintain and upgrade capital infrastructure, but spread over the province's 25 public institutions the change is minimal. A recent investment of $2.2 million into Langara was all but swallowed up by $1.7 million bill to replace the fire alarm panel.
International students fund domestic education: Smith
Katie Marocchi, chairperson of the B.C. branch of the Canadian Federation of Students (CFS), which represents 16 students' unions in the province, says these concerns aren't limited to Langara, nor is space the only concern students have with the International Education Strategy.
"There's concern that there isn't enough faculty; the ratio of students to faculty is extremely high. There's concern of how this will affect classroom sizes, and of course the quality of education if there's not spaces made available for students," she told The Tyee.
She says in conversation with the CFS, then-minister of advanced education Naomi Yamamoto offered little insight into why government wants to increase international student numbers by 30 per cent.
"[We] asked how they came to this number, and it was very clear that it was just a random number that they came up with," she says.
"There's no funding, there's no breakdown of how institutions are going to absorb these students or how this is going to look, it's just a number that they determined."
The Tyee requested an interview with Minister Yamamoto but was turned down.
Serving a global elite
Government doesn't fund international students. They're supposed to be self-sufficient, which is why their tuition rates are so high: $500 per course or $17,000 for a full course load at Langara compared to $100 per course or $3,000 for a full course load per domestic student.
For larger institutions like the University of British Columbia, tuition rates vary depending on the course or degree pursued, but average tuition per credit is $156.68 for domestic and $754.05 for international students.
While there is a two per cent increase cap on domestic fees, Marocchi adds there is no cap on increasing international fees, meaning costs could increase at any time. Tuition levels are so high, only elite families from other countries can afford to educate themselves in B.C.
"When we advocate for affordable and accessible post-secondary education, we're speaking [for] all our members: trade students, domestic students, international students. We don't believe in a two-tiered system," says Marocchi, who adds international students contribute to the public coffers via taxes on goods and services in B.C. Therefore they should therefore benefit from public funding for post-secondary and pay reduced tuition fees.
But international student tuition doesn't just pay for international students. Smith says if international student numbers suddenly decrease, domestic students will suffer because international tuition subsidizes domestic students' seats.
"Under this model, every international student that we [lose] means less money to cover other costs," she says.
Government's International Education Strategy doesn't include funding pledges to help public universities and colleges absorb a 30 per cent increase. Instead it promises to conduct a capacity review of institutions in 2013, assess options regarding private-public partnerships for additional funding, and promises to "seek new capital funding to help the public post-secondary sector meet longterm capacity needs" in 2015 and beyond.
Instead government has continued its freeze on post-secondary spending for a fourth year in a row, while asking institutions to cut $70 million in administrative costs by 2014.
Post-secondary funding model 'unfair': Oliver
Langara's operational funding is 46 per cent funding from government grants, 43 per cent from tuition, and the rest from contracts, investment income, and services like the bookstore, cafeteria, and parking. Despite composing 13 per cent of the student body, international tuition covers 38 per cent of the tuition contribution.
Oliver says that funding model is more or less the same across the province. According to the Canadian Association of University Teachers, government contribution to post-secondary is decreasing across the country: in 1990 government grants covered 80 per cent of post-secondary operating; by 2009 it covered just 58 per cent.
She says this funding formula is unfair to international students who require more student services than their tuition fees can afford.
"These students require a lot of work: they require attention; they often require language classes; they require a lot of help to try to get them up to speed in the way we do things here," she says.
"If you want to increase the capacity to bring in all of these foreign students, something has to give and you'll need to be hiring more people, and that's not the case: there is not another dime for that."
Risky foreign market?
For Smith the formula is more than unfair: it's risky. If anything should happen to the countries we depend on for international students, of which China is the largest contributor, she says a drop off in international students could devastate school budgets.
"Even just the fact that kid in Montreal got mutilated, that could really scare people away," she told The Tyee.
But Daykin counters that risk is present for all students, not just international. He says if international student numbers were to drop, the school would adapt.
"If you took out international, you'd only have $85 million in total revenues, of which $40 million would be government funding," he says.
"We would run a school on $[85] million. It would be a different school, and it would not necessarily be any worse."
Smith says now is not the time to underfund public education. She would like to see government lift the net-zero mandate on post-secondary funding, saying it would big a bigger boon for job growth than increasing international student numbers.
"We're in an economic downturn, that's when students go to school. They can't get a job, so they think 'I'll get extra training,'" she says.
"It doesn't work well when at the time you need more money for education is when the economy is bad; when the economy gets better then the government might say, 'We've got more money, we'll put more money in education,' but then everybody is going to work."
Education: business or societal good?
The debate over increasing the number of international students fundamentally lies with whether you view public education as a business or as a requirement of democratic society. Although Langara is not making a profit, Daykin, who has worked in post-secondary education for more than two decades, falls on the business side.
"We are selling education, and we're always looking at making sure that there's lots of students here and there's lots of demand," he told The Tyee.
"The business has really changed in the last quarter century. Our institutions have gotten far more creative in selling education."
It's a view the provincial government seems to share in both its BC Jobs Plan and International Education Strategy, where it refers to the benefits of more international students as creating "jobs in the education sector and in other sectors that support the students" and "generating significant tax revenues to the province."
Both Oliver and Smith reject this view, saying an educated populace, regardless of whether they set down roots in the province or move elsewhere, is necessary for a healthy democratic society.
"If you start looking at it as a business, it becomes only for those who can afford it; then you have people in the lower socioeconomic groups who will be just completely shut out of education. Now is that fair? Is that a country you want to live in? I don't think so," says Oliver.
"[Education] is part of what a civilized, democratic society does. And when you see that altering because of the lack of funding, it seriously makes me just shake my head. It's sad for me."