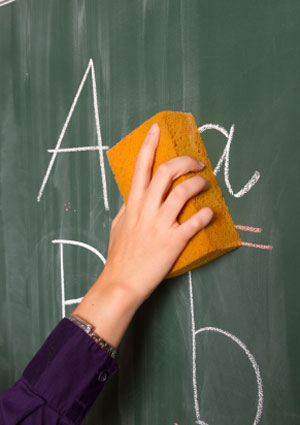 Things have changed dramatically for English as a Second Language teachers since Sylvia Helmer left their ranks in 1997: there used to be set ratios for the number of students per teacher, there used to be money for extra supplies, and there used to be more ESL specialist teachers.
But starting in 2001, the number of ESL teachers and their resources began to shrink, according to the BC Teachers Federation. That was the year ESL services were removed from the teacher's collective bargaining agreements, leading to the cutting of 229.54 Full Time Equivalency ESL teaching positions, says the BCTF.
That merely compounded problems with school ESL programs that Helmer says go back to when she was still in the classroom, including a lack of teacher training and pushing kids out of ESL classes before they're ready.
"The kids who were about ready to cope on their own and could kind of understand what was going on in the regular classroom would be pushed off my caseload in order to bring in the absolute beginners, deer-in-the-headlights kind of kids who barely knew which side was up, because they needed me so much more," says Helmer, a member at large for the English as a Second Language Provincial Specialist Association, an ESL advocacy group under the BCTF.
"It's not that the kids at the other end didn't need me, they still needed help with the academic language and help with textbooks and so on, but they could manage."
Helmer says this conveyor belt system was the reason she left ESL teaching and returned to the regular classroom because she felt her caseload of over 100 ESL students was too much.
Fast forward to today, and cuts have made it even harder for ESL teachers to be effective, according to a professor who studies the field.
Bill 2008 at age nine
In 2002 the B.C. government passed Bill 28 -- Public Education Flexibility and Choice Act, removing guaranteed funding for educational services such as English as a second language, special needs, counselling, and school libraries, from B.C. teachers' collective bargaining agreements.
Almost a decade later school districts across the province are rolling out their 2011/12 budgets, many with significant funding shortfalls that could see further reductions to some of those programs.
When she presented the Public Education Flexibility and Choice Act, Christy Clark, then minister of education, argued the move would give districts the autonomy and flexibility to fund their individual needs, as opposed to forcing them to spend money on services they didn't need. The BC Teachers' Federation claimed it would undermine services needed for the most vulnerable students in the province.
Yesterday The Tyee looked at claims that teachers qualified for special needs students are too few to meet rising challenges.
English as a Second Language is the focus of today's story as it, too, is one of those budget items school trustees can be tempted to look at for cuts in order to fund other programs.
But University of British Columbia education professor Lee Gunderson says more resources, not less, should be poured into helping ESL students.
Provincial funding not enough: UBC prof
The provincial government funds ESL students for five years, after which they're put into the normal schooling stream. But five years is not enough time to fully comprehend the English language, according to Gunderson, who is professor of Language and Literacy Education at UBC.
"The acquisition of basic interpersonal communicative skills takes about two to three years, and the acquisition of academic language, the kind of language in text books and academic text books, the kind of language you use in secondary and post-secondary classrooms, takes maybe five to seven years, or more," he says, adding parents and even students themselves sometimes believe they can handle the regular stream because they speak English, but find they aren't able to grasp academic language and it holds them back.
The provincial government says ESL funding doesn't have to be used for five consecutive years, however, meaning students can do some programming, go into the regular stream, then go back to ESL programming later if necessary. But Gunderson says ESL students who begin school in kindergarten to Grades 3 or 4 will be put in regular classes, even though the district is receiving funds for ESL programming, because of the belief that younger children take to other languages much easier than older students.
"Which sometimes is true, except when you get into a classroom where there are 30 students and 28 are ESL, their English development is not as advantaged because they're not surrounded by the target language, which is English," he says.
According to government guidelines there is nothing to prevent school districts from continuing a student's ESL programming after the five years with their own funding: "If a board of education has received the full five years of supplementary funding for an English language learner, this does not preclude the continuation of ESL services through board allocation of resources, if assessments determine the student continues to need ESL support."
But Gunderson says the lack of strict guidelines around ESL funding means districts can spend the money wherever they like, and ESL programs may not even see the money designated by the government for programming or extra supplies.
"Some school districts give some of it to the teachers, some school districts use it for purposes other than ESL, some support ESL teachers. So just because there's ESL funding does not mean that a teacher with ESL students is going to see any extra funding," he says.
Helmer says she had a budget of $300 for extra resources when she was an ESL teacher, but today's ESL teachers get nothing.
"There are no extra little bits like that for teachers anymore, so teachers pay it out of their own pocket or they don't do it," she says.
Indeed, Gunderson estimates from his own research that ESL teachers in the Lower Mainland pay up to $1,600 out of their own pockets per year for extras instead.
"The province doesn't pay for additional material, most school districts do not, so teachers have a choice: they ignore the problem, they invent their own material or they downsize it to different reading levels, or they go out and spend their own money," he told The Tyee.
The students go in, the students go out
Like most school districts in the province, Vancouver has a declining school enrollment, even though approximately 2,200 new immigrant students arrive in the city every year, all year. And Vancouver isn't the only district to see this in the Lower Mainland: last August alone 206 refugee students and 669 international students arrived in Surrey.
But because of the high cost of living in the area many families move away, making planning difficult for ESL teachers.
"Not only do we have classrooms that are filled with ESL students from vastly different backgrounds, zero English to fairly good English, from never having gone to school to having gone to school and have become literate, you have this incredible mobility where there are students leaving every month and students arriving every month, and this is a feature of all the school districts," says Gunderson.
This mobility has caused disagreements between educators and the government over whether or not ESL students are dropping out at a higher rate.
"The drop out rate is huge at the secondary level," argues Helmer.
"They don't show up in English 12 for the provincial exam because their English still isn't good enough, because they haven't been getting the specific support they actually need at the time they were in Grade 6 and 7, for example, when they sounded fairly fluent, orally, but still had trouble with reading comprehension and writing."
Gunderson argues the drop out rate is hard to determine. With permission from the Ministry of Education he tracked 1,300 ESL students who attended Vancouver primary schools in the early 1990s, but couldn't account for the whereabouts of 33 per cent of them by Grade 12.
"We don't know if they're drop outs, if they went back to their home country or whatever. Unfortunately, there's a huge discrepancy that one could account for by looking at socioeconomic status. Some students, Spanish-speaking refugees, for instance, have a huge disappearance rate compared to relatively affluent Mandarin-speaking students," he says.
Not all ESL students are immigrants, though. Many are born in Canada to immigrant parents, some of whom shuttle their families between Canada and their home countries.
"Sixty per cent of the kindergarteners [in Vancouver] are ESL. On the other hand, over half of that 60 per cent are born in Canada. So the situation is very, very complex," Gunderson told The Tyee.
ESL training not mandatory
Both Helmer and Gunderson believe all teachers in B.C. should be trained in ESL instruction, because it isn't always specialists who end up teaching ESL classes.
"What happens is somebody who is a social studies specialist, for example, and is teaching all the Grade 9 and 10 social studies, there are not enough kids to fill his time table, so we have one block that we need to give you and since you're a social studies specialist, you can teach ESL social studies. So we're giving you one block of ESL socials, and you just cope," Helmer told The Tyee.
"The specialist designation has been seriously eroded and, of course I'm wearing my ESL hat, but I know the same thing is true with other kinds of learning challenges -- the support isn't there, with the specialist skill you play Jack or Jill of all trades far too often."
The Ministry of Education doesn't see it as an erosion of roles, however, telling The Tyee in an emailed statement that by removing a standard number of ESL teachers "school districts have the flexibility and autonomy to make staffing decisions in order to meet local priorities." They also have firm guidelines for the designation of ESL teacher specialists, though nothing to prevent regular stream teachers from teaching ESL students.
The BC College of Teachers doesn't require ESL to be part of teacher training in this province, and currently only the University of the Fraser Valley has made it a mandatory element of their elementary teacher training, although UBC will be making it a mandatory part of their elementary curriculum in 2012. That means six other teacher training programs don't require ESL training for their students.
"It is unfortunate, I think, that we don't have more rigorous training requirements for people who want to be teachers, because a lot of teachers have told me 'I just don't know enough about ESL to provide programs for them,'" says Gunderson.