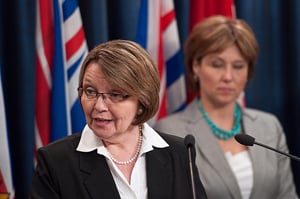 The B.C. government's effort to get more couples who are on the verge of splitting up into mediation may heighten risk for women if the relationship is abusive, say critics.
The Notice to Mediate (Family) Regulation announced on May 5 encourages people who are going through separations or divorces to try to work out their issues through mediation before resorting to litigation.
But some advocates are concerned the focus on "alternative dispute resolution" is not the best way forward. They suggest restoring cuts to legal aid under the BC Liberal government would give many women a safer route out of potentially dangerous relationship.
Under the new regulations, not all cases will necessarily end up in mediation. B.C. Justice Minister and Attorney General Shirley Bond said in an emailed statement that if there is violence in the relationship, mediation may not be the best option.
"The mediator is trained to assess whether there is family violence in the relationship, and if so whether it is to the extent that it makes it impossible for the parties to negotiate," she said.
Mediation is not mandatory if one of the parties has a restraining order or they are concerned about violence or abuse, she added, meaning that if a woman informs her lawyer, mediator, family justice counsellor or Mediate BC about violence, the mediation need not proceed.
But critics worry that the system is not set up in a way that takes into account the complex nature of abusive relationships.
Violence breeds a complex dynamic
Laura Track, legal director at The West Coast Legal Education and Action Fund (LEAF), says that depending on individual women to acknowledge and talk about their experiences of violence, particularly in the context of a legal dispute with an ex-partner, is not a reliable way to assess whether the situation is appropriate for mediation.
"What we know is that many women don't disclose the violence they've experienced for many reasons," said Track, so it is possible that women leaving abusive situations will end up in mediation regardless.
Bond says the regulations leave the door open for dispute resolution in situations where there is family violence because, under some circumstances, it can work. Bond said research shows that, in some cases, alternative dispute resolution can "provide victims of family violence with better outcomes and a more empowering experience than the adversarial court process."
In such cases, the mediation process will be modified to take into account the history of violence, Bond said.
Angela Marie MacDougall of Battered Women's Support Services is skeptical that mediation can ever be a positive experience for victims. "There is no amount of training on the part of a mediator that can make up the control an abuser has over a battered woman," she said.
Track agrees: "Asking a woman to sit across the table from her abuser and negotiate property division or custody and access is totally inappropriate," she said.
'Private and safe environment'
The new mediation regulation is part of B.C.'s new Family Law Act, which was introduced in November 2011. According to Bond, the act has been modernized and emphasizes out-of-court resolutions.
With the new regulation, any party in a family law proceeding can require that the other party go into at least one mediation session in order to try to resolve the dispute "in a private and safe environment" before going to court.
Kasari Govender of West Coast LEAF agrees that creating a safe environment should be a key part of the mediation process, but she worries there will not be the necessary support or resources provided to women in danger of violence after they leave the safety of mediation.
Streaming appropriate cases away from litigation could work well for some families, Govender says, but there needs to be a lot of caution in situations where there is abuse.
The fact that the new Family Law Act now considers a broad definition of violence when looking at disputes and situations of domestic abuse is a positive step, Govender notes. It considers psychological and emotional abuse as well as physical and sexual violence, and acknowledges the power imbalances that exist in abusive relationships.
But she added a caveat.
"It's one thing to create a safe space in a lawyer's office or a mediator's office, and it's another thing to ensure that a woman is safe when she goes home," Govender said. She hopes that safety will be taken into account both within the mediation process as well as afterwards, and that women don't feel forced to go into a mediation process that relies on an assumption that there is equality in the relationship.
"We know that women are less safe when they leave abusive relationships and that is something that is often misunderstood in family law," she says. Statistics show that women are at a much higher risk of being killed after leaving a violent relationship.
"The system has to be built in order to keep women safe in that context," Govender said.
Put money into legal aid: advocates
MacDougall agrees that the emphasis on "alternative dispute resolution" in the new Family Law Act is cause for concern. While both the B.C. government and Mediate BC support it, she questions who the mediation process will help in the end.
A paper published by the British Columbia Mediator Roster Society in 2008 states that "Recent changes in the status of a relationship have been found to be a significant risk factor for violence," and that some studies show that violence is reported by as many as 70 per cent or more separating or divorcing partners.
To MacDougall, these kinds of statistics lead her to question why the government would elect to put more money into mediation instead of legal aid.
"The complex cases that we see exceed the ability of a mediator. The women that we see still need lawyers in order to help them navigate these complexities," said MacDougall. For that reason, she questions the idea that mediation will be less costly and notes that this is all happening in the context of no legal aid.
"It just downloads the expense to the individuals."
Track says that there is very little legal aid available for women who need it and that it is difficult to access. "You have to be in extreme poverty so just by virtue of having a minimum wage job, a woman is unlikely to be able to access legal aid. The kinds of cases that are covered are pretty restricted too," she says.
Bond says the government shares Govender's and MacDougall's concerns.
"Our government understands the terrible impact that acts of violence can have on our communities, our neighbourhoods, our homes and our lives. Women need to know that they are not alone and that help is available," said Bond, adding: "A lot of important work has already been done, but we know that we need to do much more."