In five to six decades, this could be Delta, B.C. Where there were once streets, now commuters row through canals to reach the morning ferry, just in time for an 8:30 a.m. arrival in downtown Vancouver. What was once agricultural land now holds farms for sustainable aquaculture. "Oceanfront property isn't just an option here, it's come to be expected," real estate agents tell potential homeowners of the future.
That may be the future, but the long-term effects of climate change are slow to manifest. As Jared Diamond explains in his 2005 book Collapse, big environmental changes are unrecognizable to humans as they occur, because of the rate at which their impacts alter our environment -- a dynamic known as creeping normalcy.
In response, Stephen Sheppard and the team at UBC's Collaborative for Advanced Landscape Planning (CALP) are working to bypass the inherent time-blindness of human societies by making the future visible in the present, including a dark forecast for B.C. due to climate change.
Sheppard started CALP with colleague Mike Meitner in 1997 to research practical ways of planning communities and landscapes using methods derived from environmental psychology, a field that seeks to understand how the human mind interacts with nature. After six years of work, he realized that climate change was accelerating and communities weren't responding fast enough.
"Around 2003 we started becoming very worried about climate change and so we started adapting our tools to help designers, planners and visual experts communicate this reality," Sheppard explains.
The hope is that by making the impacts of big environmental changes visible, the creeping norm will be for humans to take faster action on their rapidly altering world.
The future to a high schooler
For the last three years, Sheppard has given guest lectures in Mike Richardson's Grade 10 class at West Vancouver Secondary, showing the students some of the climate visualizations CALP creates.
The visit "sparked an idea that my students could make something similar," said Richardson, although instead of doom and gloom, the students would create alternative projections.
"For a class project called Design the Future, they had to take a photo from their neighbourhood in Google Street View and manipulate it to show what that same place would look like in 50 years if we did everything we could to reduce our greenhouse gas emissions," he says.
Sheppard has fostered this project for the last three years, and when students present their final results, local North Vancouver elected officials come by to see what the future could look like.
"For the students, as they are learning about climate change, it is very easy to talk about the doom and gloom scenario. For the typical student that leads to apathy," says Richardson. "You can present them with all the data about how human behavior is affecting the planet, but when they make an image for themselves, they get excited and they can design a place that they actually want to live in."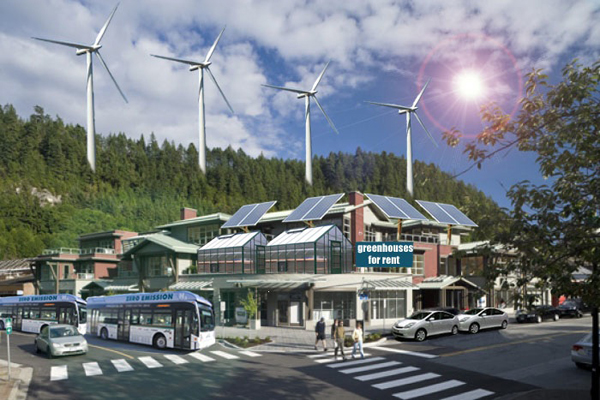 Richardson hopes the project will change how his students make decisions for the rest of their lives.
"Even though they aren't voting right now, in the future they may have to make a decision as a business leader or a politician. This can help them open up to making a decision that's better for the environment."
To help the students and the wider public create these visualizations, the team at CALP developed a range of simple tools and techniques that use off-the-shelf software packages like Google Earth. CALP's software methods translate data that geographers and planners use into powerful visuals.
"A planner in any community could work with a graphic designer or a geographic information systems expert (to create these images)," says Sheppard.
Though the process is straightforward, the images can drive a conversation about complex climate change effects, he adds.
"When you put something into 3D, especially if it is a place people recognize, things will click into focus. People say, 'That's my home, that's my street, that's my school.' We've found that when we present scientific and engineering data in a place that people recognize, things happen, lights turn on and people can tap into their emotions. Humans are wired to react to visuals so that we can walk around and escape from danger, such as an approaching grizzly bear."
Translating scientific data into images is a dramatically different approach for communicating scientific findings, Sheppard says.
"Most scientists are timid in taking the leap to translating their models into 3D. We're taught in school that specific people are good at art and the rest can't do it."
Your climate changed community
Starting with Kimberley, B.C. in 2009, Sheppard and the CALP team began linking these visualization tools to ongoing community planning processes, so that images of climate change could help drive citizen conversations on how specific communities will be affected by warming temperatures.
When visualizing snowpack changes for North Vancouver, Sheppard says, "We were told that the ability to use these images saved tremendous amounts of time in explaining what climate change meant to the city council."
(To see images of North Vancouver's disappearing snow pack, go here.)
A more recent project with Kimberley visualized the potential impacts of greater forest fire risks.
"Though the pine beetle was a big wake-up call to the people of British Columbia, it still didn't cause us to stop driving our cars," Sheppard laments.
The CALP team has completed projects with North Vancouver, West Vancouver and Delta, while continuing ongoing work with Calgary, Toronto and Clyde River in Nunavut.
"These tools take the high-level policy discussions around concentrations of CO2 in the atmosphere and apply it to actions that can occur on a local level. This is an iterative process where we identify stakeholders, build a dialogue with them, create a model of future scenarios and then continue refining it."
Visualizations of areas impacted by climate change could change long-term real estate values. Sheppard's team discussed this possibility while working with Delta, where he found that properties in the most vulnerable areas were flooded back in 2006 and that owners are generally aware they are susceptible to rising sea levels.
"The question is whether we want to tackle this issue while we still have time, or whether we want to wait until it's an emergency and we have to evacuate." Sheppard says. "Our goal is to ensure that our visuals are realistic images based on the best science."
Previous cases have demonstrated that climate visualizations must ensure a proper methodology to avoid legal action. In 2008, developers in La Manga, Spain filed a lawsuit against Greenpeace alleging decreases in property values after they printed images that showed buildings flooded by rising sea levels.
This is what your energy future looks like
CALP's tools aren't just for capturing snapshots of future climate doom. They can also visualize a time we'll want to live in.
Images of wind turbines, solar panels and walkable communities can be used during a community planning process. Sheppard also aims to make people think about how their community is addressing climate change by identifying the largest sources of emissions and what local features reduce the carbon footprint.
"Climate action is about better tools and better engagement processes. How many people go to their local government meetings to talk about climate action? We have the obligation to make climate issues exciting so that people will want to get involved," he says.
Sheppard says the process of making future scenarios visible often empowers participants by helping them understand where they can take action. Soon, he plans to take student groups to the corner of Vancouver's Broadway and Granville Streets and ask them what evidence of climate change they see in the scene before them.
"The challenge is that the bustling traffic and the morning commute is considered normal, all driven by a system that can't go on. Yet we're not talking to our local, provincial and national leaders about it, we're not making it a priority."
Through landscape messaging, the greatest sources of greenhouse gas emissions can be identified using simple labeling, he adds. "We are calling things the way that they really are. Cigarette packs have images of lung cancer; SUVs could just as easily have their fuel consumption on the side of the car."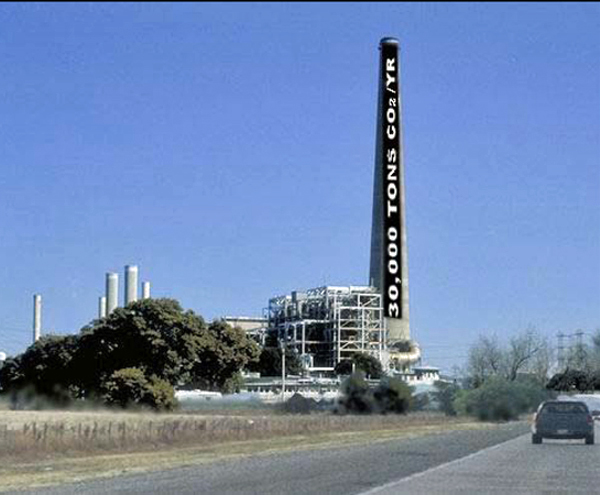 "The challenge in dealing with carbon is that it is invisible in most of the ways we use it, hidden from our view until there's a pipeline explosion or an oil spill," Sheppard says. "And though we're frustrated with the proposed pipelines in B.C., our cars and coal plants are in effect carbon dioxide pipelines to the atmosphere, eventually leading back to the ocean by acidifying our seas."
To show students, planners, community activists and scientists how to effectively visualize their data, Sheppard recently published a book, Visualizing Climate Change: A Guide to Visual Communication of Climate Change and Developing Local Solutions. Check it out for more images to hook your attention.