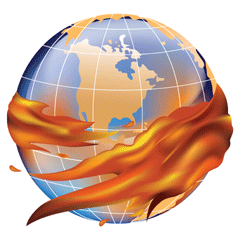 There is growing recognition that action on climate change needs to include increasing resilience to climate change impacts as well as reducing greenhouse gas (GHG) emissions.
Global GHG emissions are continuing to rise at a rate near the worst-case scenario envisioned by scientists. Atmospheric CO2 concentrations are now 30 per cent higher than pre-industrial levels, and are rising by a little over a half per cent annually, some two to three parts per million by volume each year. The energy balance of the planet has been thrown out of equilibrium and the momentum of this change will be felt globally for centuries.
Many governments are taking action to reduce emissions by setting enforceable targets, supporting cap and trade systems and providing incentives to reduce GHG emissions. British Columbia is a leader in this effort. Adoption of technological innovations centred on non-fossil fuel energy sources is happening, but not at a rate fast enough to offset emissions growth. Developing nations continue to expand their economies and associated consumption of fossil fuels, and many major developed economies such as Canada and the U.S. continue to emit at very high per-capita rates. The international cooperation needed to achieve global reduction of emissions is still not within grasp.
Although it is imperative that every one of us contributes to the global effort to reduce emissions, through leadership, personal choices and political engagement, we also must be realistic and recognize that our institutions and businesses have to adapt to the unavoidable changes ahead. Even if emissions were stabilized now, scientists project major changes in the global climate.
It's not just hot and cold
Global warming is not just about rising temperatures. Researchers at the University of Victoria and University of Washington project that warmer temperatures will lead to a continuation of a long term trend of declining snowpack, thereby reducing river flows in B.C. and Washington State during the summer.
This has important consequences for power generation, fisheries and community water supplies. Other research demonstrates that, as the world warms, the resulting increase in water vapour in the atmosphere will lead to increasingly severe rain storms and -- where cold enough -- extreme snowfall.
A Fisheries and Oceans Canada (DFO) report on sea level rise for the B.C. coast concluded we should expect sea level rise of up to 1.2 metres over the coming century for the Fraser River delta region, much of which lies at or below high tide and is protected by sea dikes.
What's already being done in BC
Increasingly local government, provincial agencies and businesses across B.C. and internationally are taking action to prepare for these changes in addition to the challenge of meeting GHG emission reduction obligations. Here are some B.C. examples:
Provincial forestry managers are revising their long term forestry plans to take into account B.C.'s changing climate. Trees planted today will mature in a significantly different climate. Forest pests thriving in warmer conditions and a longer wildfire season will require new forest management strategies.
Highways in B.C. are being assessed to determine how design and construction practices may need to be modified in the future.
Local governments are developing adaptation plans and incorporating climate change in land use plans.
Provincial guidelines for development in the coastal zone and sea dike standards are now under review in response to sea level rise projections.
City engineers are evaluating what sized culverts to install to handle runoff in the face of future extreme rainfall events.
The agriculture sector recognizes a warmer climate can be good for certain crops, but it must also prepare for more intense summer droughts, extreme precipitation events and heat stress on livestock.
Governments and businesses face many uncertainties when making long-term decisions and investments, and climate change must now be added to the list; we can no longer assume that historical climate patterns will prevail. How B.C.'s climate will evolve over the coming decades is highly uncertain especially at the local and regional scale, but this is the scale where most adaptation planning is needed. There are several federal and provincial agencies, university based outreach organizations, and NGOs providing information and guidance on impacts and adaptation actions that are useful to public and private sector decision-makers.
Many of these organizations are participating in a forum on June 14 and 15 in Vancouver, which is intended to introduce climate change adaptation to a broad audience. The forum is hosted by the Pacific Institute for Climate Solutions (PICS), a collaboration of B.C.'s four research intensive universities hosted and led by the University of Victoria.
Day 1 of the "Resilient Communities: Preparing for the Climate Challenge" forum includes an afternoon briefing for decision-makers, featuring presentations by speakers from B.C., Toronto, UK and Australia. That evening a free public event will focus on food security. Day 2 will feature experiences by B.C. municipal governments grappling with requirements for both GHG emission reductions and adaptation. Adapting to the challenge of climate change will require planning, innovation and the sharing of best practices to ensure the future sustainability of our communities.
Further details on the forum can be found here.