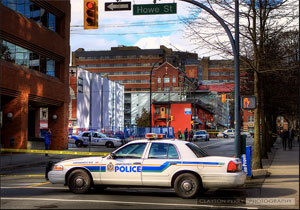 Oblivious, kids barrel around a skate park. Girls giggle at a one-woman play. Teens are cautioned not to tamper with the thug life.
(A young man was pistol-whipped and shot to death. A college student was drugged and raped. A boy's cousin was gunned down in the front yard.)
Police perk up at the sounds of slurs they once shrugged off. A transgendered woman braves a winter storm to hang posters for a remembrance rally. A high school senior learns at graduation that he is receiving a scholarship.
(A gay man, naked, in the cold, was beaten to death. A sex worker was killed and left in a shopping cart behind a laundromat. A young man was stabbed in the heart after saying he would one day fight crime.)
Among the billions of human collisions in a large city, real malice is relatively rare. Yet it indelibly affects the city. Virtually every law and regulation on the books is a riposte to our darker nature. Without misdeeds, and our reactions to them, urban life as we have constructed it would be almost unrecognizable.
Journalists instinctively grasp this reality. Crime is news; if it bleeds, it leads. But when the scribes and broadcasters move on, the story, in many ways, is just beginning.
So a group of reporters recently peered backward. They scoured Vancouver with the same question in mind: What of our city today owes to crimes from our past?
In exhuming a grim roster of assaults and homicides, they found tales of people moving past their grief -- and dedicating themselves to actions both humble and profound.
By now, thousands of Vancouverites have felt the reverberations from the six crimes mentioned in brackets above. The hurt heals in unpredictable ways. One day, it is a fresh wound. The next, it's scar tissue. Years go by, and it becomes the city's very fabric.
Taken as a whole, this Tyee series suggest a solemn vision of the city, as a place where awful events affect decent people. Tragedies are inevitable. What is not guaranteed is that good will come of them. Yet this city's worst moments inspired people in these stories to build some of the finest aspects of Vancouver's character.
Would you bring yourself to do the same?
Or perhaps you have already?
[Find more Tyee rights and justice coverage here.]