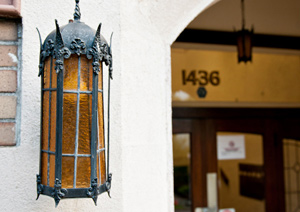 [Editor's Note: As many as half the households in the city of Vancouver, and thousands more across Metro, rent rather than own their accommodation. But for some, freedom from a mortgage comes with mounting insecurity over whether they'll face eviction. Meanwhile, finding an affordable place to call home can mean a nail-biting search. In yesterday's installment of our latest reader-funded Tyee Fellowship series, journalist Jackie Wong heard from tenants who blame the crisis in Vancouver rental housing on grasping landlords. In this report, she hears from landlords -- and gets a different take on the situation.]
A vintage road bike leans against the wall outside the Gastown headquarters of Gordon Nelson Inc. (GNI). The office door is inscribed with "Internet Gaming Partners," the name of the online gaming company brothers-in-law Jason Gordon and Chris Nelson own in addition to their namesake rental property management firm.
Gordon, 39, is dressed in black tie evening wear -- a holdover from last night's festivities at the father-daughter dance he attended with his young daughter, Lucy, who accompanies us on the interview.
Nelson, 35, wears a navy pea coat, jeans, and thick-framed glasses befitting the young business scene that dominates Water Street on weekdays. He leads us out into the morning sun and we walk to a nearby Starbucks, where Nelson buys a matcha latte for his brother-in-law, hot chocolate for his niece, and Earl Grey tea for me. When Gordon becomes agitated later in our conversation, Lucy reaches over to pat his arm.
Over previous months I've heard several of the two entrepreneurs' former tenants describe their rental management style in harshly critical terms. In person, they're cordial, passionate, and eager to share their side of the story.
Gordon made his first real estate investment at age 24. With his sister he purchased a strata unit on Robson Street for $170,900 in 1995. Six years later he and his wife purchased their first building. "We do other things, too, public markets, and we're involved in the Internet gambling company," Gordon says. "But for the most part, we kept buying real estate."
Gordon and Nelson met when both were employed at the Royal Bank of Canada. Then Nelson married Gordon's sister. Now doing business together as Gordon Nelson Inc., the two own five apartment buildings in the West End and Kitsilano. They also manage Ocean Village Beach Resort in Tofino. (Disclosure: The pair have advertised the Tofino property on The Tyee and have donated to Tides Canada, a foundation that managed readers' donations to fund this series.)
They seem to enjoy their work. "I provide houses to people," Gordon says. "Homes. Nice, stylish homes. I absolutely love the West End. I think it's one of the coolest neighborhoods in the world."
Most of the time, he insists, the business is "very low-risk," with few conflicts. "People need a place to live and they generally like what we provide," he says. "They pay us and we look after people, give 'em good service."
A 'war' over renovation
Then there's The Seafield, a 14-unit walkup on Pendrell Street whose tenants have lately given me an earful. Gordon calls their experience an exception. "In the case of the one building," he says, "everything's been turned on its head."
The brothers–in-law sold the Pendrell Street property late in February, after the Residential Tenancy Branch (RTB) ruled in favour of tenants seeking to cancel eviction orders GNI had issued. In a press release announcing the sale, GNI claimed the decision prevented the company from investing in overdue safety and environmental upgrades to the aging structure.
"The long, loud battle at 1436 Pendrell Street on the surface appears to be ambitious young owners trying to ring [sic] every last dollar out of hard done by tenants," the release read. "In reality it is about why there have been almost no rental apartments built in the West End for a generation. The rental stock is primarily old buildings that inefficiently spew carbon into the atmosphere and have floor plans designed for a population 1/20th of Vancouver today."
Over a green tea latte, Gordon describes the pair's 31-month tenure of The Seafield as a frustrating, ultimately futile effort to refurbish the 80-year-old structure amid "war-like conditions."
'Mutual agreement' to end tenancies
The long dispute at The Seafield hasn't fazed the partners. "It's sharpened us, if anything," Gordon says. "We learned the tenancy act. We learned about judicial reviews, how that operates. We've learned somewhat how to navigate the political, how to work with media. So that experience probably has some merit to it."
And the pair pride themselves on having acquired and renovated two other buildings without incident while the disputes at The Seafield wore on. At buildings on Burnaby Street in the West End and Kitsilano's Cornwall Avenue, Gordon says, "We mutually agreed to end tenancies with 50 people in total. Twenty-nine units. We gave them lots of time. We gave them compensation. No trouble whatsoever. And that's after the mess at The Seafield."
In fact, Gordon and his brother-in-law would like to get deeper into real estate, with more daring, high-density projects. But, they complain, layers of resistance from governments and citizens stand in the way.  "It's so frustrating," Nelson says. "We would like to build more ambitious rental projects, but it is difficult for a number of reasons." Vancouver's development policies, provincial caps on rent increases and neighbourhood groups who resist rezoning applications and higher-density high-rise units, all come in for his criticism.
And he doesn't think reforms being pushed by provincial New Democrats will help. "They're all about rent control, rent control, rent control," Nelson says. Like his partner he thinks supply and demand should determine rents, without any government cap on increases. "The long-term viability of Vancouver is to get rid of [rent controls] so that you can let the market dictate what the price is," Nelson says.
British Columbia's current formula for capping annual allowable rent increases was introduced in 2002 by B.C. Housing Minister Rich Coleman. For 2011 it allows a rent increase of 2.3 per cent. At that rate, tenants paying $1,200 a month for a Vancouver apartment can expect a maximum hike to $1,227.60 monthly.
And that's where Nelson and Gordon say the trouble lies. They say rents in older buildings have been capped so long that permitted levels no longer cover building maintenance, let alone the cost of bringing near century-old properties up to 21st century standards for energy use and convenience.
At The Seafield, Nelson and Gordon tackled the economic dilemma from two angles. GNI attempted to evict some tenants, renovate vacated suites and re-rent them at uncapped higher monthly rates. They also tried to raise rents for continuing tenants, invoking provisions in the Residential Tenancy Act's "geographic area clause" that allow landlords to raise rents to match other nearby units. Tenants denounced both tactics to the RTB (as reported in my previous story in this series, here). It was losing that decision that prompted GNI to wave a white flag in the "war" at The Seafield.
But while the brothers-in-law backed away from that battle, they say the long-term losers will be Vancouver's renters.
"Rent control, preventing us from renovating, or keeping rents artificially low, is the exact opposite of what the city needs for long-term viability of the rental supply," Nelson says. "In the short term they work, in terms of keeping rents low for a certain group of lucky tenants. But over the medium to long term, it actually hurts the housing supply."
Vancouver: New York 2.0
Asked whether such market-driven rentals could meet the need for affordable housing, Gordon unapologetically compared Vancouver to a young New York City -- a magnet for competitive talent, but also a place that weeds out the less successful. "Vancouver's an amazingly dynamic, creative city," he says. "The best and the brightest [come] here so they're right in the absolute heart -- with recreation, the financial district, the creative community."
Not everyone makes it in the creative city. "It's tough, but that's just the way it is," says Gordon. "People keep moving here and in many cases people aren't going to survive." But those who do, he says, prosper. "As taxes have dropped in the last 10 years, individuals have a lot more disposable income, allowing them to, in theory, pay more rent. And that happens."
As Gordon and Nelson see it, The Seafield's tenants wanted a "free lunch" from their landlords. "And we called them out on it," Gordon says.
"I think it's greed," Nelson adds, "for them to think they should not pay fairly for their goods and services, or that they shouldn't allow us to renovate our building that we spent millions of dollars to buy. They're the greedy ones."
Landlords as unsung hero
Gordon applauds Hollyburn Properties, another Vancouver rental company that's been at the centre of controversy. Hollyburn owns 47 buildings in the city, where dozens of renters have complained to reporters about their eviction experiences.
"They provide a lot of good, clean, safe, environmentally friendly accommodation in nice parts of the world," Gordon says of the much-maligned company. "They don't get credit for that, ever."
Clearly, Hollyburn CEO Paul Sander has been left smarting by his portrayal in the media. "Paul was portrayed horribly and absolutely incorrectly last year," his executive assistant told me in the course of the month I spent trying to arrange an interview with Sander. "He's not interested in going down that road again."
Hollyburn's newly hired communications manager, a veteran of the RCMP and TransLink public affairs departments, did send me a statement he said was from Sander. In it, Hollyburn's CEO dismissed disputes at three West End apartments whose tenants successfully disputed eviction orders as "old issues."
"Hollyburn Properties has always gone to great lengths to have good landlord-tenant relations," Sander wrote, "but with 10,000 tenants, issues will occasionally crop up. If 20 people complain, that's about two-tenths of one per cent of our tenant base."
Annual rents too low
And Sander echoed Nelson and Gordon's conclusion that B.C.'s cap on annual rent hikes handcuff landlords' abilities to maintain and improve the rental stock they own.
"Although land, building materials, labour and other costs continue to rise, rents are not allowed to keep pace. That means many renters are paying below market value for their apartments," Sander wrote.
"With rental apartments not an attractive investment option, there has been little or no rental building construction in Vancouver in recent decades. Most of our buildings, like the entire rental stock in B.C., are at least 40 years old."
"This is a business, and there needs to be a return on investment," Sander continued. "What business can afford to spend large amounts of capital to improve a building if it can't raise rents to recover some of those costs?"
In Sander's view, affordable housing is the government's domain, not the private sector's, and Hollyburn has partnerships with Covenant House and RainCity Housing to provide housing for at-risk youth and people who have been vulnerably housed.
Pushing subsidized housing on to private investors
It's hard to argue with people who'd like to be able to stay in homes where they've become settled. But it's equally hard to argue that private investors should pay to renovate Vancouver's many apartment buildings in need of updating without their getting anything in return.
Yet the line between government-subsidized social housing and the private rental market often gets lost in the public's mind, says Marg Gordon.
The former Port Coquitlam city councillor has seen both sides, spending a decade as member services coordinator for the BC Non-Profit Housing Association before becoming executive director of the BC Apartment Owners and Managers Association (BCAOMA) in 2008. Its 1,200 members collectively accommodate over 100,000 rental households across B.C.
Like GNI and Hollyburn, both of which are BCAOMA members, the former go-to contact for non-profit rentals now advocates for letting the marketplace control rents.
"Nobody likes to hear this," she says, "but it's the truth. Rent controls are actually hurting the very people they were put in place to help.
"The private rental market has to make enough money to pay their bills and to earn a living. They can't do it with 2.3 per cent [the annual allowable rent increase mandated by the provincial government]." Gordon supports a review of the B.C. Residential Tenancy Act and tax reform to give more incentive to rental housing developers.
To a large extent, it's a call to go back to the future. Before 1986, targeted tax incentives spurred the construction of private market rentals as well as non-profit and co-op housing. Some 21,540 new rental housing units were built in Vancouver in a little over a decade. Over the last quarter century however, a succession of federal governments has withdrawn most of those incentives.
"Before they were taken away," Gordon says, "rental buildings afforded really sound investments and one of the very few tax planning opportunities." Without them now, she adds, "It doesn't offer that. This private side of the market is really hamstrung."
And while some landlord tactics may draw fire, so long as maintenance and upgrade costs continue to outrun rents, it's hard to see where the private sector will be motivated to build the roughly 6,000 new rental units that Metro Vancouver's planners say we need every year to accommodate all those hoping to make it in the next New York.
Next: A look inside B.C.'s Residential Tenancy Branch, as told by a former employee.