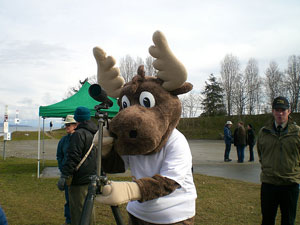 "Jerry! Hello!"
Meet Jerry the Moose. The "moose-cot," if you will, for B.C. Parks. The provincial government resurrected the mascot it introduced at Expo 86's B.C. Pavilion, in time for the BC Parks' 2011 centennial.
Documents obtained under Freedom of Information say that the new mascot suit is "thinner, fitter" than the Expo 86 version "to support how parks can contribute to healthy living." Each new svelte suit costs taxpayers almost $5,000 and conceals a Ministry of Environment staffer or volunteer.
Jerry is based on a real moose-on-the-loose, which was found orphaned in 1960 at Endako, raised in Wells Gray Provincial Park and eventually retired to the Calgary Zoo.
A pair of mascot suits were ordered in August 2009 for $9,999 from Sugar's Mascot Costumes in Toronto. The care and instruction guide shows a Jofa hockey helmet inside the head and it comes with a built-in exhaust fan capable of moving 35 cubic feet of air per minute. The cooling system requires eight AA non-rechargeable batteries, which must be inserted correctly. "Otherwise they could leak alkaline battery solution and cause injury," the guide warns.
Another four costumes were needed to satisfy each of B.C.'s six parks regions. The ministry went shopping in Ontario again. This time, it spent $10,700 with Moorshead and Associates in Etobicoke, Ont., which offered $6,800 less than Sugar's. The third bidder was Creatix Studios of Langley, known in mascot circles for its A&W Root Bear, Capilano Suspension Bridge Raccoon, and 99.3 the Fox foxes. The Creatix bid was censored, for fear that disclosure would harm government financial interests of a public body or reveal third-party trade secrets.
No drinking in public
It's not easy being a moose. The Jerry the Moose Resource Booklet includes a laundry list of apparel: head, two antlers, T-shirt, fur shirt/jacket, fur pants, white mesh abdomen, two hands/gloves and two shoes/feet, fan.
There are also strict rules of engagement. "Jerry the Moose represents BC Parks and the government as a whole... the mascot should not appear at private functions (ie. children's birthday parties) or other inappropriate venues that might tarnish the reputation of BC parks or government (ie., 'the bar')."
The booklet also says that while wearing the suit mascot actors must have a handler for safety, never speak or make inappropriate gestures, signs or movements and may not pick-up children. They can't be seen eating, drinking or smoking. When they dress or undress, it must be in a private room, not, for example, a public restroom.
Jerry will be appearing Saturday in Vancouver's Stanley Park at Brockton Oval for Parks Canada's centennial celebration. He will be there as a guest of Parka the Beaver.
BC Parks also has spent $6,785 for 25,000 moose antlers headbands, $3,330,36 on 33,825 stickers and $2,319.41 on 10,000 Jerry the Moose BC Parks 100 buttons.
In other mascot news, a glut of Olympic Migas and Mukmuks selling for $1.50 and up languish at Northern Gifts' Burnaby warehouse.
No sign lately of Expo Ernie, the mascot for Expo '86, who some considered rotund for a robot of his height. You be the judge.