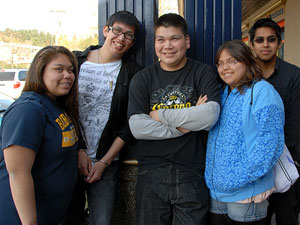 [Editor's note: This is the first in a six-part series on native youth speaking out about their challenges and dreams. This project was made possible by generous readers who gave to the Tyee Reporting Fellowship Funds.]
The statistics about native youth -- and we've all heard them -- are alarming.
They've been in the news for years: nameless and faceless "aboriginal youth," and the myriad problems that confront them both on and off reserve: They are less likely to complete high school than non-native Canadians. They are more likely to have been physically or sexually abused than non-native youth.
In B.C., more than one-fifth of aboriginal children have been in some sort of government care. Aboriginal youth are nearly eight times more likely to be incarcerated than non-native youth.
Their death rate, from all causes, is three times higher for native youth, according to the 1999 Annual Report from the BC Children's Commission. Their suicide rate is pegged, in a study by the UBC Early Human Learning Partnership, at between five and 20 times higher than that of the general population.
But to native youth, these numbers are boring. According to a 2005 report by the McCreary Centre Society, B.C.'s aboriginal youth "are tired of hearing dire statistics about themselves, and want to see more positive news reflecting their progress into adulthood."
This article is the first of six in a series, funded by a Tyee Investigative Fellowship, that looks at issues in the lives of native teens. In their own words, they will talk about:
Attitudes towards school: Is it important? What keeps kids from graduating?
Alcohol and drugs: How does usage in family and community affect them? Why do they themselves choose to use or not use?
Family: What positive or negative influences do parents and immediate family members have on them? How has being put into care affected them?
Culture and language: What does their traditional First Nations culture mean to them? Do they feel that it is even still alive? Is it worth working to preserve?
According to the 2006 census, 196,075 British Columbians identify themselves as aboriginal -- nearly 5 per cent of our population. Two-thirds of these are First Nations. Most of the remainder are Métis, with a small per centage identifying as Inuit or "other." Youth (defined as those aged 24 or under) comprise more than 38 per cent of the aboriginal population.
The people behind the statistics
The aim of this series, however, is to move beyond the statistics to the people. In this introductory article, you will meet 14 First Nations young people, from B.C. communities that range from urban to remote, whom I interviewed in the course of a year.
In North Vancouver, I met with a group of eight close friends who were either in school or had recently graduated from high school, and who live on the Mission Indian Reserve. Six of them --
Alana "LanLan" Paul (17),
William "Wonka" Joseph (16),
Danielle "Ralphie" Joseph (16),
Kerry "Bud" Nahanee (17),
Nathan Humchitt (16), and
Dylan "Didi" Bruno (15)
-- were enrolled at Carson Graham Secondary School in North Vancouver.
About 10 per cent of Carson Graham's students are First Nations. The school offers a unique First Nations Integrated Studies Program stream, which has smaller class sizes and uses culturally relevant materials, to ensure kids are caught up in basic skills in their core subjects, as well as provides classes in First Nations studies.
Two more already finished school. Sarah "Sarsar" Harry, 18, finished high school at Carson Graham, and was working part-time at the Capilano Youth Centre as well as volunteering two days a week at a nursery school, planning to further her schooling in Early Childhood Education. Joan Daniels, 17, attended Sutherland Secondary School, a North Van public school with very few First Nations students.
In Port Alberni, I spoke with three young Nuu-chah-nulth women: Vanessa George and Monica Sam, both 16, and Belinda Lucas, 17. While I did not purposely seek out youth who had spent time in government care, all three of them had. Monica lived with relatives, Vanessa lived with a foster family, and Belinda had spent times between the ages of five and eight in foster care. All three were attending Vast Learning Opportunities Centre, an alternative high school that pays special attention to individual needs in order to create a supportive learning environment.
In the smaller town of Tofino, I met with Alanda Atleo, a 20-year-old Nuu-chah-nulth woman who finished high school at Ucluelet Secondary School in 2007. She worked part-time through high school and worked full-time as a cleaner while taking a college-level math course by correspondence through North Island College.
On the more remote reserves, I talked to two young Nuu-chah-nulth people who lived in very different circumstances. Becky Martin, 18, grew up mainly in Port Alberni and Nanaimo. She lived with her boyfriend and infant son, the young family splitting their time between her mother's home in the village of Opitsaht (population about 150, a short boat trip from Tofino) and his parents' home in Ahousaht (population about 400, and 20 kilometres by boat north of Tofino). Becky finished Grade 10, and hoped to finish up her schooling when her son was older.
Patrick Lucas, 17, was living with his father in remote Hot Springs Village (population about 90, 50 km north of Tofino by boat) when I interviewed him, but father and son have since moved to Port Alberni; Pat dropped out of school in Grade 11.
Distinct voices, speaking for themselves
These 14 young people come from communities that represent a cross-section that ranges geographically from urban Vancouver, to smaller towns, and right through to remote reserves without road access.
Of course, this small group can't speak for all of the roughly 75,000 aboriginal youth in our province. But they give at least a first insight into what matters to them: their dreams, their obstacles and their issues. Some of those issues are common to both urban and on-reserve youth; others are more localized.
In the second article of this series, we will look at these young people's view about school: Do they believe it is important? Why do so many kids drop out? What, if anything, helps them to be able to stay in?
Tomorrow: Thinking about school.