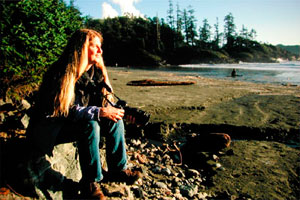 When she interviews First Nations people, Jacqueline Windh says, "I try to use my skills to get their words out, not to put words in their mouths."
The author of the Tyee Fellowship series "Native Youth Speak Out" that begins today has been trained to observe closely and record accurately. She spent years as a geologist in Canada, Australia and South America. Then, deciding to try to leave a more positive impact on the planet, she took up a new career as a photographer. Writing followed.
The author of or major contributor to four books, Jacqueline Windh has also written radio documentaries for the CBC and articles for magazines ranging from Oasis in Italy to Al Borde in Argentina. The Tyee has published many of her articles and photos. She also maintains an active website.
In an interview about her year-long project illuminating the lives of young First Nations people in British Columbia, here is what Windh had to say...
On what motivated her to do this series:
"A few things. One is that I am constantly surprised at how little Canadians, in general, know about what the daily lives of many First Nations people are like: what life is like in their communities. I, myself, did not know much about Native people until I was well into my 30s -- because I never actually knew any Native people personally. Now that I have some very strong relationships and a pretty deep understanding of their communities, I want to share some of that knowledge with people who don't have that kind of personal access. And the hope is to lead to a better understanding between our cultures.
"I think my other motivation is really trying to use the various media skills that I have to help more Native people have a voice. When Natives do get a public voice, it usually is the same few political leaders that we hear from. With this and other articles I have done, I aim to use my media skills to help get their voices out, rather than just me writing 'about' them."
On why it took so long, over a year, to complete the project:
"Mainly because I was committed to try to get a cross-section of Native youth perspectives -- which meant travelling by boat to some of the remote, water-based villages to talk to the kids living in isolated communities, as well as to Vancouver to get a more urban view. And to places in between. And of course, multiple visits are necessary, in order to build the relationships with the kids. They need to get to know me and my intentions before they'll open up -- we delved into some pretty challenging subject matters in our conversations. So there was a lot of time involved -- pretty close to a year of interviewing."
On what surprised and impressed her about the kids she interviewed:
"What surprised me was their willingness to work with me on this. When I first started to draft out my ideas for this series, I had a secret fear: what if no one will talk to me? But the kids that I talked to were genuinely interested in putting their thoughts and input out there. They want to be heard.
"What impressed me was their depth of thought. Most of them really are thinking about how they fit into everything -- their family, their community and their people's history. For the most part, they think quite seriously about their own futures, too. Even the kids who are not currently school recognize its value, and acknowledge that they should finish high school in order to have a better chance at a decent future."
On what receiving the $5,000 Tyee Fellowship allowed her to do:
"A fellowship like this is an incredible thing in the current journalism environment. It is frustrating for me not just as a writer, but also as a reader, that most news or reporting or journalism is so superficial. There seems to be a perception by many media that consumers don't have the time or attention for in-depth stories. That may be true for some consumers, but I think there is still quite a market for more in-depth stories and analysis. That market is being met by only a few publications, and The Tyee is one of them.
"But of course for a writer to be able to put the time into a detailed, well-researched and well-crafted story requires budget. We cannot do this for free. Having the fellowship allowed me to put the time into the interviews -- the repeated travels to build relationships with the kids, which cost me a lot of time and money. It also allowed me to buy the kids I interviewed lunch or dinner when I visited -- a way that I could give something directly back to them, and acknowledge the time that they were giving to me."
On what she hopes the series will accomplish as people read it:
"I think that it is far easier for people to relate to a 'story' once there is a personal perspective to it. Instead of reading about statistics about native youth -- which makes it very easy to feel informed (and also judge) -- I hope this series will give much more insight to what the real issues that native youth face by putting a personal perspective on it all. We don't only see the stats or the facts, we see the emotional side of things, too: the hurts, the challenges, the triumphs, the desires. I think that gives a much better-rounded picture."
On what she's working on now:
"I've been writing fiction these last few years. I'm not giving up my non-fiction writing by any means -- but I feel that I can address a lot of the themes that I write about in my non-fiction (First Nations issues, environment, sustainability) in my fiction, too. And perhaps, for the reasons I just stated above, the fiction will have a greater impact than the non-fiction; beyond the facts or the stats, it can give a more personal or emotional perspective on an issue, and thereby maybe reach or influence more people than my fact-based writing.
So I am currently working on my next book, My Secret Sasquatch and Other Possibilities, which will actually blur the lines between fiction and non-fiction as it explores our relationship with place, environment and community. I expect it to be published in 2011."
Thanks to a spring fundraising drive that yielded $15,000 more from our generous community, The Tyee has put out an invitation to journalists to apply for another round of Tyee Reporting Fellowships. Read about that here.