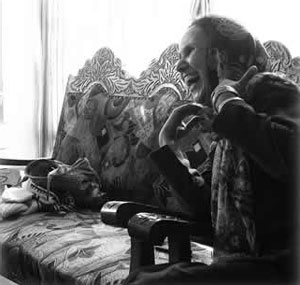 [Editor's note: This is the eighth in a series, running Thursdays and Fridays, by Terry Glavin profiling Afghanistan's 'unsung heroes,' a project supported by the Canada-Afghanistan Solidarity Committee and the Funders' Network for Afghan Women.]
Shamsia Sharifi runs a formerly clandestine operation now called the Hope for Poor Women Organization (HPWO), known as Negeen, for short, from a ramshackle house with a half-collapsed roof down a dusty side street in the Khair Khana district of Kabul.
A woman of broad smiles and bright, grey eyes, Sharifi brims with energy. She's quick to laugh, and is at once at ease and all business in a smart blue-grey suit and black silk shawl. You'd never know what she's been through.
Sharifi was taken out of school when she was 12. She'd had all the education a woman should need, her parents reckoned. But Sharifi demanded more, and against her parents' wishes, she enrolled at the Sayed Jamaluddin Afghani School in Kabul.
During the Taliban years, with no husband or children, Sharifi worked as a home-school kindergarten teacher, supporting herself partly by selling eggs from her small flock of chickens. But on the quiet, she was involved with a group of educated women, teaching poor women how to read. They relied mainly on the Koran, one of the only books one could own that did not invite Taliban inquiries and persecution.
Two of the teachers Sharifi worked with were caught. They were arrested and imprisoned, and their small, secret school in Khair Khana was abandoned.
Starting with garbage collecting
"I saw the deaths. I saw the cruelties," she told me, in a matter-of-fact way. "For my own pain, for my heart, I wanted to help women to be educated, and to earn some money for themselves. I opposed those difficulties from the Taliban. I wanted to decrease the cruelties suffered by Afghan women. And so now, I am happy I can provide them with some help, some salaries for their work."
HPWO started small -- a garbage-collection collective, a few literacy classes -- but slowly, Sharifi built an important oasis for Kabuli women. Sharifi can now count 4,000 women among HPWO's graduates since the Taliban's 2001 rout. HPWO's clients produce textiles, learn gemstone-polishing, and attend adult literacy and rights-education programs at HPWO's modest headquarters.
Sharifi distributes micro-loans for women's businesses and manages the marketing end of HPWO's clothing, jewelry and handicrafts production. She's particularly proud of HPWO's shawls, dresses, and a line of elegant chopan-style coats of the sort popularized by Afghan president Hamid Karzai. She'd just recently signed a small contract with a firm in Thailand, to supply jewelry made by HPWO's artisans.
'If the Taliban come back...'
Like so many Afghan feminists, Sharifi is mystified by the persistent calls for troop withdrawal that are so frequently voiced in the rich countries of the world by people who imagine themselves to be champions of women's rights.
"We need to have the troops in Afghanistan," she said. "If the Taliban come back, the target will be us again."
Sharifi laughed out loud at the idea of Taliban peace talks.
"Maybe your country should make a visa for me," she joked. "It is very hard, even now," she said, referring to the severely conservative imams and hard-line Islamists who still wield such influence throughout Afghan society. "It is a risk for us to do this, what we do, teaching women about their rights. But we are very scared of the Taliban coming back. And the Taliban is also always attacking NGO persons.
"So we are very scared that they might come back, and we pray to God that they don't come back."