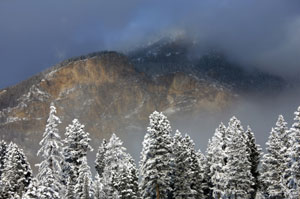 [Editor's note: read the previous story in this series, here.]
"SFI Inc. is a fully independent, charitable organization dedicated to promoting sustainable forest management." So says the Sustainable Forestry Initiative's web site. And so says the U.S. Internal Revenue Service.
But ForestEthics, an environmental group allied with the rival Forest Stewardship Council (FSC), doesn't believe the SFI is truly independent of the timber companies that created it. And ForestEthics has lodged a complaint challenging SFI's right to be a charitable organization.
"SFI is organized, governed, and operated more like an industry trade association that promotes its private 'certification' label than a separate charitable organization dedicated to setting high standards for forest products," alleges the complaint filed last September with the Internal Revenue Service (IRS).
On the eve of a decision by the U.S. Green Building Council that threatens to completely redefine what is and what is not "green" wood, the IRS complaint is just one of several new fronts on which the FSC tribe has attacked not only SFI's certification green forest products, but also every member of the SFI tribe -- its funders, its board, and even its prospective customers. And in this case, the tribe under attack includes, quite literally, most of the Fortune 500.
SFI funded by the companies its certifies
ForestEthics' IRS complaint alleges that because SFI receives most of its funding from industry, it stands in violation of tax rules that require charities of its type to receive more than a third of annual income in the form of "public support" such as grants, contributions, or membership fees.
"We are not aware of any evidence to show that the public support calculations were ever made," states the IRS complaint, which was filed by Peter Goldman of the Washington Forest Law Center. "Had they been carried out, we believe they would expose SFI's failure to qualify as a public charity."
The Sustainable Forestry Initiative refuted the "public support" rule, but confirmed that most of its funding flows from the organizations it certifies.
"Under IRS guidelines, non-profit organizations can solicit funding from any legal sources, including industry," SFI spokesperson Karen Brant wrote The Tyee in an email.
"Most of our funding comes from SFI program participants who use our forest management and fiber sourcing standard -- these include corporations, landowners, government agencies, conservation groups and universities," Brant wrote.
"FSC's also receives revenues from landowners and others that are certified to the FSC standard," she added.
An FSC spokesperson confirmed that businesses dealing in certified forest products provide up to 10 per cent of FSC's revenue, but denied that landowners are among that group.
"FSC doesn't take money from the folks who grow the trees," attorney Goldman said. "By contrast, most of SFI's money comes from the folks who grow the trees."
Board members in 'conflict of interest''
ForestEthics alleges that SFI's board is dominated by representatives from the forest products industry it certifies.
"SFI's board of directors has always included many individuals with direct ties to private timber and paper companies on whom, by its own admission, SFI depends virtually exclusively for funding," the IRS complaint alleges.
SFI refutes that claim. The non-profit organization is run by a three-chamber board of directors. Each chamber -- environmental, social and economic -- includes six members. Board actions must be approved by a minimum of 80 per cent of those present, with at least two representatives from each sector.
"No one sector can control SFI," Brant wrote to The Tyee. "SFI's board is no more 'dominated' by its six directors representing business than by its 12 directors representing environmental NGOs, universities, labor unions and other social interests."
The environmental chamber of the SFI board includes representatives from Ruffed Grouse Society, Theodore Roosevelt Conservation Partnership, Trout Unlimited, and Wildlife Management Institute. The economic chamber includes the presidents of Plum Creek Timber, Smurfit-Stone Container, West Fraser Timber and Weyerhaeuser.
ForestEthics alleges that some of the environmental groups represented on the SFI board receive money from some of the corporations represented on the SFI board. The Conservation Fund, for example, has received support from Georgia-Pacific, International Paper and Weyerhaeuser, according to the complaint.
"These guys are directors of organizations that take money from industry," Goldman said. "They're not bad people. But they have a serious conflict of interest."
Charity or trade association?
ForestEthics also alleges that SFI's lack of public membership dilutes its ability to function as a public charity. The complaint notes that while FSC will sign up anyone with $100 and two letters of reference, "SFI has no mechanism for organizations or individuals to join, vote, or elect the board of directors."
Taken together, ForestEthics believes these factors may disqualify the Sustainable Forestry Initiative as a public charity.
"It is deceptive for them to say that they are an independent, not-for-profit, public charity," Goldman said. "They are more like a trade association. They are colleting fees from their members, and putting a green label on their members products."
There is precedent for the revocation of a certification organization's charitable status. A group of U.S. steel fabricators formed a nonprofit charity called Quality Auditing Company to certify manufacturing facilities that fabricated steel. In that case, the U.S. tax court upheld the IRS determination that Quality Auditing was operated for benefit of private interests of steel industry, and that it did not qualify for exemption from tax as a charitable organization.
"The Internal Revenue Service disallowed it. And the tax court agreed," Goldman said. "They ruled that the certifier was not a legitimate public charity, but served the private interests of the steel fabricators."
'Greenwashing could be toxic'
SFI President and CEO Kathy Abusow declined The Tyee's repeated requests to be interviewed for this series. SFI spokesperson Karen Brant provided extensive replies to most of The Tyee's written questions, but had less to say about the IRS complaint.
"The SFI program is an IRS-approved 501(c)(3) non-profit organization, and achieved this status with the Internal Revenue Service in 2002. The SFI program's purpose is to support and increase awareness of responsible forest management in North America," Brant wrote.
ForestEthics is not waiting for the IRS to rule, however, but has already take its campaign against the Sustainable Forestry Initiative beyond the SFI's funders and board to the SFI's prospective customers.
In early March, ForestEthics mailed letters to Fortune 500 companies that rely heavily on direct mail to market their products and services. These included leading companies from the insurance, financial services and telecommunications sectors. The letters cited ForestEthics' many complaints against the SFI, and issued a veiled threat that its campaign could extend beyond SFI's years ahead. "SFI's greenwashing could be toxic for any brand associated with it," Aaron Sanger of ForestEthics said in a statement about the letters. "...these misleading claims undermine the hard work and smart choices of any business making a sincere effort to be environmentally responsible." ForestEthics attorney Goldman said the argument against the way SFI is organized remains the same, regardless of venue.
"When an organizations represents itself as a certifier, it cannot misrepresent its relationship to the certified," Goldman said. "The certifier needs to be upfront about who it is and what it is."
Tomorrow: The trade complaint against the FSC.