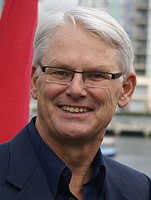 *Story updated with new information at 10 p.m., Apr. 16, 2009.
BC Liberal leader Gordon Campbell released a platform today lacking in major announcements but united by one overarching issue -- the economy.
"This is not about a huge change in direction," the premier told reporters this morning. "This is about a strong economy being used to get us through challenging times."
The 55-page digital platform, entitled Keep BC Strong, will see government costs increase by $2.8 billion over three years. Though most new spending will go towards healthcare, the plan contains incentives for students, seniors, small business owners and the recently unemployed.
The premier insisted his platform stays within the fiscal territory charted in last February's budget, which estimated a $740 million deficit over two years and balanced books by 2011-12.
Bus passes and tax cuts
Highlights from the Liberal plan include:
$4.8 billion in additional healthcare spending and over $800 million for education.
Plans to negotiate with TransLink and BC Transit to make bus passes available for all post-secondary students.
1,000 new rental units for seniors costing $123 million. The feds will share costs.
Plans to pursue tax exemptions on the first $20,000 of seniors' pension income.
Commitments to make B.C.'s small business income tax rate the lowest in Canada by 2012. Increase the threshold to $500,000 by 2010.
$4,000 in tax credits to small businesses to take on apprenticing tradespeople.
Collaboration with the feds to boost employment insurance benefits. No specific dollar figure mentioned.
"[The platform] is one that encourages investments, encourages small business -- that encourages the protection of jobs as well as the creation of new jobs," Campbell said.
'People looking for stability'
On crime, the premier made vague commitments to boost funding for more police officers, prosecutors, courts and jails. He bragged about adding 1,100 police officers across B.C. since 2002.
As is the case with every political platform, many claims are carefully worded to cast the government in the best possible light. In a section entitled "Ending homelessness with new solutions," the BC Liberals promote their plan to build 12 Towers for the homeless in Vancouver:
"We will build on these and other initiatives by further investing more than $172 million in housing projects on six sites in Vancouver, with another six sites ready to go when the city gives them appropriate approvals."
This in spite of the fact that sources at Vancouver City Hall claim all 12 sites have been "ready to go" for some time -- but await provincial funding.
Campbell defended his platform's lack of major spending announcements by falling back on a calm, clear message likely to guide the BC Liberals' campaign.
"What people are looking for is stability, they're looking for confidence," he told reporters. And earlier in his platform speech: "This is no time for uncertainty."
NDP reaction
To help meet his goal of balanced budgets in three years, Campbell proposed a $1.9 billion reduction in government expenses. Those include a 76 per cent cut to advertising and 22 per cent fewer travel costs. The plan also targets contracts, office expenses and public sector wage increases.
The New Democratic Party called for $1.2 billion worth of government savings in last week's platform. Campbell lambasted the opposition for proposing new taxes such as a $412 million levy on flaring in the oil and gas sector.
Carole James argues the initiative will curb greenhouse emissions better than a broad carbon tax, Campbell said it will cost thousands of jobs.
James told The Tyee most of Gordon Campbell's promises are old announcements rehashed in a new statement. "This platform just brings more of the same," she said. "I didn't see anything that was new."
James said voters will have a "clear choice" between the NDP's plan, or a ruling party that's presided over 80,000 job losses since last October.
The NDP platform calls for a minimum wage increase to $10 an hour and an end to the controversial carbon tax. The B.C. Liberals oppose both measures.
More than 115,000 workers in the province make minimum wage, an NDP analysis of Campbell's platform pointed out. It added James' proposal "would put millions back into local economies.
Meanwhile, Vancouver-Kingsway NDP candidate Adrian Dix said the Liberal platform has little relief for British Columbia's hardest hit workers.
"People are living in a difficult time and we have a premier that has nothing for them," he said.
With files from Garret Zehr.
Related Tyee stories: