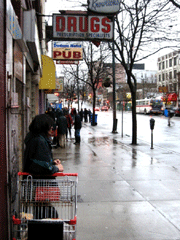 The Province of British Columbia has hammered out a deal with the City of Vancouver that could fast-track development of more than 1,100 new studio apartments for the homeless.
If funded, the 12-building project will represent the largest single investment in social housing in British Columbia's history. Housing Minister Rich Coleman told The Tyee that if Vancouver approves the permits, he'll provide the estimated $300 million needed to build these homes.
"One way or another, we are going to make this happen," Coleman told The Tyee. "We're completely committed to this project... I want to break ground on at least six of these sites within a year."
Under that best-case scenario, Coleman's aggressive timeframe might complete one or two of these 12 buildings just in time for the 2010 Winter Games. Reaching that particular Olympic dream will require an unprecedented degree of political leadership, neighbourhood support and bureaucratic coordination within a city hall where such behaviour has been notably absent this year.
The BC Housing deal will be presented to Vancouver City Council on November 13. A public meeting on the proposal is scheduled for Dec. 12.
Architects already aboard
The 12-tower deal -- presented in a memorandum of understanding and discussed in a report to council -- is an extension of BC Housing's previously announced plan to fund pre-development activities.
The memo identifies 12 of about 20 sites the city has committed to social housing, and suggests an approximate number of studio apartments that could be built at each site. (See sidebar.)
Five of the sites are located in commercial areas. The city will push to add about 30,000 sq. ft. of retail space on the ground floors of those buildings. Two of those sites --- the Drake Hotel site on Powell at Princess, and the Broadway Youth Resource Centre site on Broadway at Fraser --- are large enough to also accommodate a full mix of market, non-market and commercial space.
Three architectural firms have already been hired to design the buildings: Davidson Yuen Simpson, Gomberoff Bell Lyon, and Neale Staniszkis Doll Adams. BC Housing will require that all 12 towers meet LEED Gold environmental standards, and be "greenhouse gas neutral."
Non-profits to run buildings
The city and province will jointly select a team of non-profit housing organizations to lease and manage the new apartment buildings. Those so-called "sponsors" are expected to include some of the same groups recently selected to operate the ten residential hotels BC Housing bought last spring. The operators will be required to staff the new buildings 24-7, with staff sizes varying according to building size and tenant profile.
One-third to one-half of the apartments in each building will be supportive housing, at which additional staff support residents recovering from addiction and/or mental illness. The rest of the small, self-contained apartments will be let to low-income singles at risk of homelessness.
Two of the 12 towers are expected to be "low-barrier" facilities that would shelter the hardest-to-house individuals. One of these is slated to replace the recently shuttered Marie Gomez Place on the corner of Alexander and Princess streets.
The plan is similar to Vancouver's Supportive Housing Strategy, a model the The Tyee advocated accelerating when it went to council in June.
Critic "leery" of privatization
The city is putting $50 million worth of land into the deal, plus $7 million toward the cost of ground floor commercial space and more than $160,000 worth of staff time to expedite the permits. The deal also calls for the city to forgo taxes on the 12 towers, a loss of revenue estimated at $1 million a year.
Construction costs are estimated at $300 million, according to the city report, while on-going operating subsidies are figured at $10 million a year.
The deal "assumes that the Province and its other partners (the Federal Government, corporate and private donors, non-profit housing and service providers) will provide funding to build and operate the Projects in 2008," according to the memorandum, which adds, "The funding will include the half of the net proceeds from the redevelopment of Little Mountain Housing Project to be invested in the City."
This lack of committed funding drew harsh words from MLA David Chudnovsky, housing critic for the provincial New Democratic Party.
"This is a deal that once again has no housing in it," Chudnovsky said. "It divides pre-development costs and defines post-development organization, but delivers no homes for people who need them."
Chudnovsky said he was also "leery" of what looked like "steps toward the privatization of social housing" in the vaguely worded memo.
"This memo provides a clue as to why BC Housing is in such a rush to evict residents from Little Mountain," Chudnovsky added. "They're simply selling off one social housing project to pay for another."
'We're gonna get it done'
Minister Coleman said the lack of committed funding is merely a technicality.
"I can't make a commitment on behalf of government in a fiscal sense until I know that the building is actually ready to go," Coleman told The Tyee. "But I know that within our fiscal framework, we can make these things happen. And that's what our intention is to do."
Coleman said he is working to bring federal and private funding partners into the deal: "We don't want to be the only ones at the dance." But he specifically denied that funding for the 12 towers is contingent on money from Ottawa, the AWOL Dobell plan, the Little Mountain sale, or anything other than Vancouver's approval of development permits.
"If Vancouver gets six sites ready in the next year, we'll fund six buildings. If they get 12 sites ready, we'll fund 12 buildings," Coleman said. "We're gonna get it done."
NIMBYs neighbours waiting in wings
Chudnovsky was also critical of the deal's Olympic dream.
"I laughed when I read the timeline," Chudnovsky said. "Neither do I believe they will actually break ground in the fall of 2008, nor do I believe that if they do begin construction in late 2008 they will finish any of these 100-unit buildings by mid-2010."
The NDP critic noted that even when these 1,100-odd homes are finished, BC Housing will still fall short of providing the 3,200 new units called for by VANOC's own housing committee.
Yet to be heard from are Vancouver's legions of neighbourhood critics, whose passion for guerrilla-style NIMBYism is legendary. One year ago this month, 500 angry Westsiders turned out for a meeting of the Dunbar Residents Association in response to rumours that supportive housing would be built on a city owned site on Dunbar at 16th. Subsequent fearmongering spawned an anonymous entity called NIABY -- Not In Anyone's Back Yard --- that crusades against what it calls "housing projects for drug addicts" citywide. What was then a rumour is now a deal awaiting council approval.
The 12-tower deal provides three opportunities for concerned citizen groups to express themselves: at the Dec. 12 council meeting, at neighbourhood meetings slated for February, and at the Development Permit Board, which is expected to review these fast-track applications in June of 2008.
The deal is nonetheless likely to be approved by Vancouver City Council. It was crafted by the ruling Non-Partisan Association, and is supported by opposition councillors including Vision Vancouver's Raymond Louie.
"This is a step in the right direction," Louie said, quickly adding, "Until the province commits the money, there is no assurance that any of these units will be built."
I don't think we're done here
Coleman said the Vancouver deal has been in the works for more than a year, and that similar deals are pending across the province.
"Vancouver gets a lot of the focus, but we're also working with Victoria on three sites, with Kelowna on a site, with Surrey on two or three sites," Coleman said. Other B.C. communities have expressed interest, he said, but "nobody else has come forward with a piece of land."
In addition to these new buildings, BC Housing continues to acquire existing buildings across the province. In much the same way he purchased 10 residential hotels last spring, Coleman has subsequently acquired buildings in Kamloops, North Vancouver and Quesnel.
Provincial housing expenditures have grown from $125 million to more than $350 million annually since Coleman assumed the portfolio only two years ago.
"I don't think we're done here," Coleman said. "We continue to do."
Related Tyee stories: